Lifetime warranty service
30-Day Money Back Guarantee



Ctronics Solar WiFi Security Camera keeps your home safe anytime and anywhere
24/7 Reliable companion and safeguard with Ctronics solar powered security camera with cutting-edge and unique quality functions.

● 1080P HD & Spotlight color night vision live view real color night vision even at deep night.
● PIR human detection to reduce false Alarm-Safeguard your property with a timely and precise alarm push.
● All-in-one & Separate Installation-Easy Set-up and work great with Ctronics Solar Panel.
●10000mAh battery powered & solar powered- keep an eye on your house 24/7.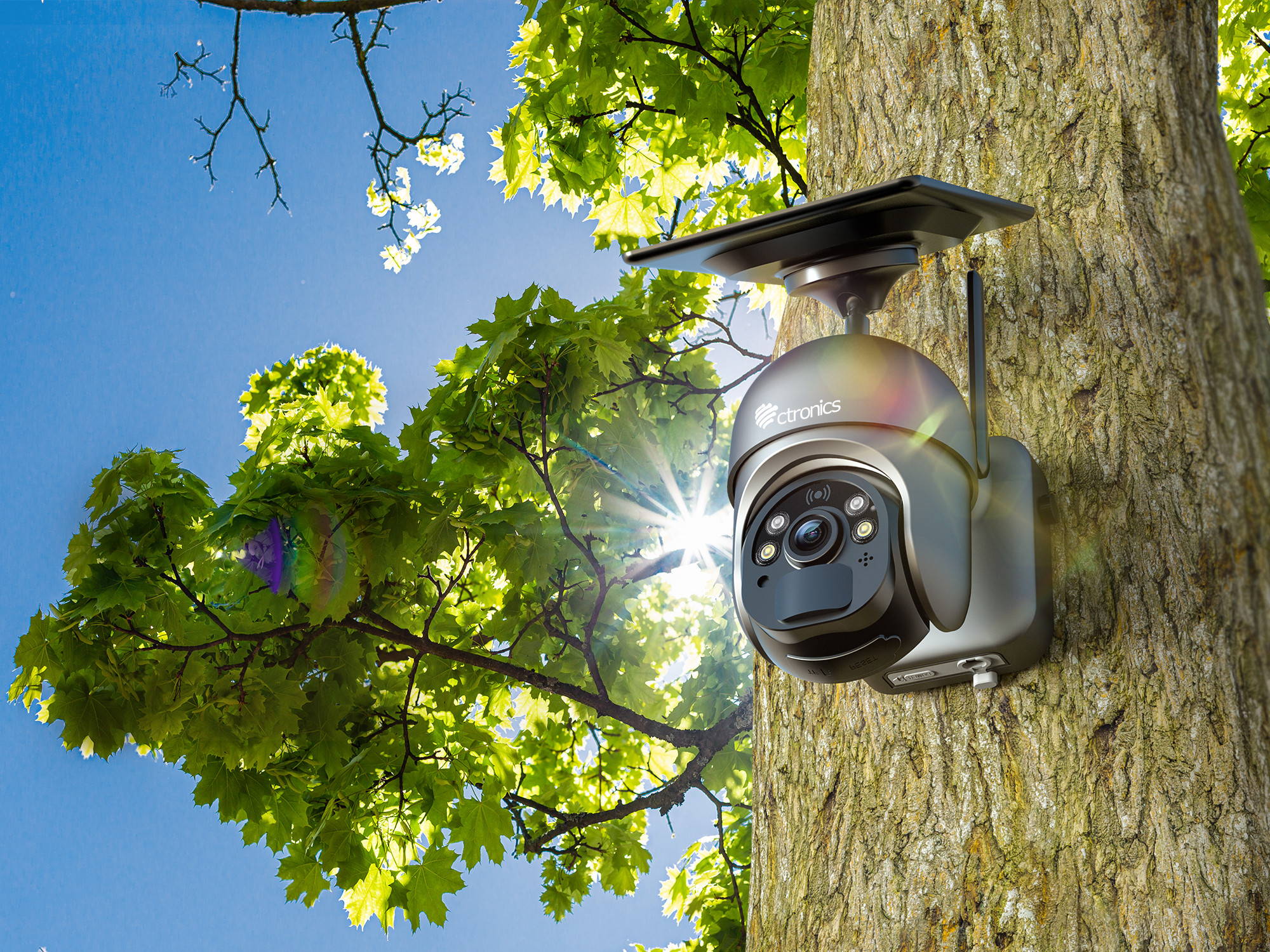 Spotlight Color Night Vision
Adopting 2PCS White LEDs and 2PCS infrared LEDs, the PIR sensor would detect intruders who happen to pass by your house at night, then trigger the spotlight to flash a bright light to catch color night vision images or videos.
With this upgraded technology, you can live view or playback all scenes more clearly, even on a pitch night.


Normal Mode(IR Night Vision)—Normal Mode with 2pcs Infrared LED lights, the home security camera would capture HD crystal clear pictures & videos in white& black mode.

Color Mode(Color Night Vision)—The wifi ptz solar security camera with built-in 2pcs spotlight illuminates the ambience, capture and record vivid images even at pitch dark nights.

Auto Mode(Intelligent Mode)—The built-in spotlight of solar camera will be auto-on when human is detected which is more energy-saving for longer working period, otherwise only infrared lights are on.llit anim id est laborum.

Solar Powered &10000mAh battery powered
Built-in 10000mAh rechargeable batteries and solar panel provide non-stop power supply without the hassle of taking down the camera from the roof to get charged.

The well-designed waterproof solar panel can continually self-charge effortlessly in 365 days, and the battery would make it work even on an overcast day.
Ctronics home security camera operates on 2.4Ghz WiFi, which has better penetration and broader WiFi coverage, (Not support 5GHz WiFi).

Human Detection & Instant Alarm
The solar WiFi camera has high-sensitivity PIR sensor, which can react within 0.2s when motion is detected, and allows the security camera to wait on standby with ultra-low power consumption.
Human detection can reduce false alarms caused by things like rain and insects by 95%.
Alarm sensitivity is adjustable from low to medium to high with a monitor distance of up to 10 m/32 ft.
Two-way Audio & Live Stream
This PTZ outdoor security camera has built-in microphone and speaker, so when you watch the live steaming via WiFi, you can not only hear the sound through the WiFi security camera, but also talk to your kids, delivery people, or strangers at your door.
Easy communication anytime and anywhere.
With Ingenic chip-based WDR technology, our security camera outdoor can produce images of good clarity even under varying light conditions by using different shutter speeds to allow more light in some darker areas of the image and less light in others brighter.
The sensor's exposure to the light-receiving from the exterior environment is controlled to achieve a compensated vision.
Adopt Ingenic Chip-Accurate human figure algorithm, and the picture is more delicate and clearer.
Recognize the presence of humans and is used for various intelligent applications such as facial, voice, and motion detection.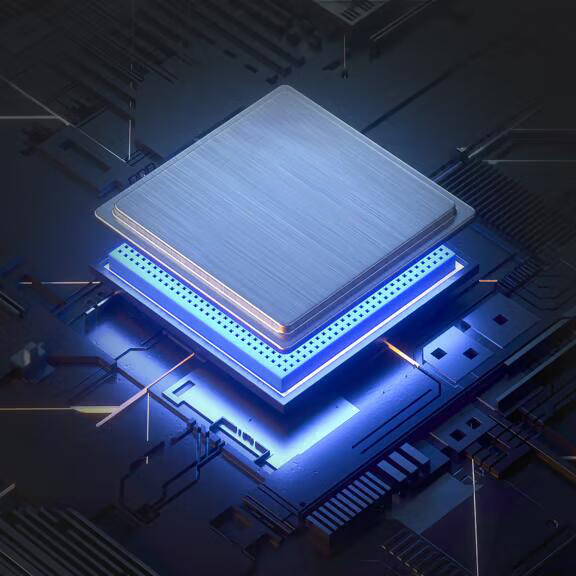 Its low-power technology and AES/RSA encryption and decryption algorithms can ensure the long-lasting operation and data security.
The WDR function suppresses the glare, avoiding the direct exposure of the car light, which makes the picture overexposed.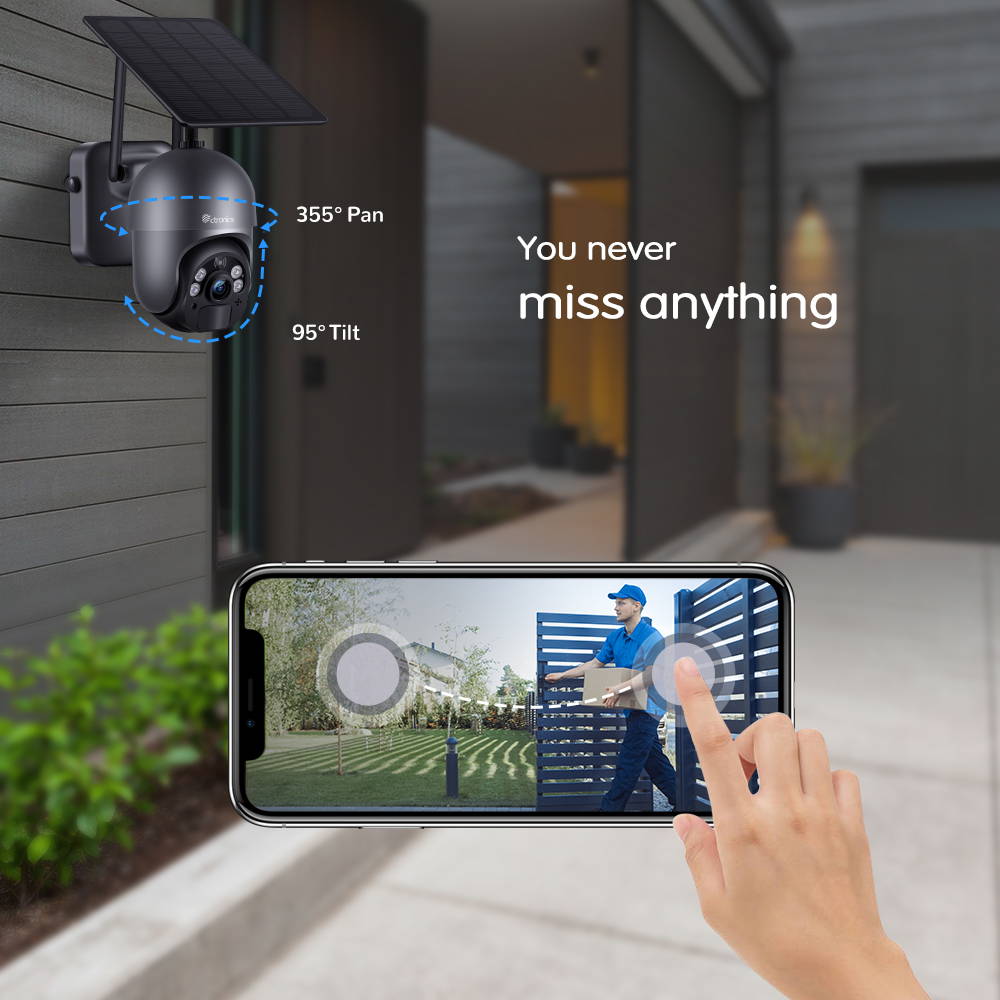 355° Pan 95° Tilt & 4X Digital Zoom
Based on the 355° pan and 95° tilt function and contains an intelligent digital zoom feature up to a 4X factor, you can zoom the image to see more details what is happening all around your house through Ctronics app, ideal for front doors, parking lots, garages, and gardens ect.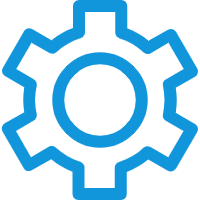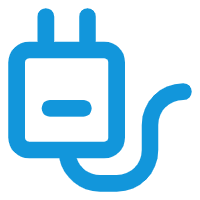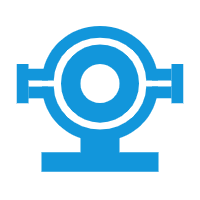 1X Camera Mounting Bracket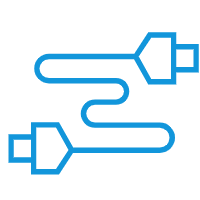 20-25 meters Color Night Vision
IP66 waterproof/ -30°to 60°C