【2K HD & 30m Color Night Vision】 Equipped with upgraded 2K HD resolution, the ptz outdoor camera shows the picture clearer than the 1080P security camera; you can see everything clearly. And thanks to the built-in 4 white lights and 4 infrared lights, this outdoor security camera provides you with full color night vision images for up to 30 meters. 
【Human Detection & Auto Tracking】 This ptz outdoor camera has intelligent humanoid detection function which detects only people, reducing up to 95% false alarms caused by rain, leaves, animals, and insects. Moreover, this 2k wifi security camera can also automatically track human movements. After locking the target, the outdoor cctv camera will adjust the pan/tilt rotation automatically and push alerts via email or notifications to your smartphone.
【355° Pan/90° Tilt & Two-way Audio】 Ctronics ptz security camera outdoor supports 355° horizontal and 90° vertically remote rotation control, which allows you to watch every corner on smartphone. With built-in microphone and speaker, you can use the ptz wifi camera to communicate with your family anytime, anywhere, not only hearing the sound through the camera, but also speaking with your kids, delivery people, or other strangers.
【Multi-Users Viewing & Remote Access】 The 2K outdoor camera wifi supports multiple users online viewing at the same time; you can share happy time together with your family members or friends. And it supports iOS/Android/Mac/Windows systems ("HiP2P"/"CTRONICS"). You can play back the videos on your mobile phone/PC at any time.
Enjoy a Reliable and Safe Life with Ctronics 2K HD PTZ Outdoor Security Camera
2K high definition lens helps you see the pictures more clearer and brighter.
Set to detect the humanoid only, it reduces more than 95% false alerts.
You can automatically track the detected objects and never miss a moment.
It has 4 IR-LEDs and 4 white lights for full color night vision (up to 30 meters).
It supports 355°horizontal and 90°vertical, which helps to cover larger areas.
The built-in microphone and speaker allows you to speak directly to anyone who approaches your home.
With the built-in SD card slot (SD card is not included), old recordings will be overwritten  automatically by new ones when full.
Tips:
It supports WiFi and Ethernet connection (only supports connection with 2.4Ghz WiFi network).
It is digital zoom, NOT optical zoom.
It only supports SD card storage, does not support Cloud storage.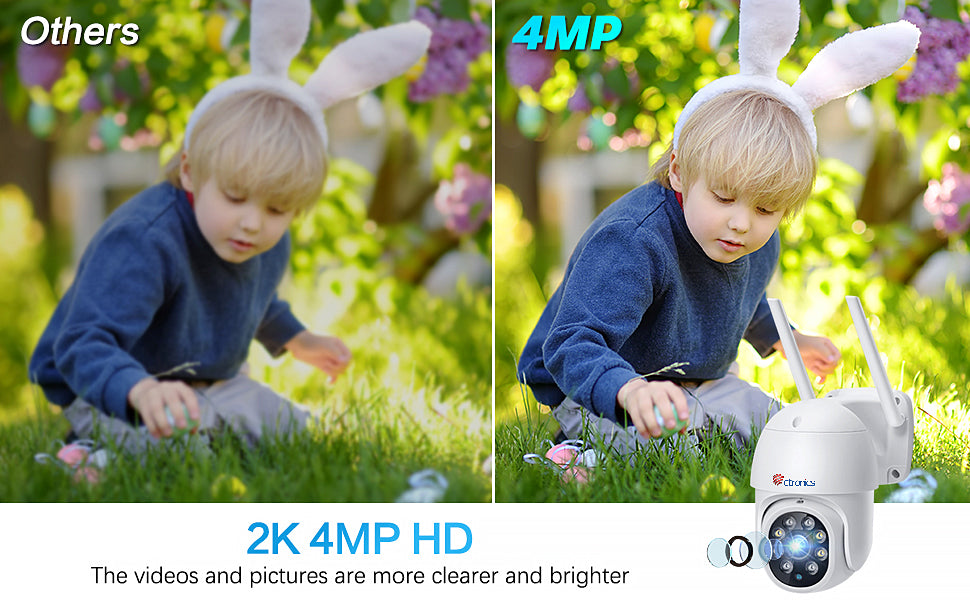 2K Full HD Image
This security outdoor camera has 4MP High Resolution. With full HD image for day and night, you can see more details on the picture. It's ideal for open areas like parking areas, garages, backyards, front yards, etc.
Full Color Night Vision up to 30 meters
This WiFi security camera has three modes of night vision: Normal, Color, Auto. With built-in 4 white lights and 4 infrared lights, this home security camera can show you vivid color images in total darkness. The CCTV outdoor camera uses a new generation of array infrared technology that provides, higher reliability and better night vision. Maximum night vision distance is up to 30 meters. which offer you full color night vision, and the IR-CUT mode can be used to automatically switch to night vision.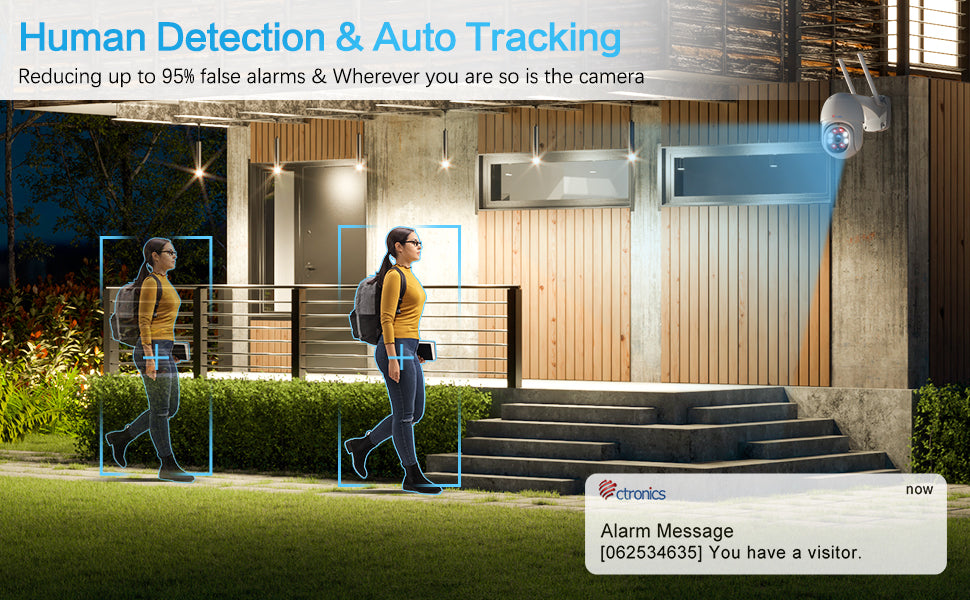 Human Detection & Auto Tracking
Human detection and automatic tracking features provide you with a full range of protection. When someone appears in front of the frame, the 2K ptz security outdoor camera locks them and automatically adjusts the pan/tilt shot, and the person will always be in the center of the outdoor security camera's frame.
355° Pan & 90°Tilt

With the 355°Pan/90°Tilt function, this cctv camera outdoor can monitor every corner. You can manually rotate the camera lens up and down/left and right from your smartphone to see different directions, changing the lens position freely when needed. This is excellent choice for indoor/outdoor use

Two-way Audio


With its built-in microphone and speaker, the Ctronics 2K wifi security camera allows you to listen to and speak with whoever is around the camera remotely. You can also warn suspicious strangers via your voice or talk to family and friends when you are away from home.

Multi-users Sharing

The 4mp cctv security camera supports smartphones (iOS, Android), tablets (iPad, Android), PC(Mac OS, Windows). You can share the screen with your friends or family. This is the most convenient way to watch from anywhere, anytime.
Product dimensions

‎

9 

x 15 x 30 cm; 

750 grams

Connectivity technology

‎

Wireless

Connectivity protocol

‎

WIRELESS INTERNET ACCESS

Video recording resolution

4 MP

Brand
‎Ctronics
Colour
‎White