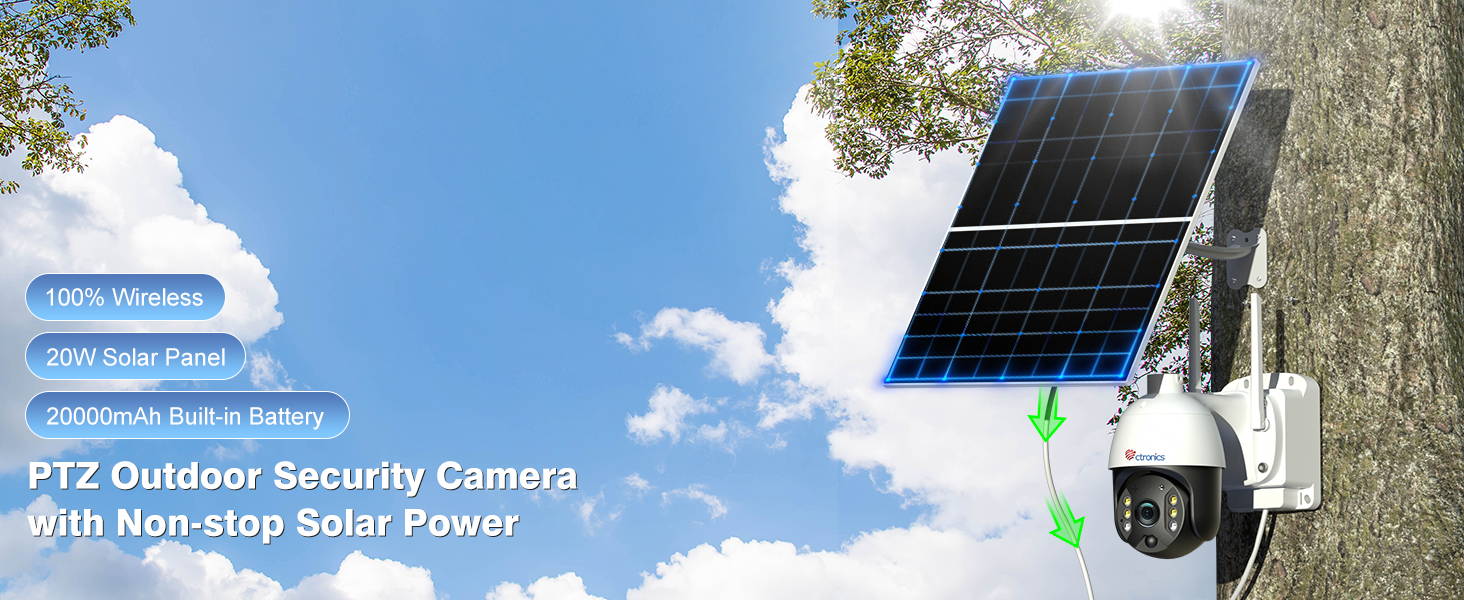 Separate Installation or All-in-one Installation
After assembling the 2 solar panels together, you can choose an appropriate installation method according to your needs. They will save space when installed as one piece.
If the side of the camera doesn't get a lot of sunlight, put the solar panel on the other side that does.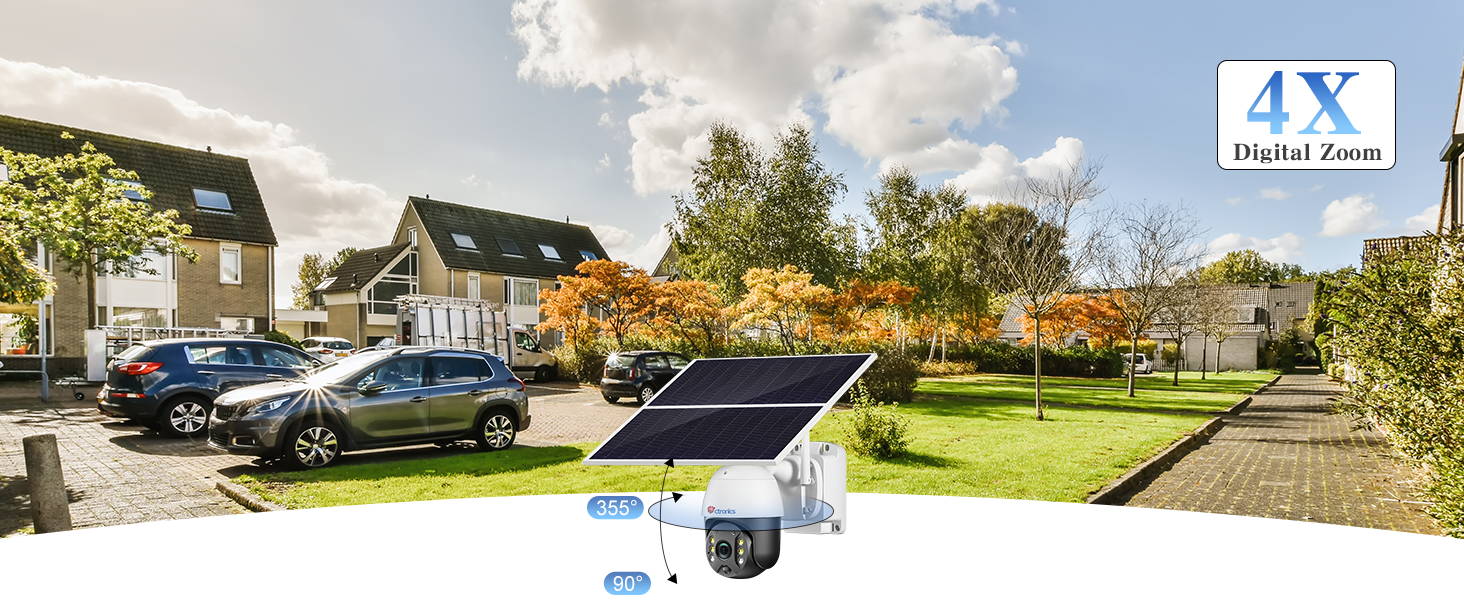 25M Color Night Vision & 355° / 95° Swivel
4 white lights and 2 IR lights can provide you with 25M full-color night vision or 25M 2MP high-definition night vision in the dark, intelligently capturing more details.
With a built-in 3.6mm lens has 355° horizontal and 95° vertical functionality.
You can remotely control it through the iOS/Android or desktop app ("Ctronics Pro") and closely monitor every corner to ensure there are no blind spots.
20W Solar Panel & 20000mAh Built-in Battery
High power solar panels and large capacity batteries provide a constant power supply for the camera. If you choose, you can also charge it with a Type-C charging cable, but this 100% wireless and durable solar security camera is perfect for outdoor environments where there is no cable or power supply.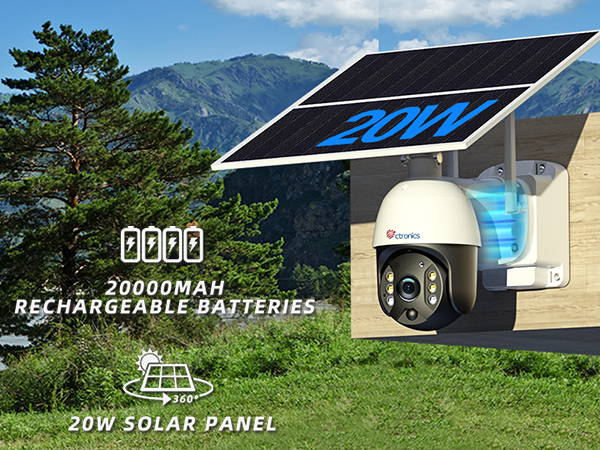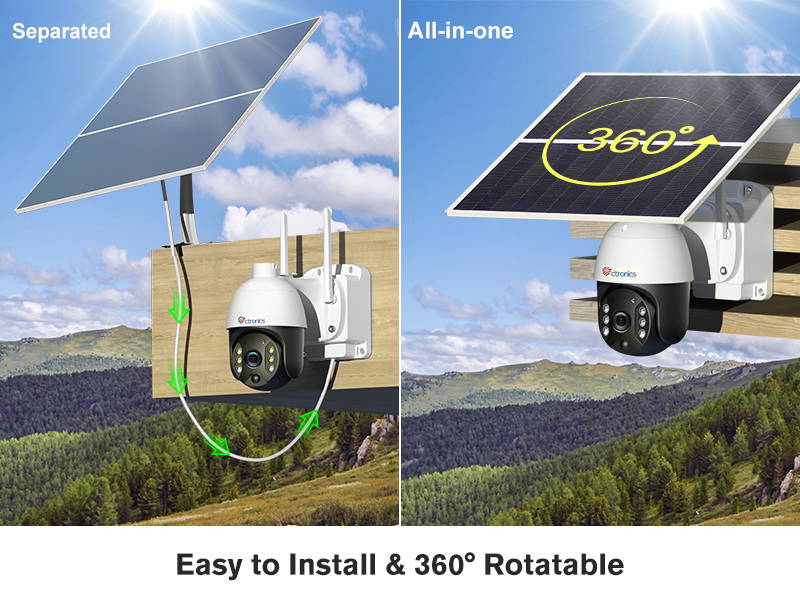 360° Rotatable Solar Panel & 100% Wireless
This solar security camera is equipped with a 20W 360° rotatable solar panel and a 20000mAh built-in lithium battery.
The accompanying solar panel can face the sunlight, maintaining an uninterrupted power supply. It is easy to install and supports single block and integration.
The 2.4GHz WiFi-enabled camera is suitable for many locations without power or cables, such as warehouses, RVs, and construction sites.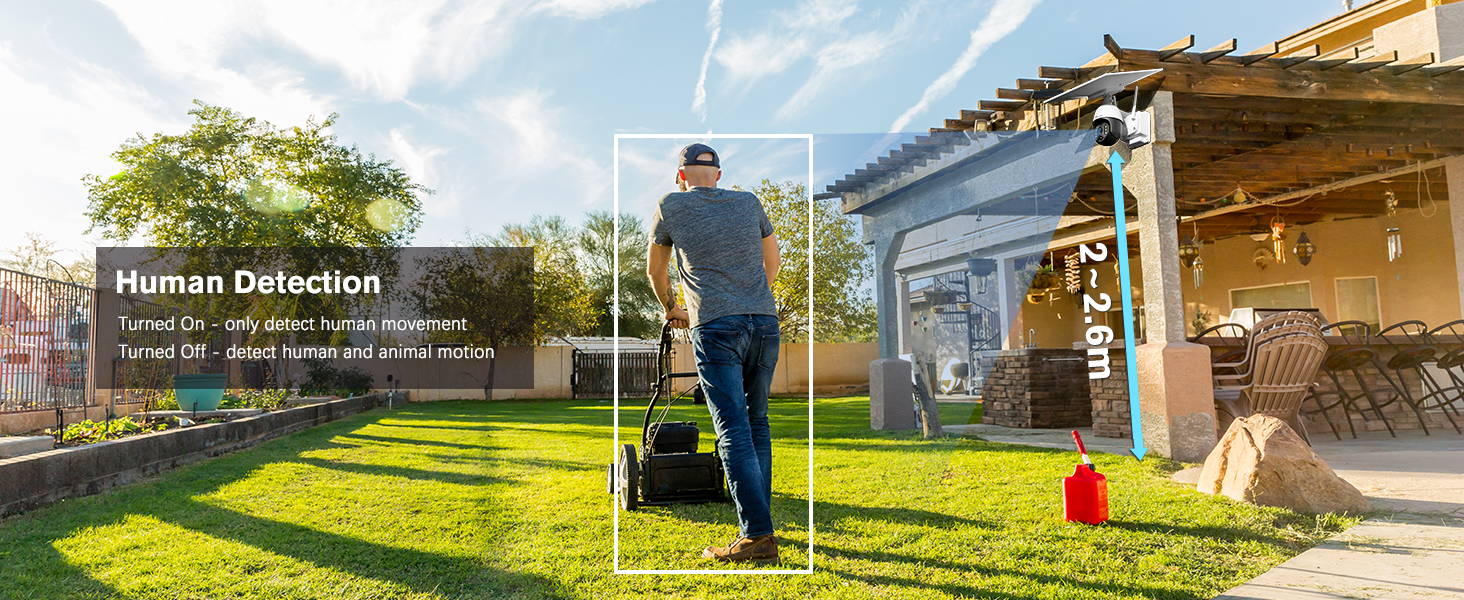 PIR Motion Detection
This wireless security camera also features human detection and a sensitive PIR motion sensor that can reach up to 12m.
It can achieve dual recognition within 0.2s, effectively reducing most false alarms.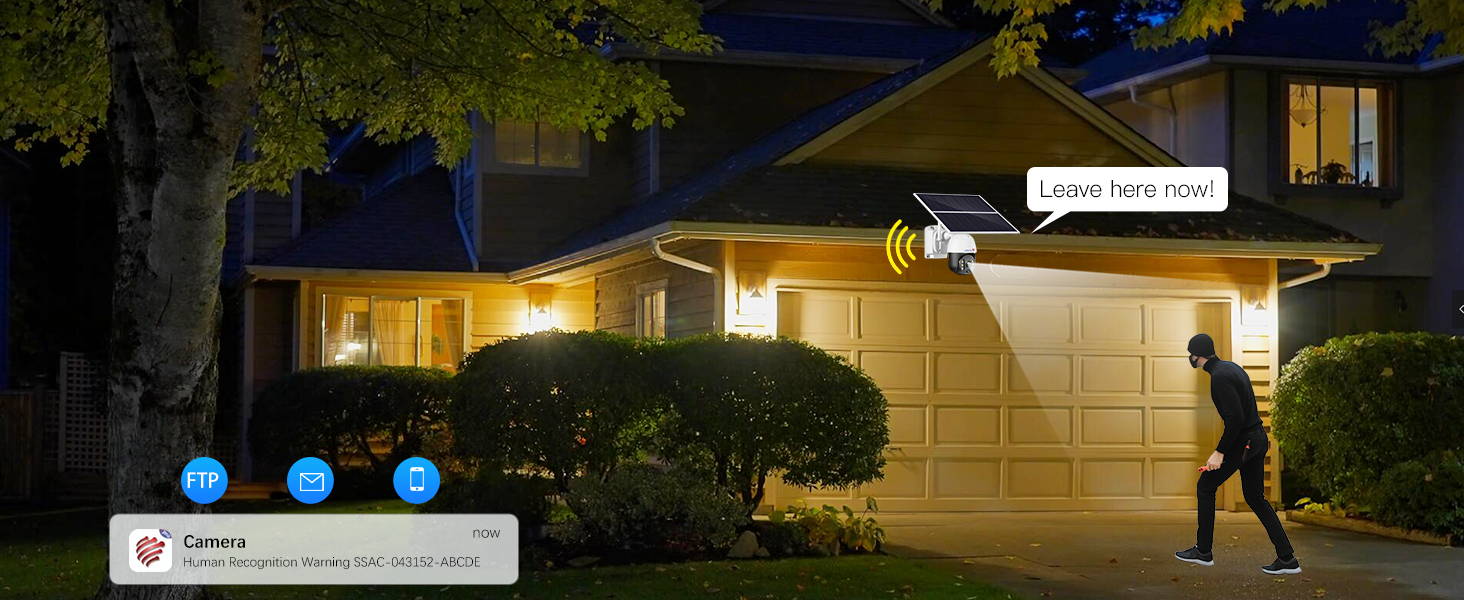 Light alarm & Two-way audio
When the alarm is turned on, the light will flash to intimidate intruders, and you will also receive alarms from the APP and FTP. Through the 2-way audio, you can have real-time conversations or warn intruders, maintaining your safety at all times.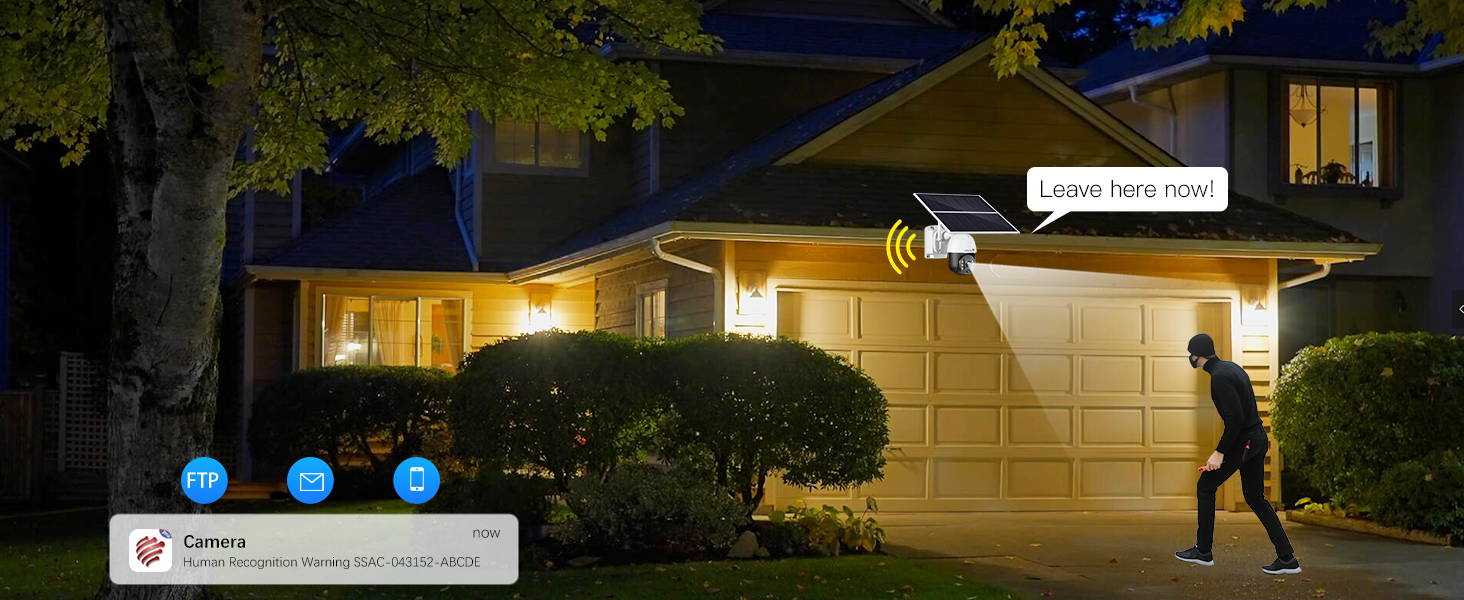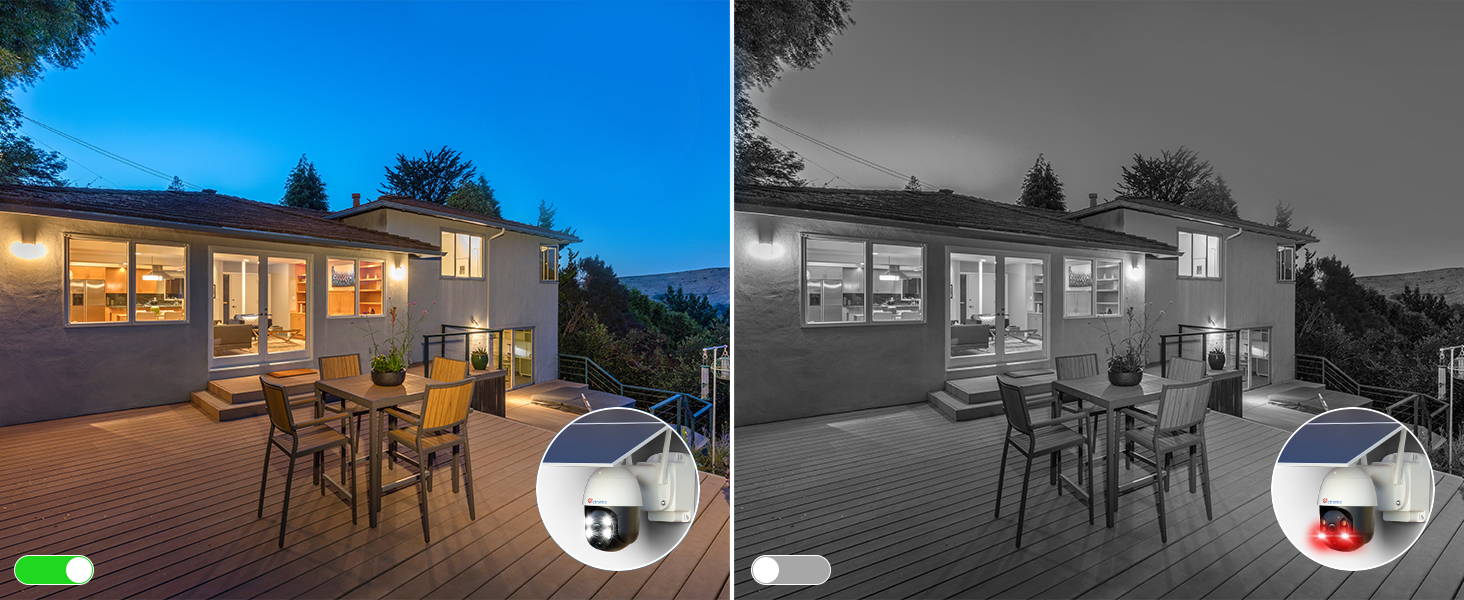 Full-Colored Night Vision
Just turn on the 4 white lights of this solar safety camera and get clear, full-colored night vision up to 25 meters within the detection area.
Many color details can be captured in the dark.
Infrared Night Vision
When only the 2 IR lights are turned on, the black and white night vision image still maintains high-quality details, and it can also reach 25 meters.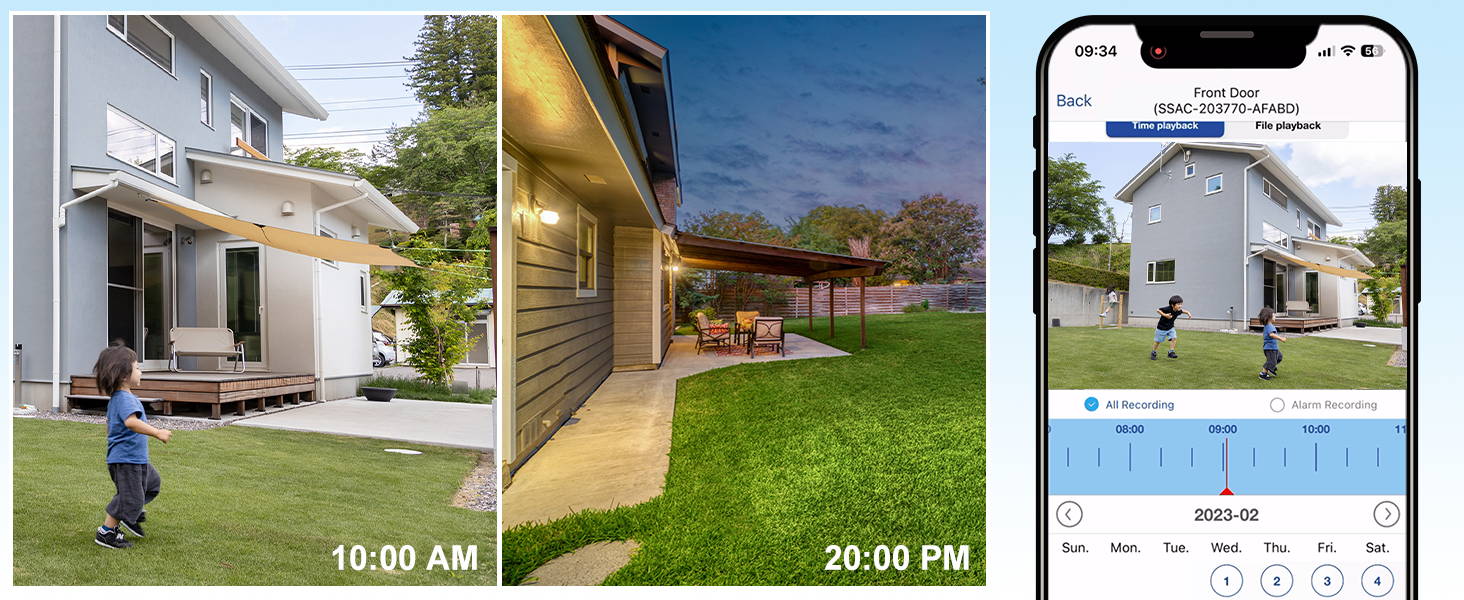 24/7 Recording & 2 Storage Methods
The solar security camera supports 24/7 uninterrupted detection and recording, as well as two storage methods: TF card remote storage and local storage on mobile phones.
Remote recordings can be automatically stored on a TF card with up to 128GB of memory (not included). You can also choose local storage, and mobile apps can help you retain special memories. Note: A TF card camera must be installed to enable that form of storage.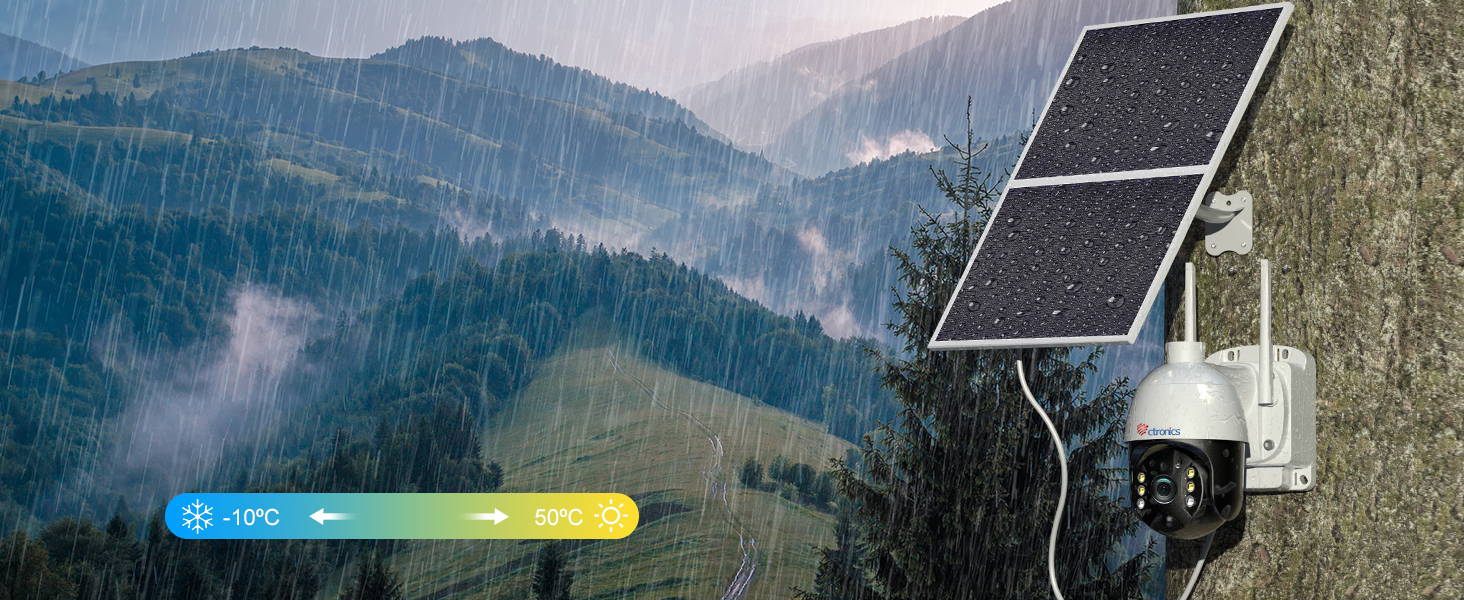 IP66 Weatherproof & Low Power Consumption
The solar surveillance camera can withstand harsh weather conditions ranging from -10 ℃ to 50 ℃, protecting your family and property day and night.
The metal shell enables it to withstand more external impacts, prolonging its service life.
When the PIR sensor and human detection are not triggered, it records at low power, less than 4W.