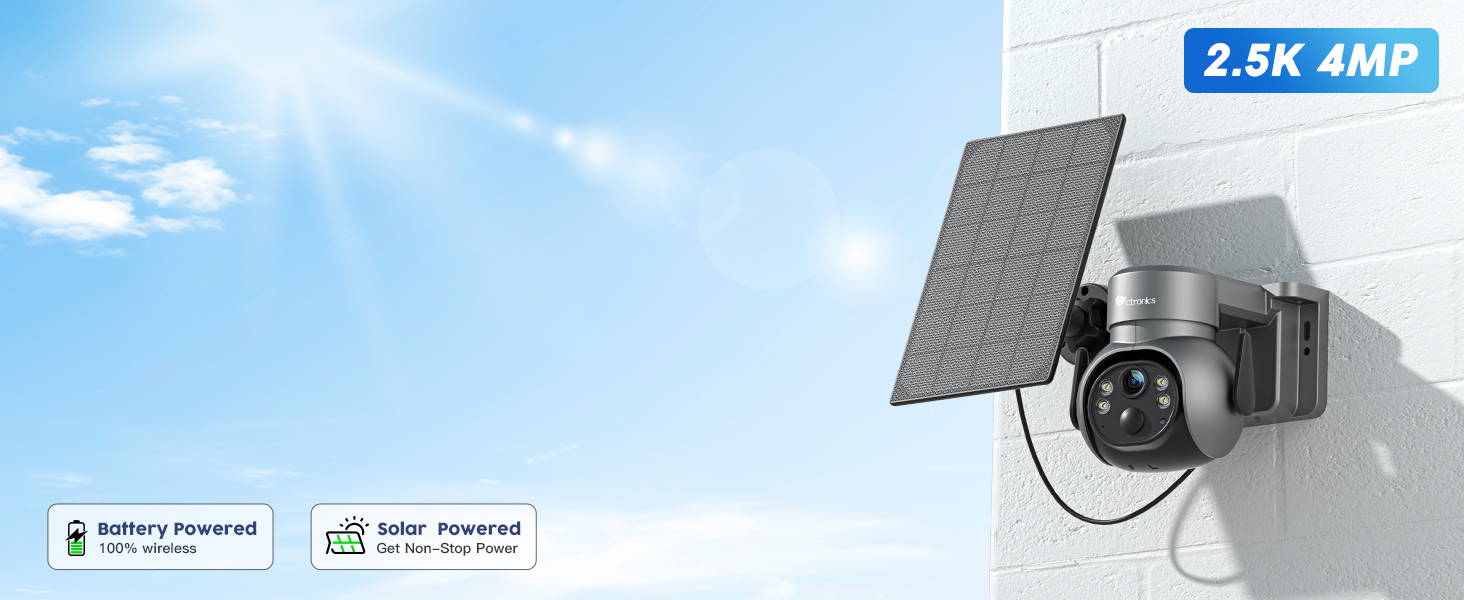 Our solar WiFi camera with 5000 mAh battery and 3.5W solar panel can provide you with continuous power.
Equipped with QHD pixels [2560 x 1440P] and [4x digital zoom], this solar security camera can capture brighter, wider details for you.
Solar Power & Revolutionary Charging System
The Ctronics wifi wireless outdoor solar camera can charge the 5,000 mAh battery via the 3.5 W solar panel (only one panel is included). If you buy another solar panel with a solar panel connection cable, you can combine the two in different orientations for simultaneous charging. More efficient double charging power can be achieved with just one additional solar panel!
2,5K 4MP QHD & PTZ 355 °/95 °
Cette caméra de surveillance exterieur à énergie solaire est dotée de pixels QHD (2560 x 1440P) et d'un zoom numérique 4x, vous permettant de capturer des détails plus clairs et plus larges.
La fonction panoramique à 355° et la fonction d'inclinaison à 95° rendent votre champ de vision de surveillance à distance sans aucun angle mort.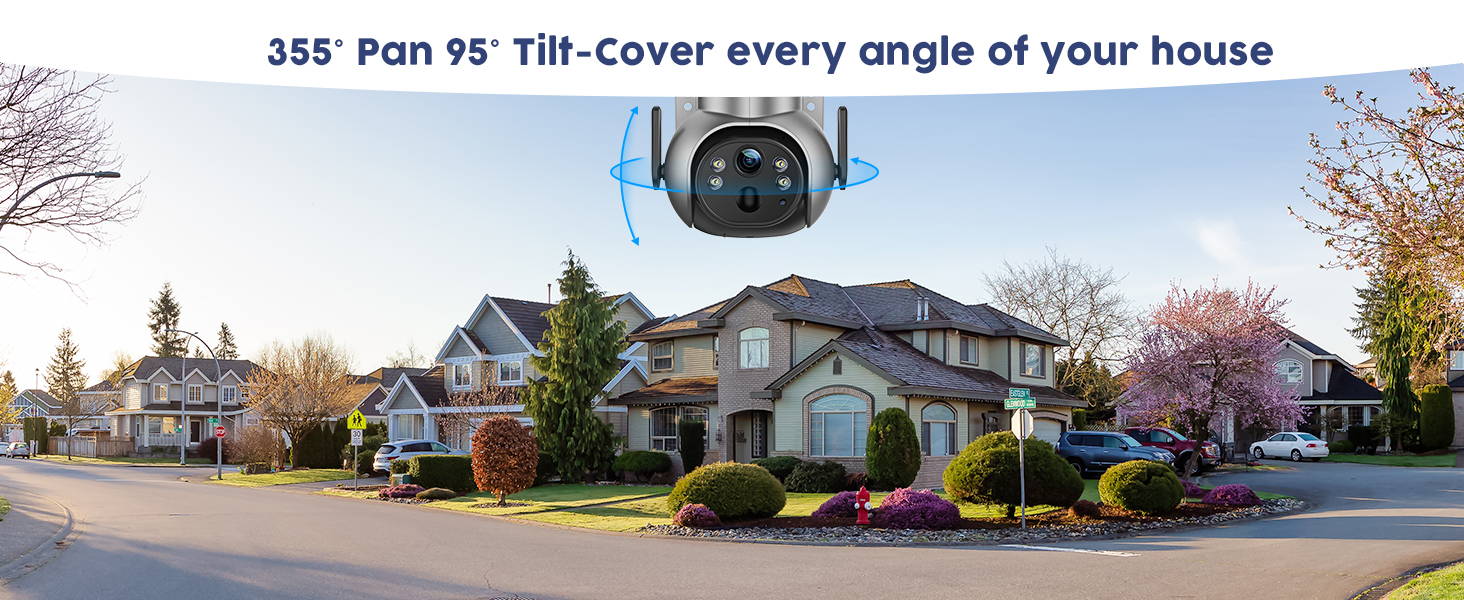 65ft Color Night Vision & Two-Way Audio
Equipped with 12 spotlights and 12 infrared light, our 4K outdoor security camera can provide 65ft color night vision, or 82ft night vision in infrared mode. The built-in mic and speaker allows you to hear and speak to your visitors in real time, even scaring away the intruder to protect your house.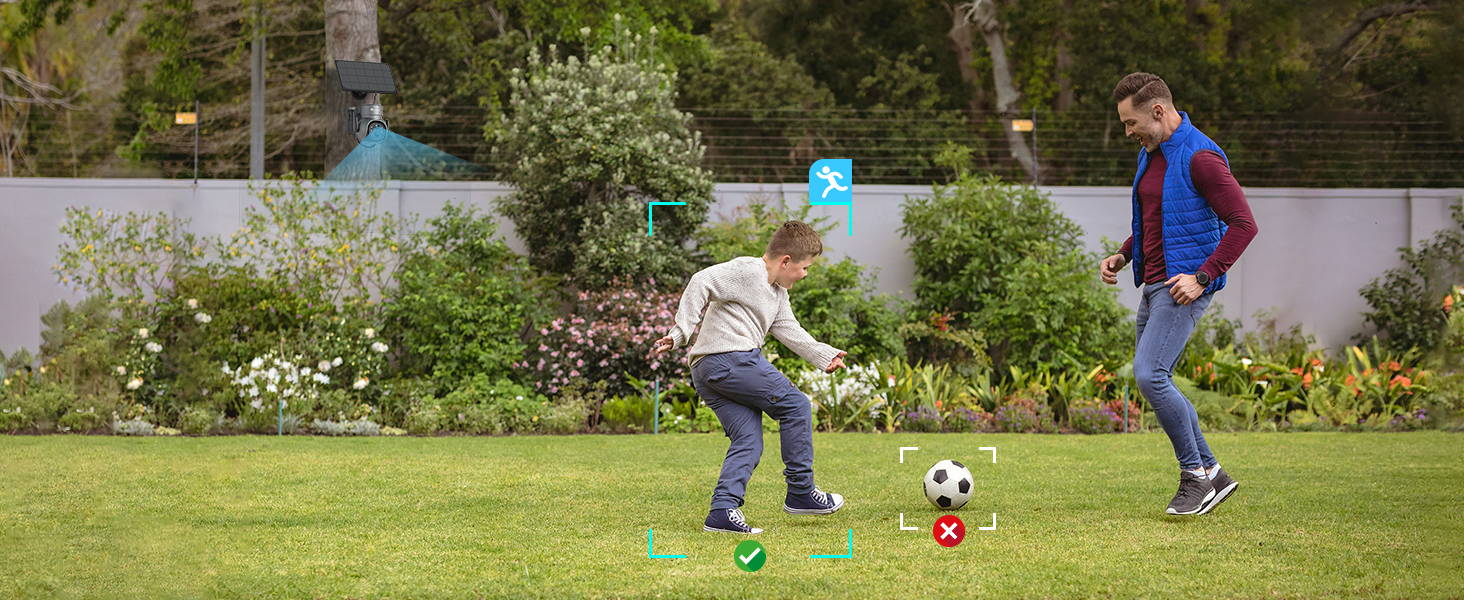 Human Detection PIR & Notifications
This solar-powered wireless outdoor camera activates low-power mode by default. When it detects temperature and movement, its PIR sensor will be activated in just 0.2 seconds. In addition to human detection, it can reduce false alarms by 95%. You can receive notifications via app push, e-mail and FTP. Its monitoring distance is up to 12 m. You can always stay informed thanks to the solar-powered camera.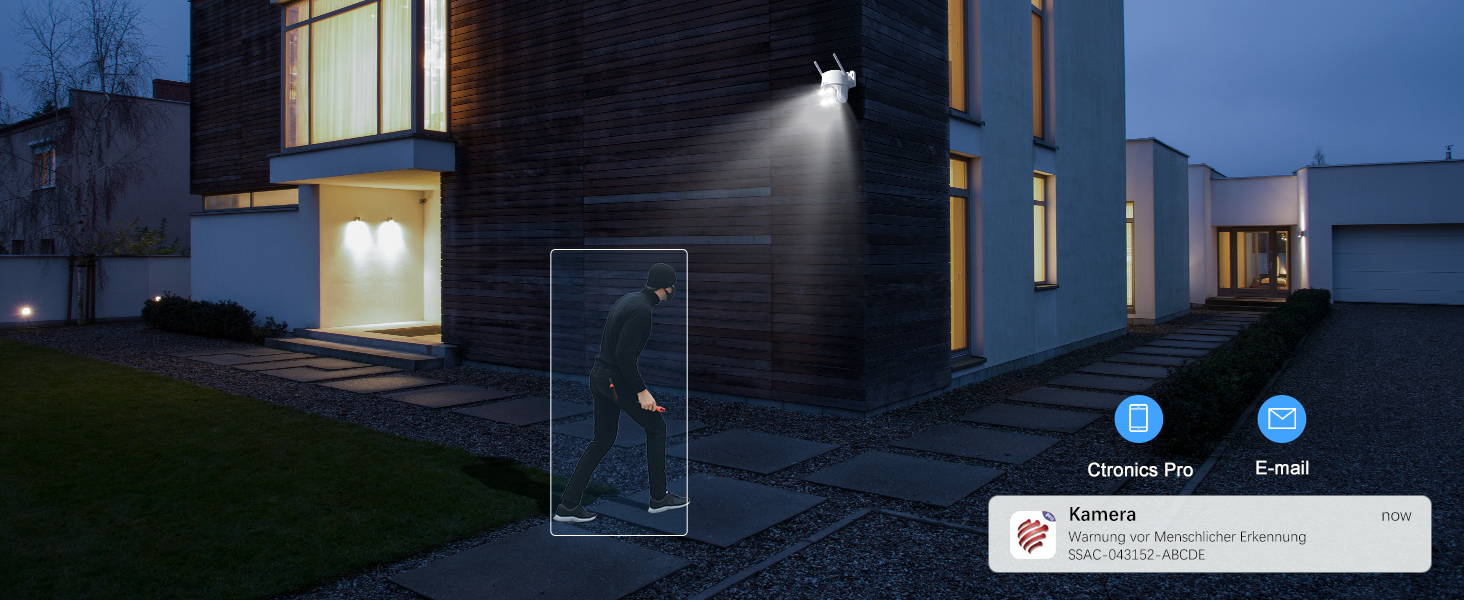 4x digital zoom
This solar-powered outdoor surveillance camera features QHD pixels (2560 x 1440P) and 4x digital zoom, enabling you to capture clearer, wider details.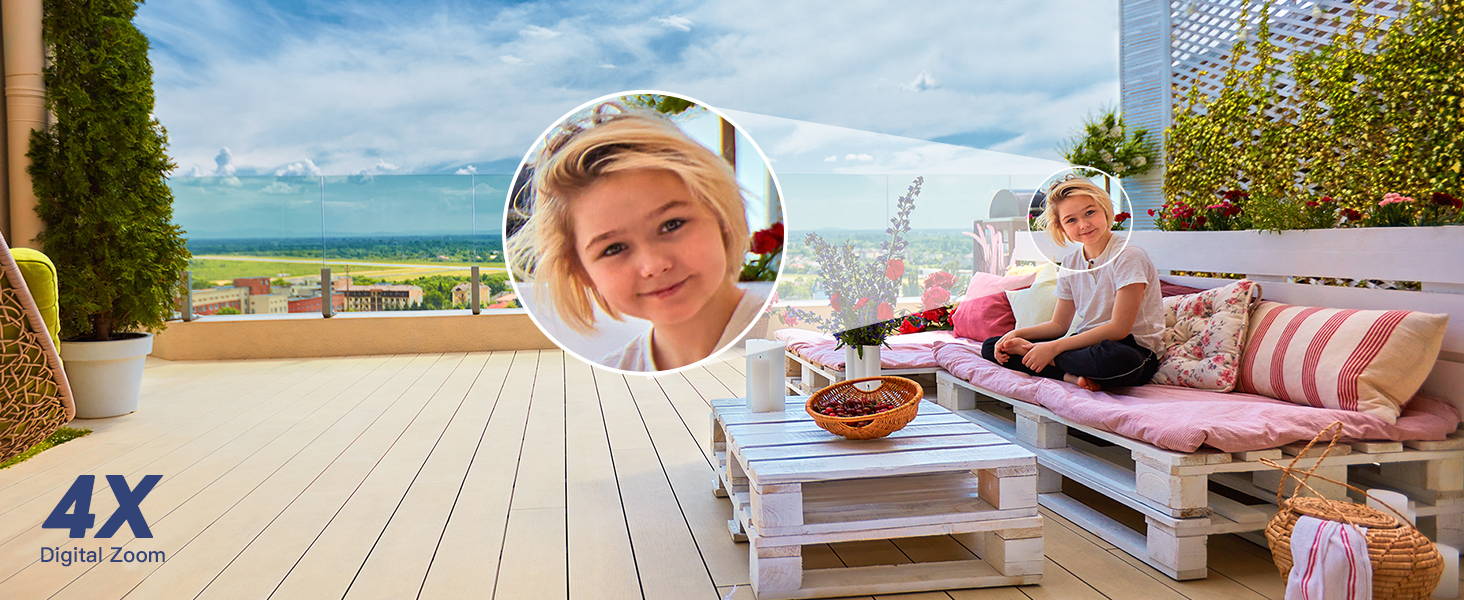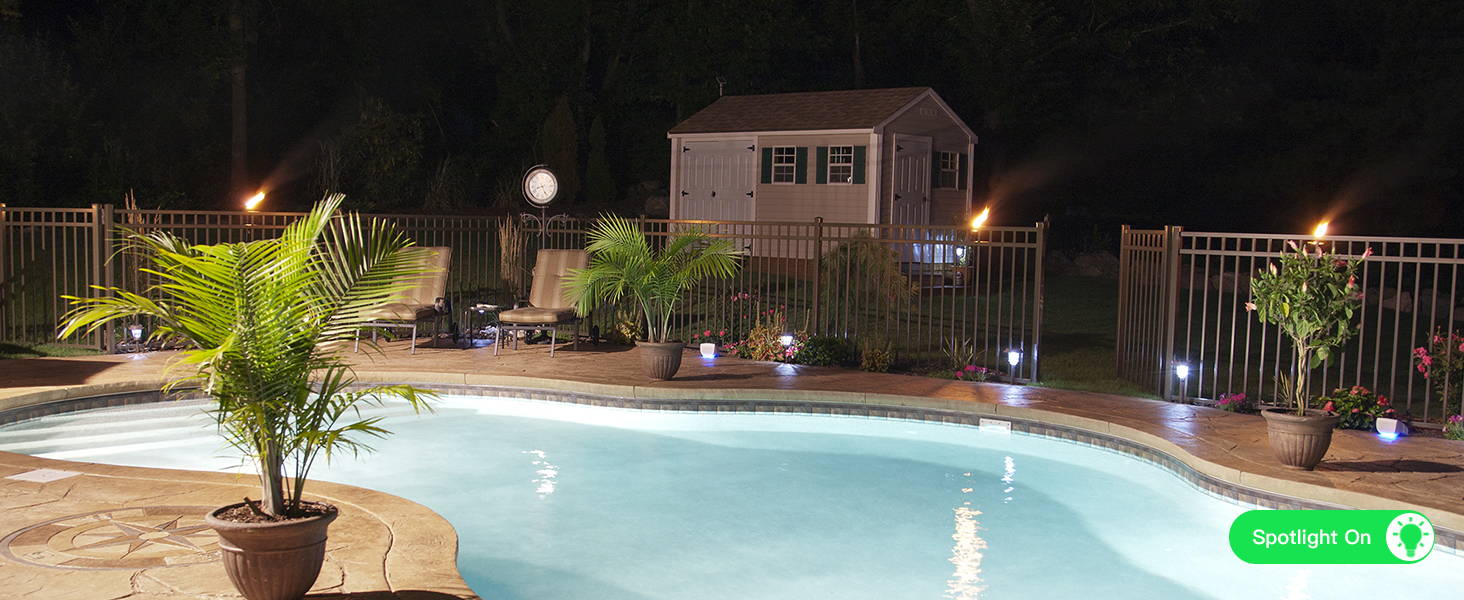 With 4 dual wicks: 4 white lights or 4 infrared lights, this battery-powered wireless outdoor camera helps you capture more detail in the dark with 20 m color night vision or infrared night vision with reduced power consumption.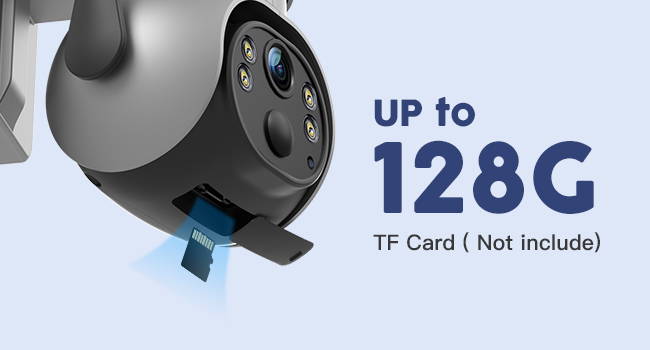 TF card storage and recording
This PTZ solar surveillance camera can automatically record alarm detection videos on a TF card (up to 128 GB, not included).
When the TF card memory is full, it will overwrite the oldest recording and start recording again.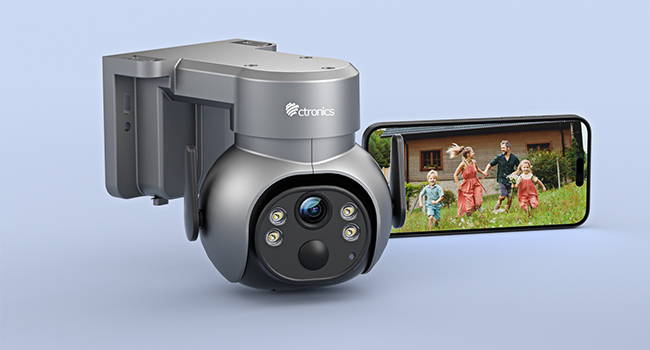 Broad Compatibility in Practical Application
The WiFi outdoor solar camera is compatible with the "Ctronics Pro" app via iOS/Android. PCs are not supported.
You can view the surveillance screen anytime, anywhere from your smartphone.
This wireless outdoor solar camera allows at least 4 people to share online and view images on the app at the same time.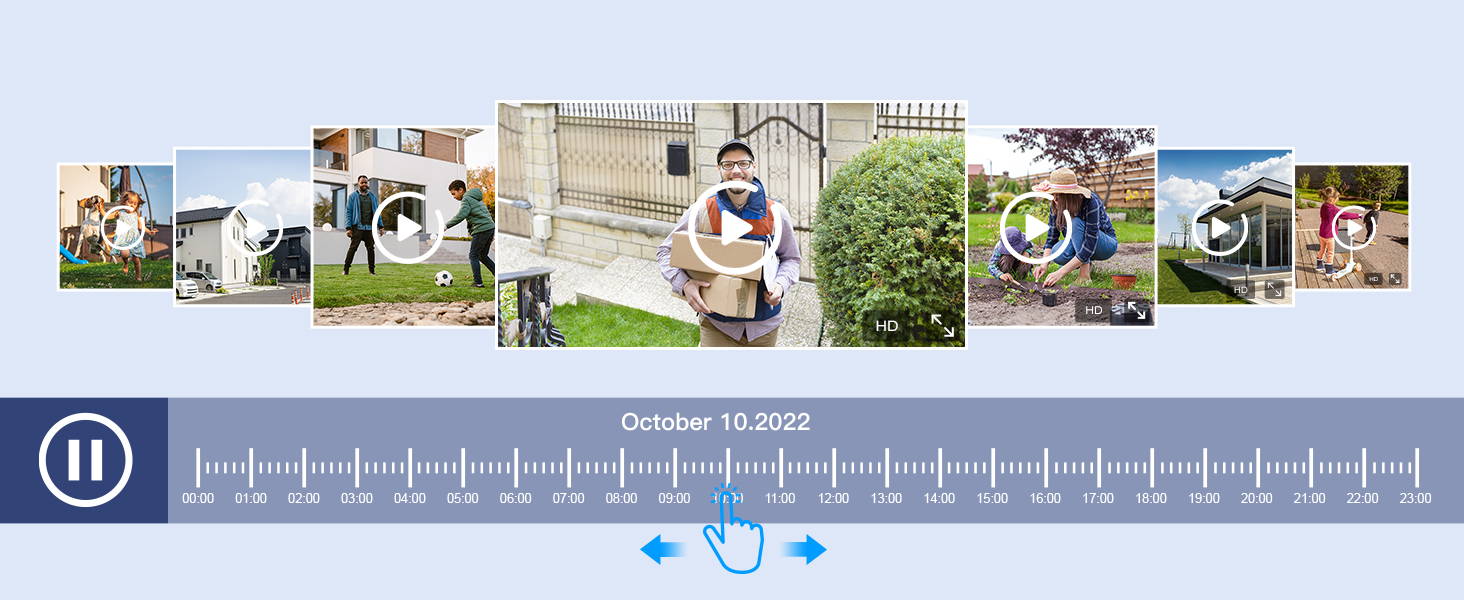 Easy To Install
Simply tighten the screws
We recommend installing it in a sunny spot with long hours of sunlight.