Why choose Cococam 10-20x Zoom HD Monocular?
10X-20X Zoom-Easy to zoom in on the target to see more precisely.

FMC green multi-layer coating & superior BAK4 prism-Ensures clearer and brighter vision.

Stabler all-metal tripod with rotating ball head- Offer better all-around viewing experience.

Twist-up eyecup & bolts-Considerate design for men/women with or without glasses.

Single-handed Hold- Convenient to use and portable.

IPX7 Waterproof & 100% Nitrogen filling-waterproof, fog-proof, dust-proof, anti-slip, and sweat-proof.
Warm Tips:
1. Do not observe the sun directly with the monocular, otherwise your eyes will be injured.
2. Do not allow the monocular telescope to be dropped or mishandled, as damage will result.
3. Do not soak the eyepiece directly in water.
4. Please keep the eyepiece lens and objective lens clean while using it.
5. Please read the user manual carefully before using the monocular. If you encounter any problems that cannot be resolved, please feel free to enquire us via inbox email.
10-20X Variable Magnification, Seeing More Details
Compared to a regular monocular with fixed magnification, our 10-20x monocular telescope is adjustable. By adjusting the 10-20x zoom wheel counterclockwise, you can easily see distant scenery and objects, and by adjusting the focus wheel, the field of view will become clearer. If it needs to be used with a smartphone, you can use the zoom function to make a full-screen image display on your phone, which is easier to observe.
Note:
1. Please avoid eyelashes from contacting the eyepiece lens directly.
2. When used with your smartphone, we recommend installing the monocular with a tripod for observation, which effectively ensures image stabilization.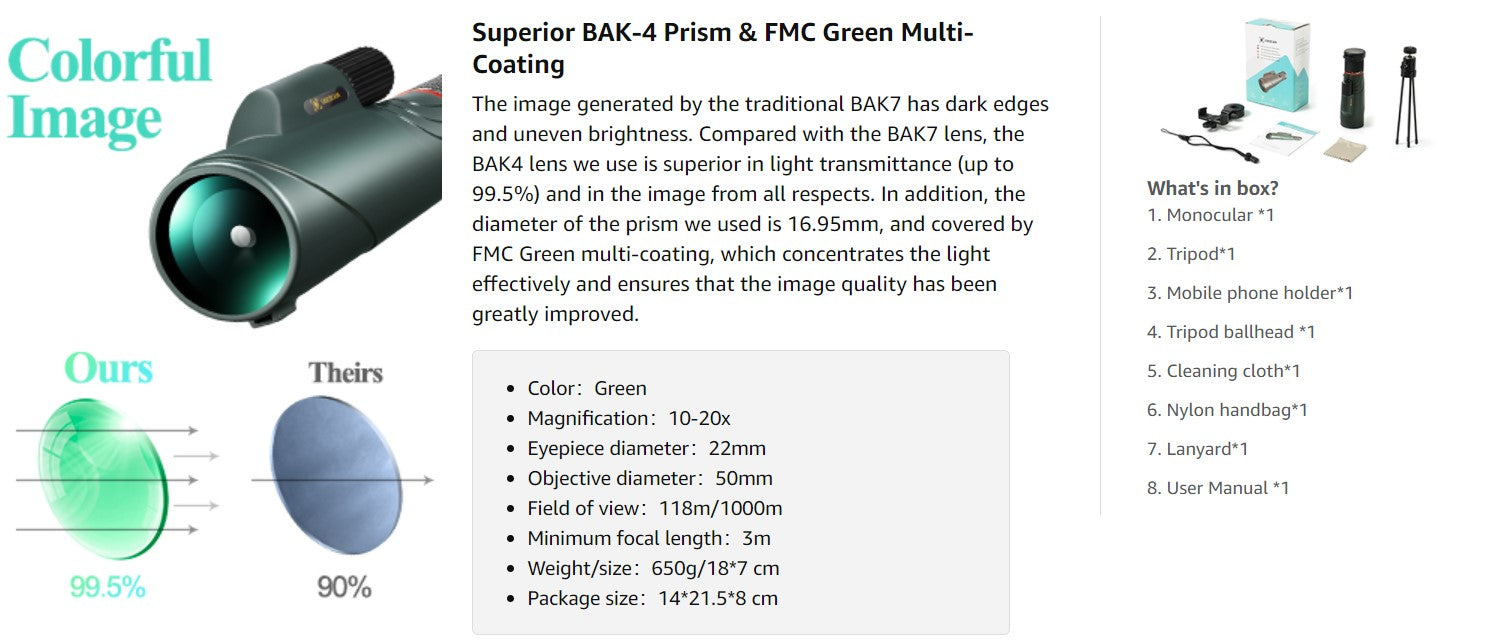 All-metal Tripod, More Stable than Others

Compared with fragile plastic tripods, our all-metal tripod is more stable and durable. Even installed with smartphone and phone holder, it can show excellent stability and will not topple over easily when placed horizontally. In addition, you can choose to install the tripod with the monocular with or without the tripod head.

Twist-up Eyecup, Friendly for People with Glasses

Twist-up eyecup can be adjusted up and down, which is also friendly for people who wear glasses. You do not need to adjust the twist-up eyecup when you are wearing glasses. When taking photos with your phone or observing while not wearing glasses, you need to rotate the twist-up eyecup clockwise to a comfortable height.

Considerate Design with Smartphone Adapter

The monocular telescope comes with a rotating tripod head and there is a bolt on the head for fixing the observation angle no matter if you look up or down. There are two bolts on the phone holder; the upper one is used to fasten the phone holder to the monocular; the bottom one is for fixing the alignment of the phone holder with your phone.
118/1000M Field of View, See Wider and Farther

With a 50mm large objective lens, the field of view of this monocular is up to 118m (width of vision)/1000m(length of vision), which helps you achieve farther and wider vision. The minimum focal length is 3m, so you can also observe objects nearby.

Light and Portable, Suitable for Outdoors

The weight and size of this monocular make it easy to carry. When you are outdoors, you can put it into your pocket or handbag for storage and it is very convenient to take out for using anywhere. It is also suitable as a decent gift due to its great usefulness and appearance.

IPX7 Waterproof, 100% Nitrogen Filling

IPX7 Waterproof grade and the 100% nitrogen filling design ensure its excellent waterproof, anti-fog, dust-proof, anti-slip, and sweat-proof performance and prevents moisture, dust, and debris from getting inside the monocular, greatly improving the durability of the monocular.
Important:
This monocular is user-friendly for people who wear glasses.

If your phone has multiple rear cameras: Align the camera hole of the phone holder with all of the cameras of your phone one by one, until you find the correct camera lens where your phone can display a complete and full image instead of a black screen .

Please keep an angle of less than 5° for the overlap between the phone holder and the monocular to ensure that the image is located in the center of the screen.
| | |
| --- | --- |
| Product Dimensions | 7.68 x 2.76 x 5.12 inches |
| Item Weight | 1.43 pounds |
| Item model number | MY-DT0001 |
| Lens Coating Description | Multi-Coated |
| Field Of View | 1000 Meters |
| Date First Available | September 17, 2021 |
| Manufacturer | COCOCAM |