Ctronics 5MP Wifi Security Camera with Cruise and Auto Tracking-5x Optical Zoom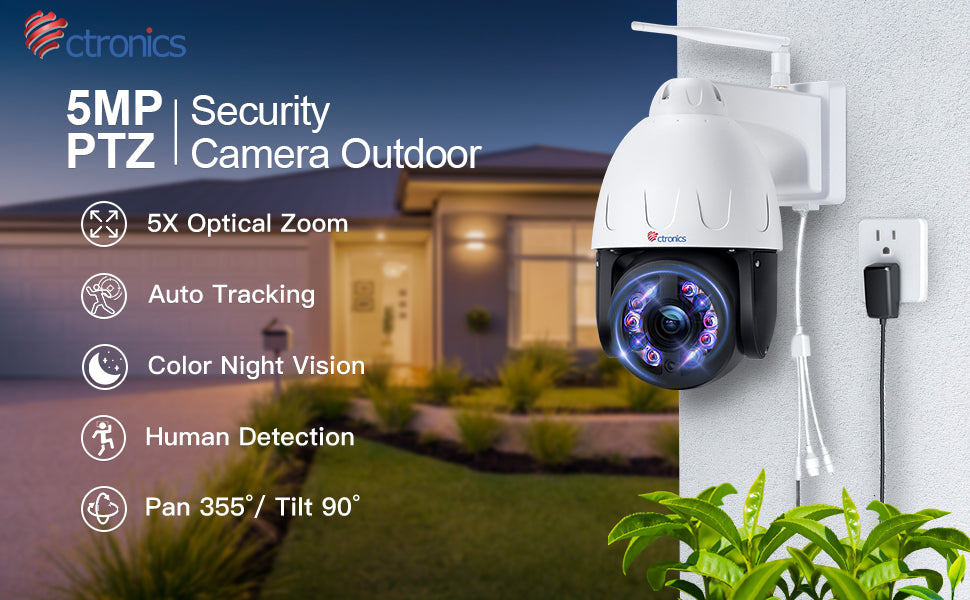 Ctronics 5MP PTZ Camera Outdoor: Easy Installation, Convenient Use
5X Optical Zoom & Pan 355° / Tilt 90°: This ptz security camera outdoor boasts a 5X optical zoom function that provides you more clearer details of far-away targets or a panoramic view at a wider and larger angle. The wireless wifi outdoor camera with 355° pan and 90° tilt supports stable 2.4GHz(not 5G) WiFi connections, which you can remotely control via phone/PC to live view and monitor every corner without any blind spots with CTRONICS APP without subscription fee. Work with NVR/Blue iris.
5MP HD Resolution & Color Night Vision: The 5MP HD security camera with advanced CMOS sensor delivers ultra-high quality images in 2560x1920 which is clearer than other 1080p surveillance cameras. This outdoor security camera has built-in enhanced 10pcs LEDs which can support a long vision range up to 192FT. It supports 3 modes to capture motion during the nighttime, including normal mode/color mode/auto mode. Color mode with spotlight on make sure the vision at night is full-colored and vivid.
Human Detection & Auto Tracking: This Auto tracking security camera can intelligently recognize people and other animals by the shapes of frame, reducing 95% false alarms caused by rain, leaves, and insects, etc. It can automatically follow the people's movement as the motion is detected, and send alarm to your App/Mail/FTP Server, record to and stored in MicroSD card in real-time. It gives your family and property more protection without missing any details.(Note:MicroSD card not included)
Preset & Cruise: Ctronics 5MP PTZ outdoor camera can monitor and patrol in any directions you preset. You can customize the monitor area by presetting up to 16 key spots for each cruise wherever you would like. When you type and apply the command '76' the ptz camera will start to patrol the first 16 preset spots automatically until you stop it with a tap on the app. And the number after 76 is for every other 16 presets. Warm tips: "Cruise" and "Auto Tracking" could not work simultaneously.
Two-Way Audio & IP66 Waterproof: The wifi security camera with built-in microphone and speakers enable you to listen & talk to others even when you are off home. The security outdoor camera is equipped with an IP66 rated weatherproof metal housing for outdoor using, which ensuring its excellent performance even in severe weather -20℃~+60℃(-4℉~+140℉). This wifi ptz camera outdoor can be shared with your family members wherever they are and you get to know what happen at home in real-time.

5MP Super High Definition
With 5 megapixels (2560x1920), the wifi camera offers more detailed and vivid live images, almost 2.4 times better than 1080p complete HD. With the advanced SONY335 CMOS sensor and an array of 10pcs infrared and white light LEDs, you can capture every detail, enjoy a clear, colored vision (up to 165FT/50M) even in the dark.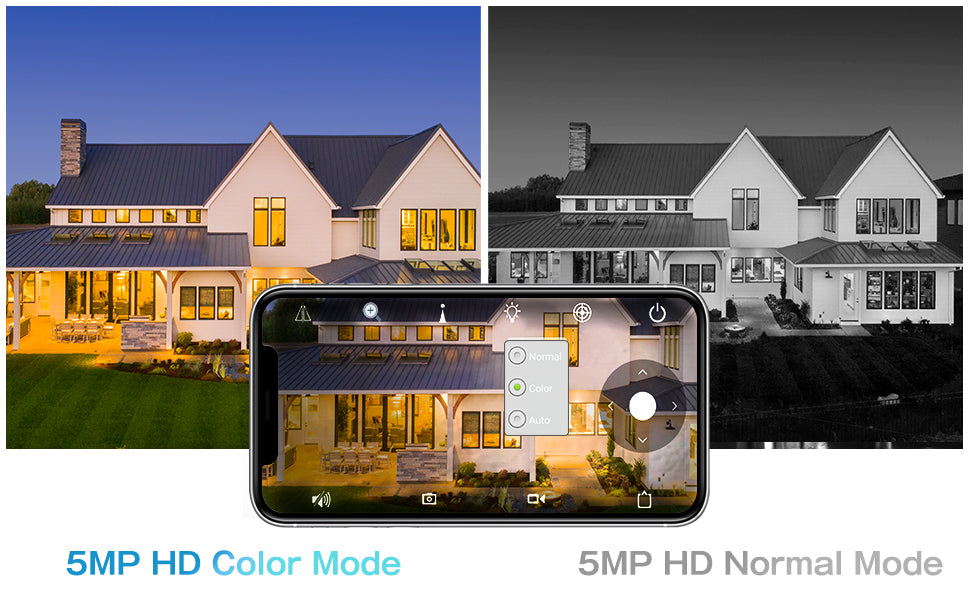 Smart 3 Modes Night Vision
Normal Mode(IR Night Vision)——Normal Mode with 2pcs Infrared LED lights, the home security camera would capture HD crystal clear pictures & videos in white& black mode.

Color Mode(Color Night Vision)——The wifi ptz security camera with built-in 2pcs spotlight illuminates the ambience, capture and record vivid images even at pitch dark nights.

Auto Mode(Intelligent Mode)——The built-in spotlight of security camera will be auto-on when human is detected which is more energy-saving for longer working period, otherwise only infrared lights are on.