2K 4MP Security Bullet Camera with Human Detection 20M Color Night Vision for IP66 weatherproof outdoor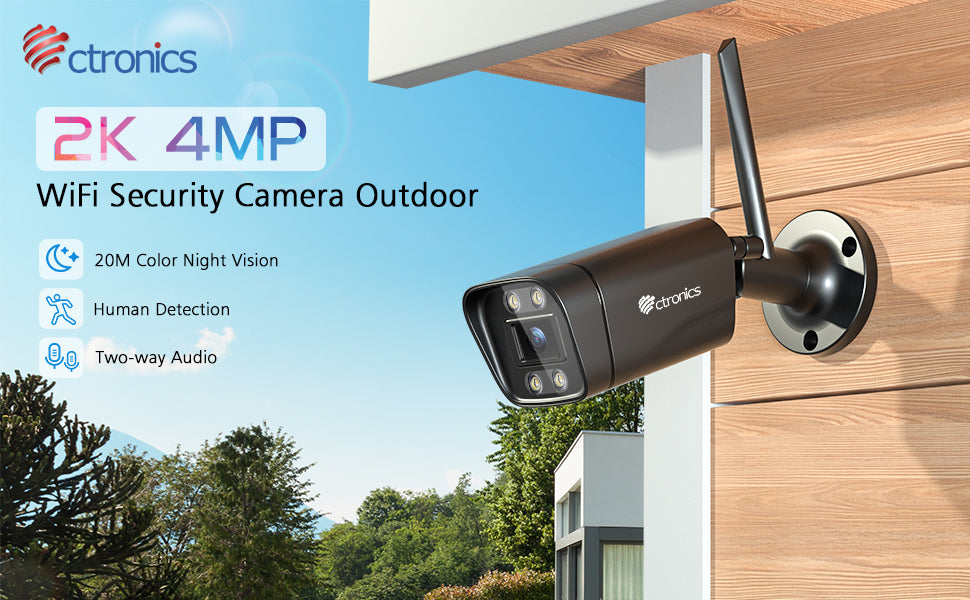 2K 4MP Outdoor Security Camera Escort for Your Safety
2K 4MP & 20M Color Night Vision:Equipped with 3.6mm 4 megapixel lens and 1/3" color CMOS sensor, Ctronics wifi outdoor surveillance camera provides better image and video stability and clarity. Thanks to the built-in 4 white lights and 4 infrared lights, this 2k wifi outdoor security camera provides you with full color night vision images for up to 20 meters (65ft).
Human Detection & Real-time Notification:Ctronics outdoor surveillance camera can distinguish the movement of human and non-human objects, so it can reduce false alarms by 95%. When motion is detected, the 2k 4mp camera can record video through the Ctronics app and send real-time alert notifications to your smartphone. You can remotely view what happens in the app in real time and manage it in time. In addition, the recorded video can be watched on iOS/Android/PC devices.
Two-way Audio & 90°Viewing Angle:The outdoor wifi camera has a built-in microphone and speaker system. Using the virtual buttons in the Ctronics application, you can use the intercom function to talk to people in front of the outdoor IP security camera anytime, anywhere. No matter where you are, you can catch any suspicious sound.
Remote Monitoring & TF Card Storage:The 2k wifi outdoor cctv camera supports simultaneous connection of your PC, mobile phone and tablet. You can watch the video in real time or play and download the video on multiple devices. The 4MP outdoor cctv camera supports TF card storage (the card is not included in the package; the maximum is 128 GB).
Metal Material & IP66 Waterproof:This 4MP outdoor wifi security camera adopts an IP66-rated weatherproof metal housing, which can withstand ambient temperatures of 0°C to 55°C and solves outdoor installation damage caused by water or high temperatures. No matter what the environment, the 4MP outdoor security camera can record 7*24 hours.
Note:
The camera only supports 2.4GHz WiFi, not 5GHz WiFi.
Download the CTRONICS APP in advance; it does not support third party software.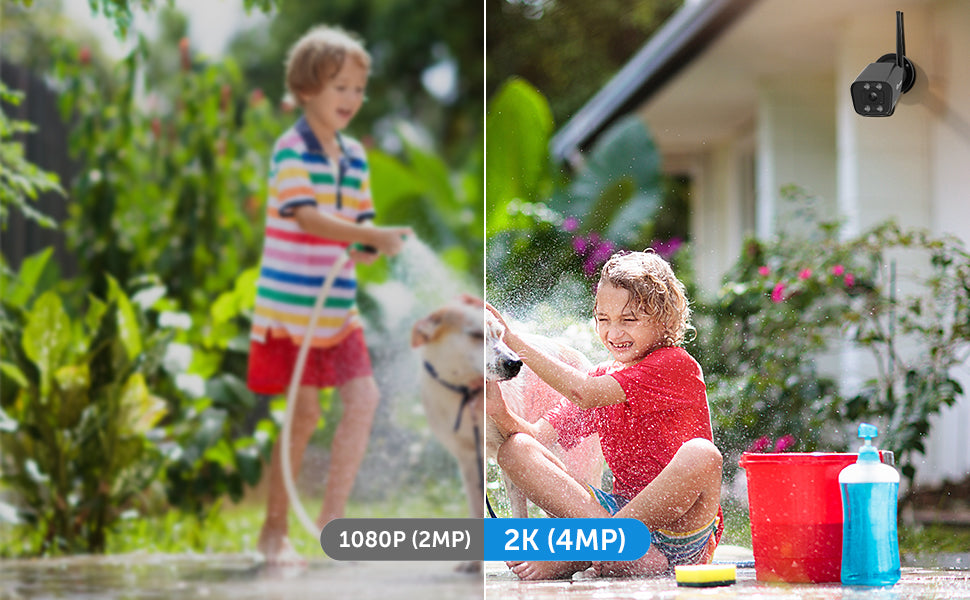 2k 4MP High Resolution Picture Quality 
Equipped with 4MP high resolution lens and high performance CMOS sensor, this outdoor camera shows the picture and video clearer than the 1080P security camera; never worry about missing any details.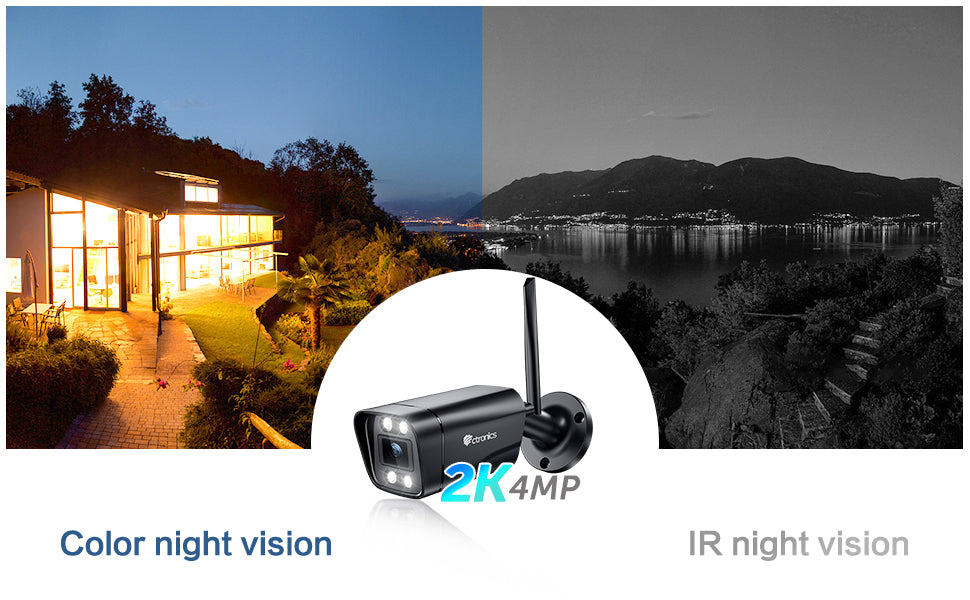 Full Color Night Vision
This 2k 4mp CCTV security camera uses a new generation of infrared LED technology positioned in a row, bringing greater reliability and better colorful night vision. Distance is guaranteed up to a maximum of 20 meters.
When a thief enters the surveillance range at night, the security camera will be triggered and send a alarm. There are 3 warning modes for you to choose: "audio warning", "white light warning" and "audio and light warning".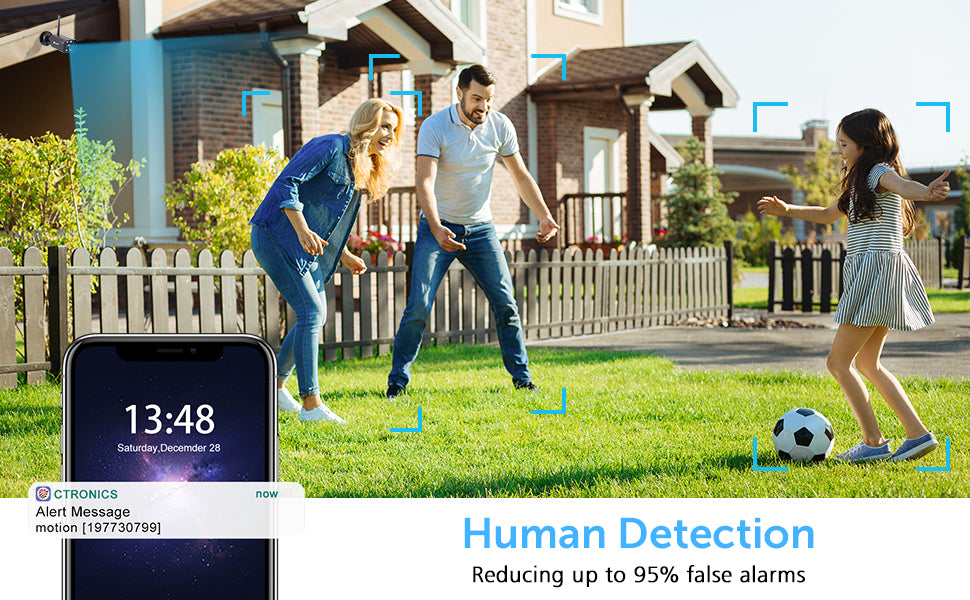 Monitoring of Humanoid and Real-time Alert
When the 2k 4mp security camera detects the humanoid movement, you will receive a notification message intermediately; click on the message and you will be taken to the warning video to check what has happened, so that you will not miss any emergencies.
Brand

‎Ctronics

Model

‎CTIPC-510C

package dimensions

‎19.5 x 10.8 x 10.4 cm;

 

800 grams

memory capacity

‎128GB

removable memory

SD card

Light source type

‎Infrared

Effective video resolution

‎4MP

Batteries / batteries included

‎Not

Supported connections

ONVIF

connector type

‎Wireless

product weight

‎800g