Ctronics 2K 4MP 360°Outdoor Security Camera & 2560×1440P PTZ Dome WiFi Surveillance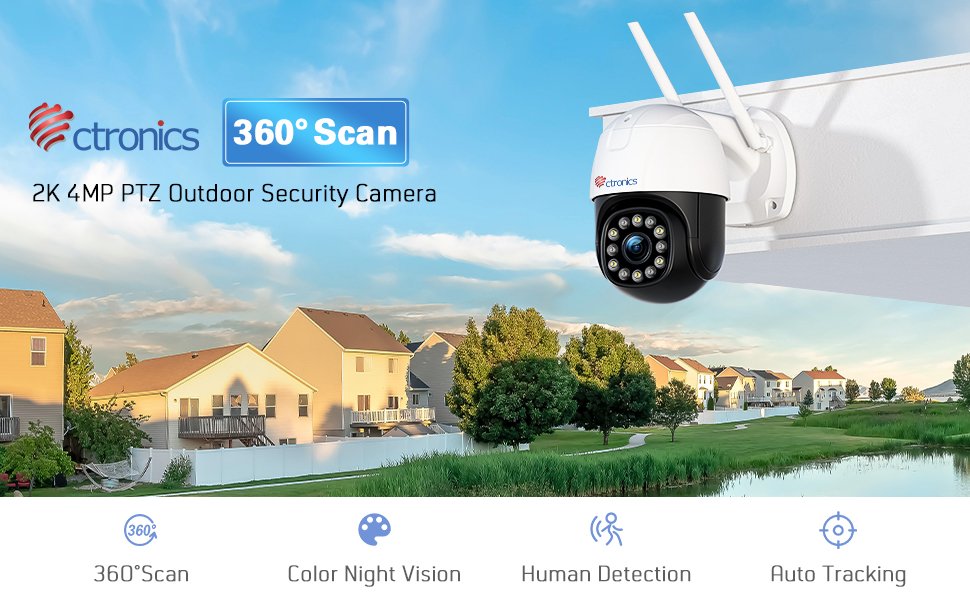 Ctronics 2K 4MP Security Camera Outdoor
【360°Auto Scan No Pause & 2K 4mp】 With the real 360°Pan and 90°Tilt, this CCTV WIFI camera can capture larger viewing angles and cover more areas. After detecting motion, the WIFI camera will track the object over 360°in the same direction either left or right. 2K 4mp 2560×1440P PTZ outdoor camera with HD quality can bring you increased clarity and visual enjoyment.
【30 Presets & Cruise Record】 This 2k outdoor surveillance camera can be positioned to observe any area you want, with the ability to assign up to 30 preset angles. The cruising feature enables automatic movement according to pre-set automatic patrol paths even when no one is in control of the 360°outdoor security camera. After detecting motion, it will transition to auto tracking, and the cruise feature will be paused. It can be reset through the app.
【Human Detection & 360°All-round Auto Tracking】With the advanced human detection function and automatic tracking, the wireless outdoor camera can distinguish between people and animals, which helps to reduce false alarms caused by rain, leaves, and insects by 95%. Once a human is detected, a message will be sent to your phone instantly, and the PTZ security camera will start to track automatically.
【 30m Color Night Vision & Two-way Audio】 With a 3.6 mm lens and a 2560×1440p resolution, the PTZ outdoor security camera delivers clear outdoor pictures/videos. In addition, due to 6 floodlights and 6 infrared lights, this outdoor security camera with array infrared technology provides color night vision, with a spotlight up to 25 m and infrared up to 30m. Thanks to its built-in microphone and speakers, you can not only hear those on the other side of the camera; you can also communicate with them, which helps to thwart unwanted intruders when you're away from home.
【Multi-Users Viewing & IP66 Waterproof 】The wireless outdoor WIFI camera supports online viewing by multiple users at the same time, so you can share happy times with your family members or friends. The outdoor WIFI surveillance camera equipped with an IP66-rated housing, made of durable materials, is waterproof and dustproof. This outdoor security camera is compatible with NVR, as well as iOS/Android/Mac/Windows systems. It is supported by the Ctronics App and has space for a 128G SD card.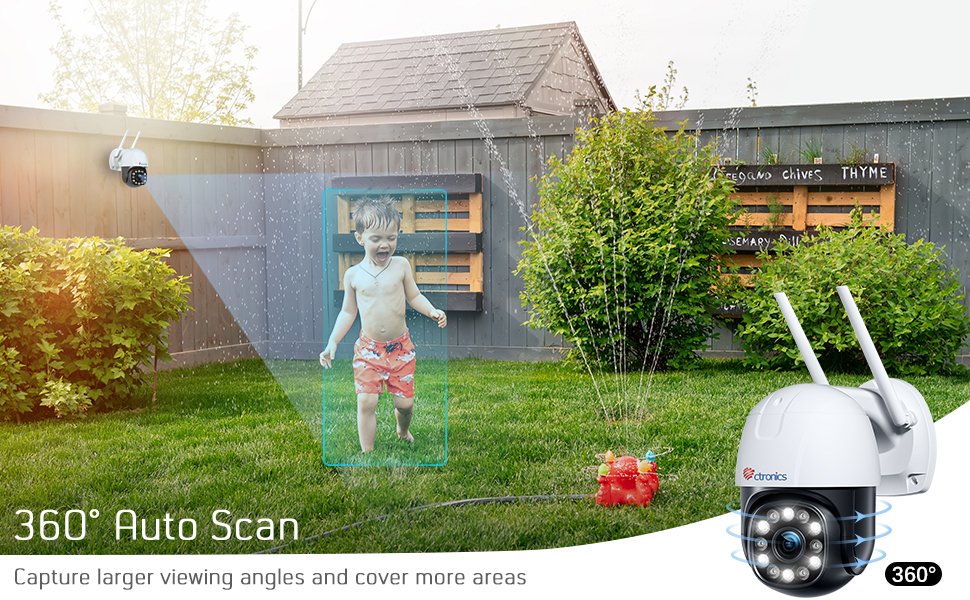 Outdoor WIFI Camera with 360°Auto Scan and 90°Tilt
This PTZ outdoor camera features infinite horizontal 360°scanning and cruising. It can rotate more than 360°in the same direction according to your settings and loops infinitely until a human figure or other motion is detected, automatically tracking detected objects. You can see everywhere you want and won't miss a single detail throughout your home with the WIFI CCTV camera.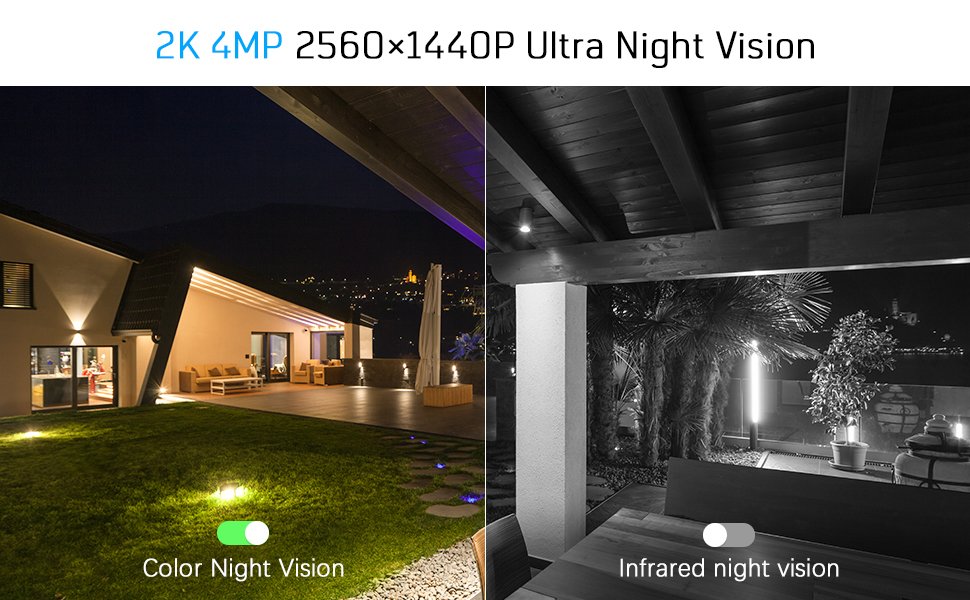 2k 4MP Outdoor Camera with Superb 30M Color Night Vision
With dual light source design and 6 spotlights and 6 infrared lights, the PTZ WiFi security camera can provide high-definition colored pictures and videos even at night.
This 2K 4mp 2560×1440P outdoor security camera can show you vivid color images in total darkness. The 2K PTZ CCTV camera uses a new generation of infrared technology to provide higher reliability and better night vision. Maximum night vision distance up to 30 m.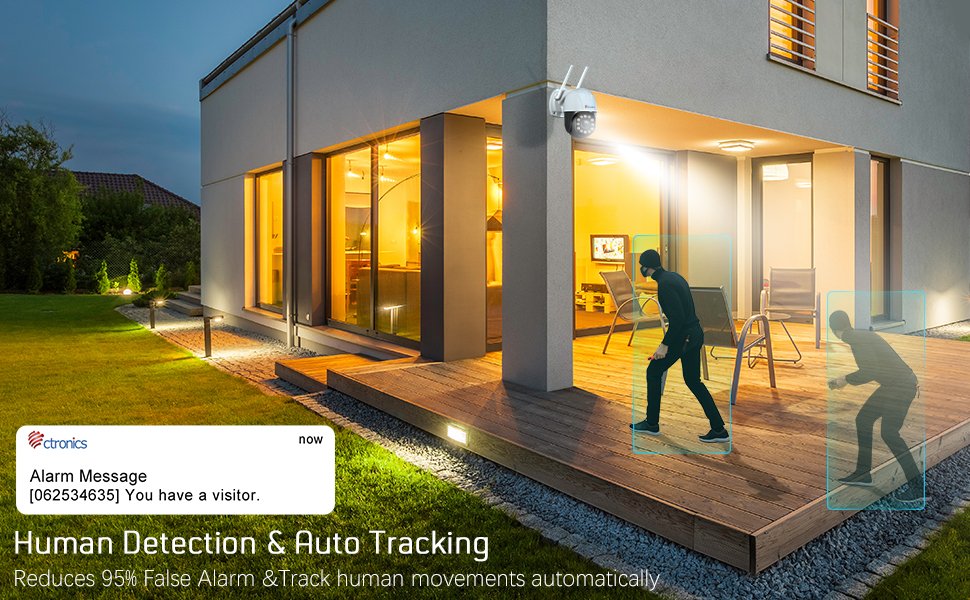 PTZ Security Camera with Human Detection & Auto Tracking
This Ctronics 2k 4mp outdoor security camera has an intelligent human detection function, which reduces false alarms caused by rain, leaves, animals, and insects by around 95%. After locking on the target, the PTZ outdoor camera will automatically track human movements and send email alerts or notifications to your smartphone in real time.
Tips:
✮Supports 360° viewing
✮Works on Andriod/iOS/MAC/Windows
✮Supported by the "CTRONICS" APP
✮Supports 24*7 recording
✮Supports AP hotspot connection
✮Only works with 2.4GHz WIFI; not 5GHz WIFI.