1080P Solar Security Camera with Two-way Audio and Multi-Users Viewing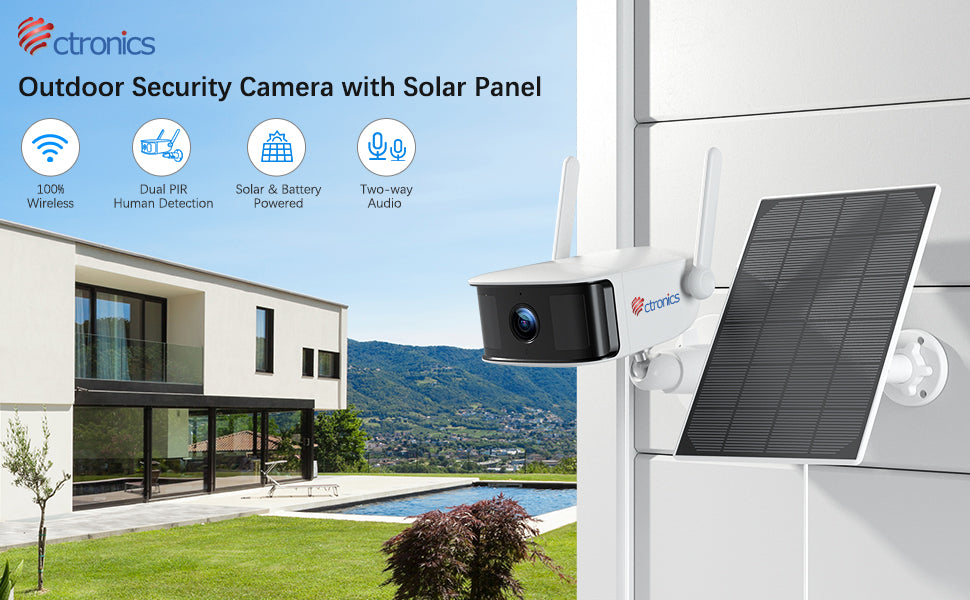 🔋Solar and Battery Powered and 100% Wire-free: Ctronics outdoor solar security camera uses a 10400mAh battery, which can last for 4 weeks or on standby for 12 weeks. In addition, the solar panels can provide uninterrupted solar power for outdoor security cameras. The 100% wireless IP camera is easy to set up, freeing you from cables and hassle.
💡Dual PIR Human Detection and Instant Alerts: The security IP camera has dual highly sensitive PIR motion sensors, providing a detection distance up to 10 meters and a wider view up to 120°. With intelligent humanoid recognition, the solar security camera can reduce false alarms up to 95%. Accurate and real-time notifications will be sent to your smartphone when motion is detected.
📞Two-Way Audio and 1080P HD Night Vision: With integrated microphones and speakers, this wireless solar camera supports real-time audio between hosts and visitors anytime, anywhere. With a 2.8 mm 1080P full HD lens, the intelligent IR-CUT switch ensures clear images day and night. The infrared lights provide a visible range of up to 20 meters in the dark, which gives you a great night vision experience.
🛡IP66 Waterproof and Remote Monitoring:The WIFI security camera is equipped with an IP66 rated weatherproof outer casing, able to to work well even in extreme weather conditions (−20 °C to 50 °C) like rain, storms, snow, etc. Using the 'CloudEdge' app, you can control this wireless camera to view the images or videos whenever and wherever you want. You can also share the viewing with your family and friends.
☁SD Card Storage and Cloud Storage:The outdoor security camera supports micro SD card storage (up to 128 GB) and cloud storage (7 days free trial), compatible with Android / iOS system mobile devices. When motion detection is activated, the solar WiFi camera can automatically save images and videos on the SD card (it will automatically cover the previous content after the storage is full).
Ctronics WiFi Surveillance Camera With Dual PIR Motion Sensors
The solar WiFi camera has built-in dual PIR motion detection sensors, which can provide a wider field of view of 120°. When detecting any human movement, the outdoor solar camera will start recording and immediately send a notification to your APP.
In addition, this solar wirless camera only detects people and filters out unwanted objects such as branches, moths or dogs through smart humanoid recognition. So it can reduce up to 95% false alarms, and your mobile phone will not receive frequent notifications.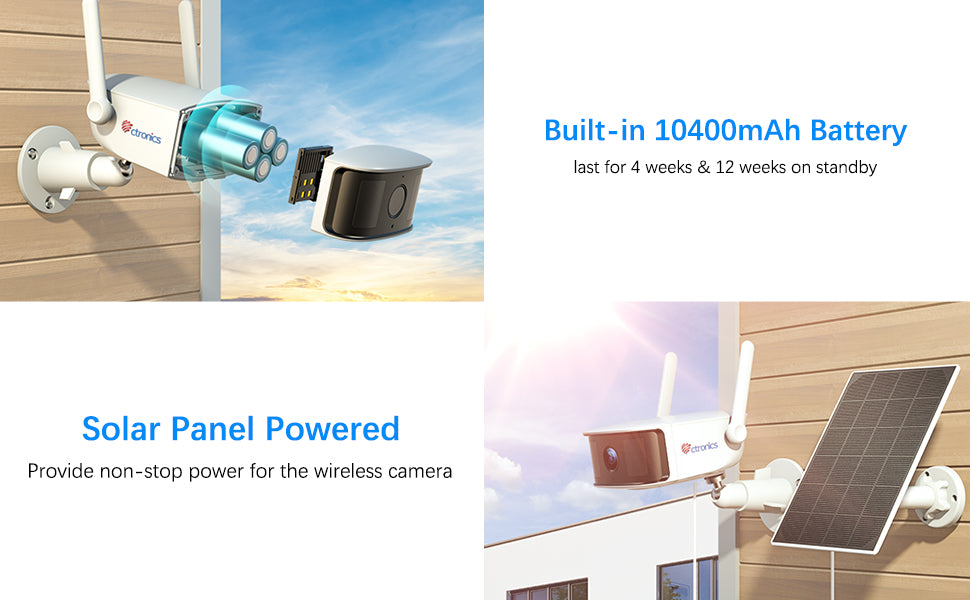 Extended Battery Life and Solar Panel Powered
The WiFi security camera can be powered not only by a 10400mAh battery, but also by a solar panel.
Ctronics outdoor security camera uses 4 rechargeable batteries instead of two, so the battery can be used for four weeks continuously or 12 weeks on standby mode. Also, the solar panel can provide non-stop solar power for the outdoor security camera day or night, sunny or rainy. An excellent choice for outdoor use! 
1080P Full HD

With 1080P HD resolution, the solar security camera can capture anything clearly , providing you with richer images so that you can see every detail. And this WiFi surveillance camera can switch day/night mode according to ambient light automatically. 

Two-way Audio

This wireless security camera supports real-time audio anytime, anywhere between the owner and the visitor. With high-quality two-way noise reduction, you can clearly hear and speak with anyone on phone. You will never miss anyone or anything that matters to you. 

Multi-Users Viewing

This outdoor WiFi camera supports multiple users online who can view at the same time. All users can receive alert notifications when it detects movement. Moreover, you can access the camera and monitor your home on APP anytime and anywhere.
 

SD Card and Cloud Storage

The surveillance outdoor camera will automatically record images and videos to an SD card up to 128 GB. It also supports cloud storage(7 days free trial). When the memory is full, it will automatically delete all previous recordings and re- record.

100% Wireless

The solar security camera allows you to get rid of cables and easily remove the surveillance outdoor camera at any time. You can install it anywhere outdoors without powering on, which greatly reduces the problem of power supply.

IP66 Waterproof

The security outdoor camera can use even in extreme weather conditions (−20 °C to 50 °C). You don't need to worry about installing the surveillance camera outdoors. It is suitable for use in any outdoor area, whether it is installed on a tree or under the eaves.