4G LTE Cellular Outdoor Security Camera Ctronics 1080P IP Surveillance Camera for Home Security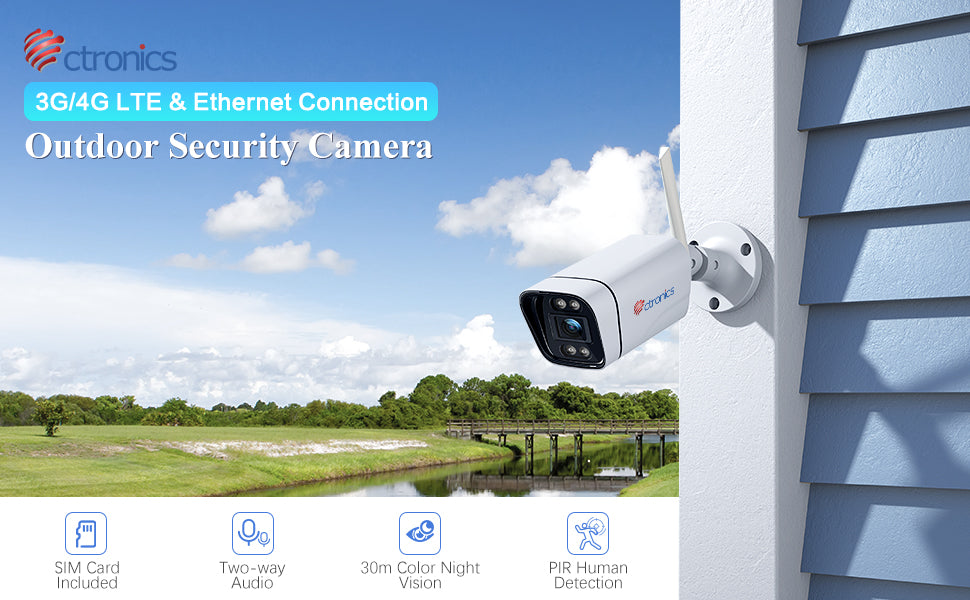 【3G/4G LTE SIM Card & Network Cable Connection】The Ctronics outdoor security camera works on 3G/4G LTE networks. A SIM card with a cellular data plan is included in the package, which provides test data traffic of 100MB for 30 days. No WiFi is required, making it ideal for outdoor areas with limited or no Internet access, such as a garages, farms, front doors, backyards, and gardens. The 3G/4G CCTV security camera also supports a network cable connection, offering more connection choices.
【30m IR Color Night Vision & 1080P FHD】With built-in infrared lights and white LEDs, this wireless outdoor security camera can provide clear IR night vision and color night vision up to 30 meters. Furthermore, you can set a customized alarm voice to warn unwanted intruders at night. This CCTV outdoor surveillance camera has a maximum resolution of 1920x1080P, a 3.6mm lens, and a sensitive sensor for smooth, clear image quality.
【Human Detection & Two-way audio】The 4g outdoor security camera can distinguish between people and animals, which helps to reduce false alarms caused by rain, leaves, and insects by 95%. Once a movement is detected, a message will be sent to your phone instantly. You can also set email notifications. With a built-in microphone and speakers, the 4g outdoor camera allows for real-time conversations with visitors or the postman when you are out.
【 SD Card Storage & Remote Access】 This Outdoor Surveillance Camera supports SD card storage of up to 64GB (not included); it does not support cloud storage. When the SD card is full, new recordings will overwrite old ones. This security camera with SIM card is compatible with P2P service and supports iOS/Android/Windows systems ("HiP2P"/"CTRONICS"). You can also play the videos back on your mobile phone/PC at any time.
【IP66 Waterproof & Metal Material】The 4G home security camera is equipped with an IP66-rated weatherproof outer casing, so it works well even in extreme weather conditions( -10°C ~ 60°). Moreover, the camera surveillance is made of metal, which offers a good heat dissipation and greatly improves the service life of the 4g camera. When the working humidity is 10% ~ 80%, the camera shell does not condense as well.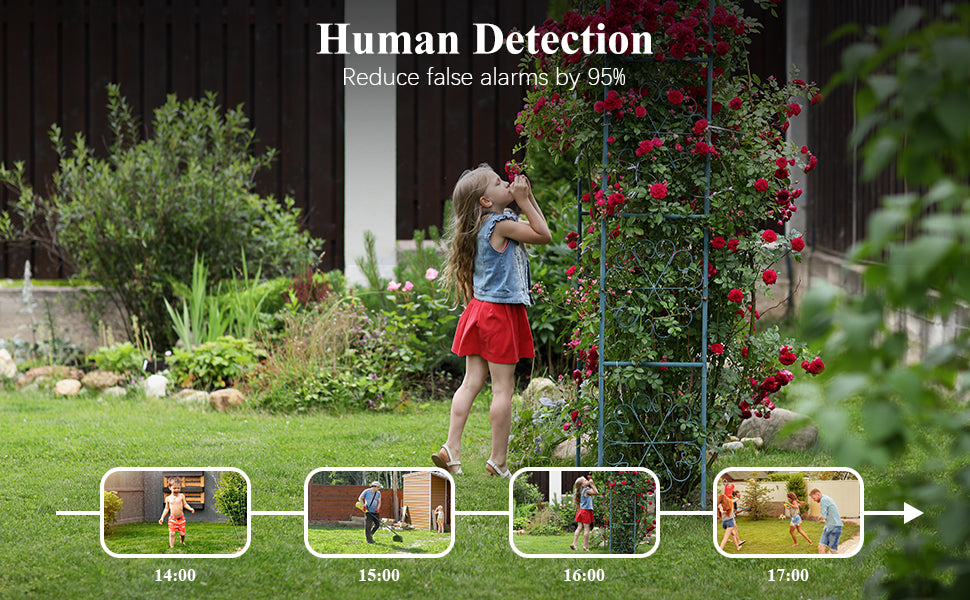 4G security camera outdoor with human detection
When the human detection function is enabled, humanoid contours in the images are analyzed, reducing false alarms by up to 95%. If there are any other movements, such as insects, leaves, rain, or wind, it will not raise the alarm. The 3g/4g camera does not support optical zoom or auto tracking.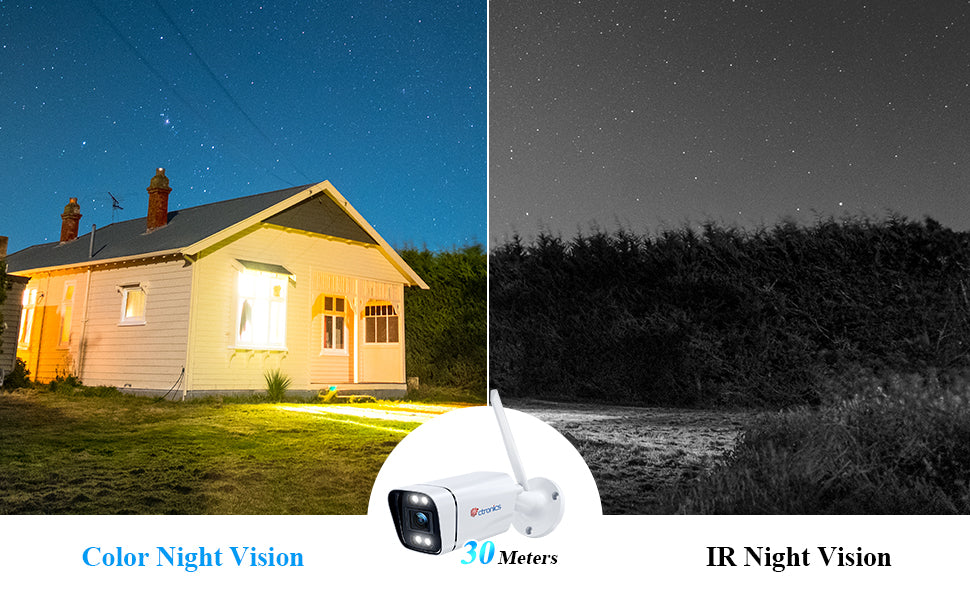 30M color night vision and sound/light alarms
The 4G IP camera outdoor provides you with clear color night vision and black and white night vision up to 30 meters. Lights automatically turn on when movement is detected at night, and you can also set custom voice alarms to warn uninvited guests.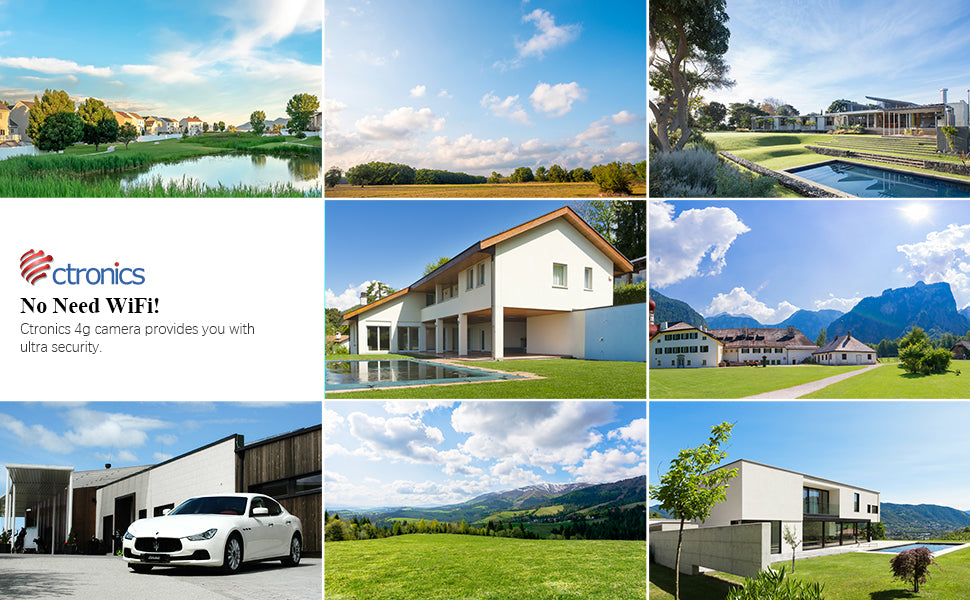 CCTV outdoor camera with SIM card/Ethernet connection, NO WiFi needed
The Ctronics outdoor security camera supports 3G/4G LTE SIM Card and network cable connections. It can be installed anywhere without a WiFi network. Furthermore, this 4G surveillance camera comes with a SIM card that includes a cellular data plan (test data traffic of 100MB for 30 days).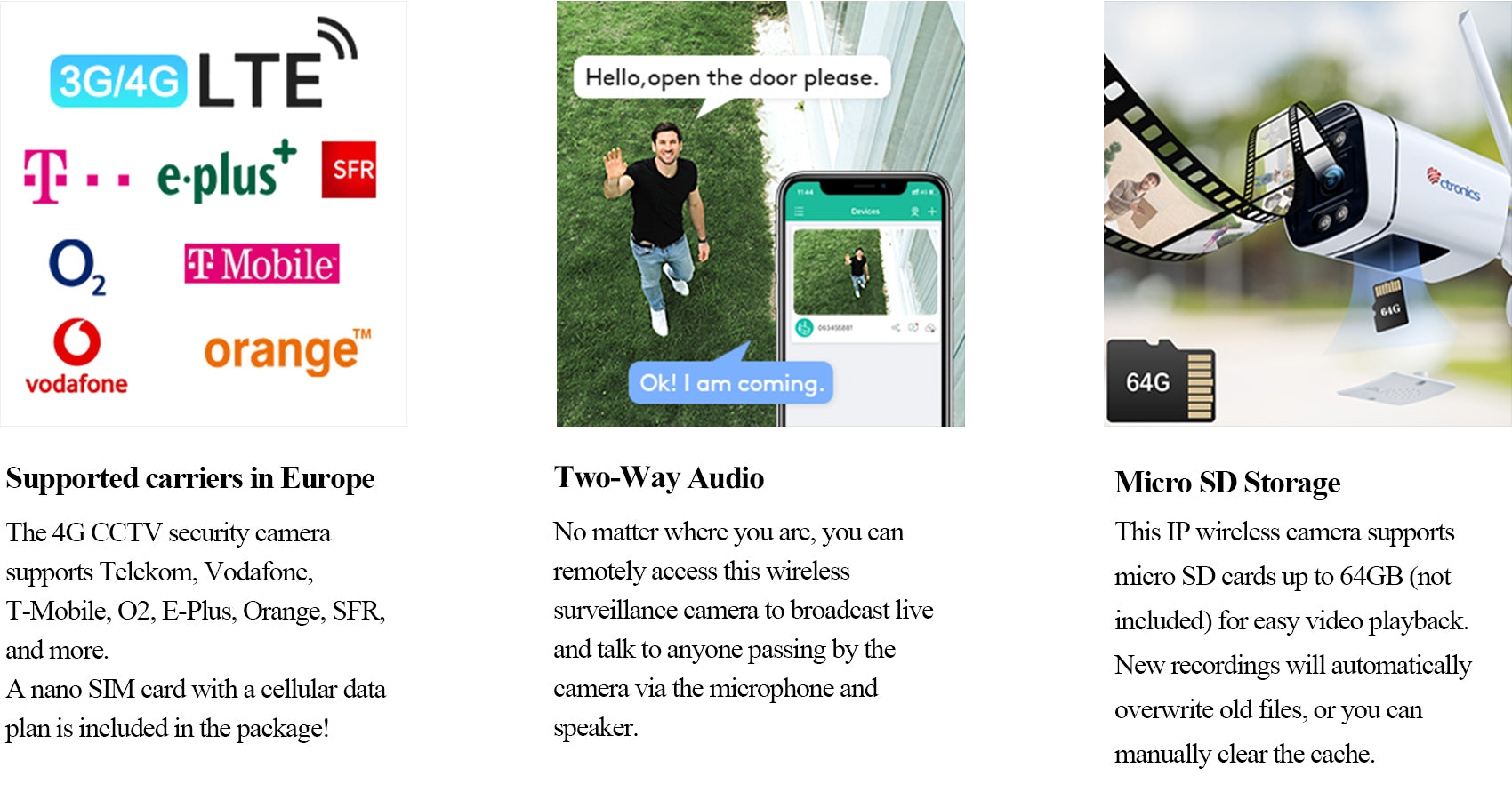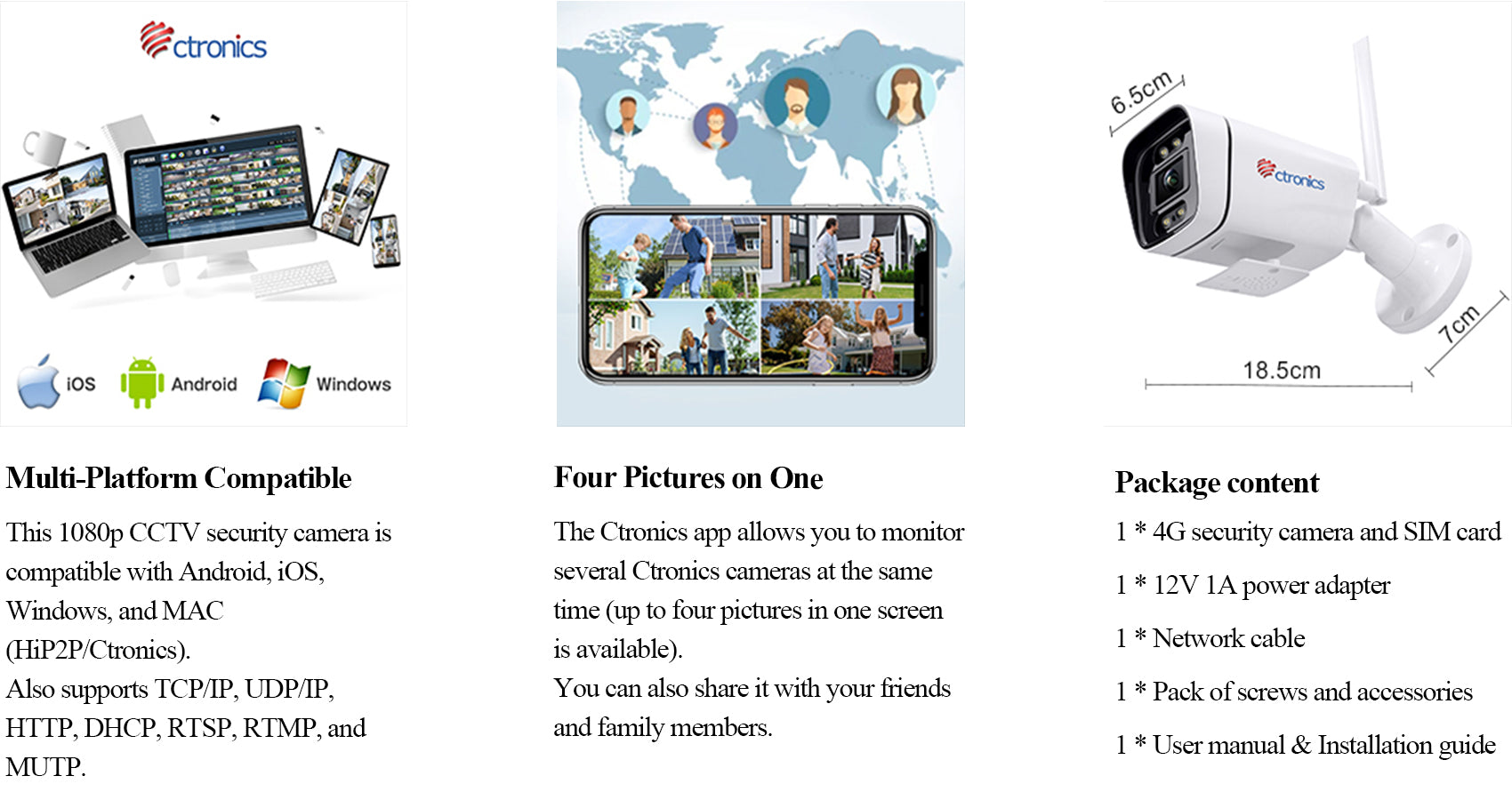 Kindly Reminder:
SIM Card is Included
Supports 24/7
SupportsiOS, Android, and Windows systems ("HiP2P"/"CTRONICS") and NVR.
Does not support 2.4GHz/5GHz WiFi connection; only supports 3G/4G-LTE SIM card or Ethernetcable connection.
Does not support Cloud storage; only supports SD card storage (NOT included).
We recommend using the SIM card that comes with the camera, which includes 100M cellular data.
If your own SIM card is not compatible with the camera, please insert it into your phone first to close the PIN code, then insert it into the camera to revise the APN mode in the APP "ctronics", or ask our customer service for help. (Note: If you don't know the APN of the card, please consult the relevant carrier about it.)
| | |
| --- | --- |
| Mark | ‎Ctronics |
| Color | ‎White |
| Connections | Wired 4G sim card / Ethernet |
| Special features | ‎Night vision |
| Waterproof level | IP66 |
| Item model number | CTIPC-510C-2MP-4G |
| Date of manufacture | June 14, 2022 |