3G/4G-LTE network via SIM card and network cable: This 4G outdoor surveillance camera is supported by a 4G LTE or 3G SIM card or a network cable. This Ctronics 4G LTE outdoor camera is ideal for outdoor use,  such as on the front door, in the garden, garage, farm, driveway, porch, etc. An additional SIM card with a mobile data plan is required (included).  
Personal detection and automatic tracking: Thanks to the embedded KI Deep Learning algorithm, this mobile LTE IP camera intelligently detects only people and reduces up to 95% false alarms caused by rain  leaves, animals and insects. In addition, this 3G/4G surveillance camera LTE can automatically track human movements. 
20m coloured night vision and two-way audio: This PTZ outdoor camera has two modes for night vision: colour and IR night vision. The design with two light sources and 4 floodlights and 5 infrared lights helps the camera to display vivid colour images and the night vision distance is up to 20 meters.  With the built-in microphone and speakers, you can talk to the visitor in real time or also warn unwanted intruders when you're on the go. 
355° swivel 90° tilt and IP66 waterproof: The function of the intelligent 355° swivel and 90° tilt allows you to control the rotation from a distance to observe any indoor and outdoor angle on your smartphone.  The outdoor IP camera is equipped with a weatherproof housing according to IP66, which performs excellent work even in extreme weather conditions. 
Supports SD card and remote access: This surveillance camera with SIM card supports a SD card up to 64 GB. This surveillance camera LTE 4G is compatible with the P2P service and supports IOS/Android/Windows systems ("HiP2P"/"CTRONICS"). You can play the videos on your mobile phone/PC at any time (SD card is not included)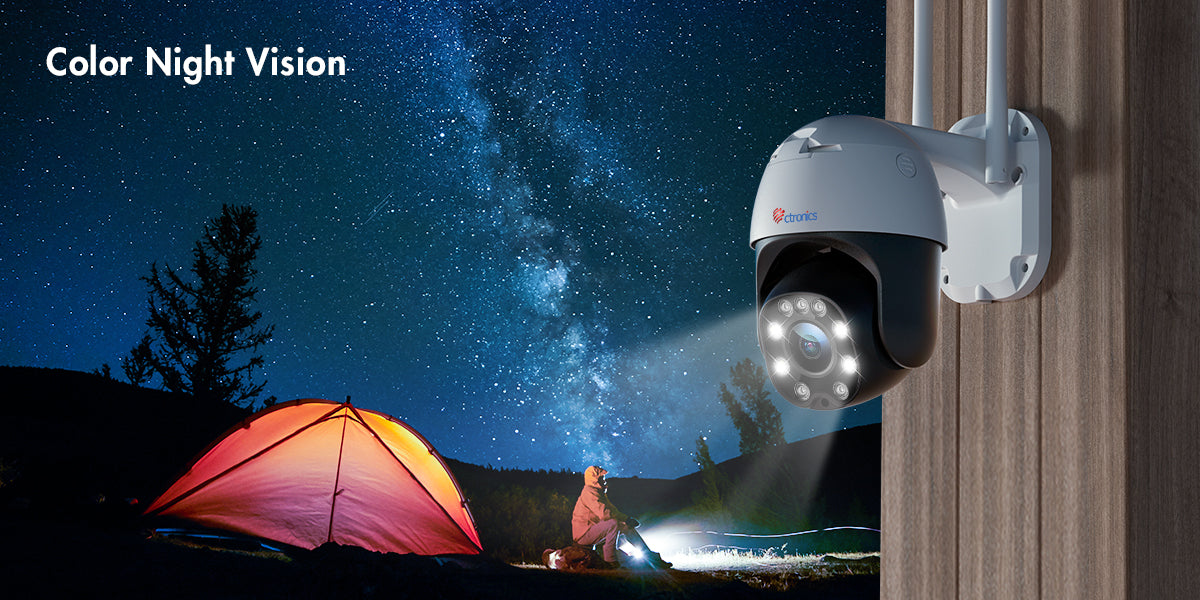 Coloured night vision
This 4G PTZ outdoor camera has two night vision modes: Color and IR Night Vision With dual light source design and 4 floodlights and 5 infrared lights, this dome outdoor security camera can show you vivid colour images at night. 
The CCTV outdoor camera uses a new generation of array infrared technology, higher reliability and better night vision. The maximum night vision distance is 20 metres.

 
What's in the Box:
1 x 12V 1.5A Power Adapter(3m Cable)
1 x Pack of Screws 1 x User Manual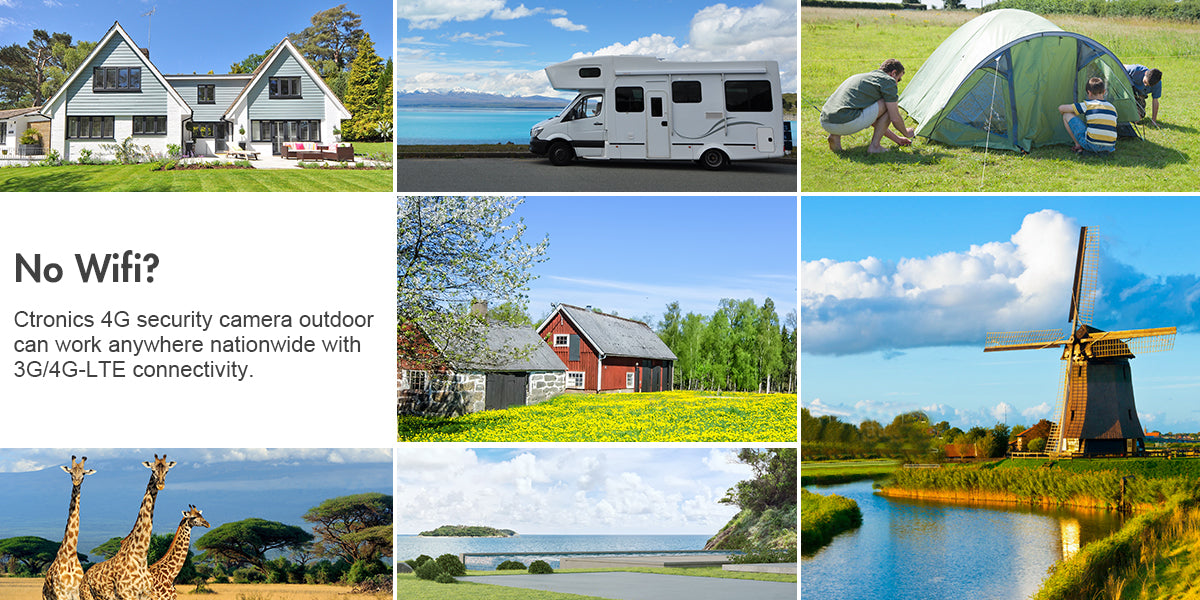 The Ctronics LTE outdoor surveillance camera supports a 4G LTE or 3G SIM card or network cable connection instead of a Wi-Fi connection. As long as you have a power supply, you can use a 3G/4G SIM card or network cable.
Friendly reminder:
1. Support IOS/Android/Windows ("HiP2P"/"CTRONICS")
2. An additional SIM card (included) with a mobile data plan is required.
3. Does not support 2.4GHz/5GHz Wi-Fi connection; only support 3G/4G LTE SIM card or Ethernet cable connection.
4. Does not support NVR system.

 
Product dimensions

54 x 44 x 43 cm;

 

1 kilograms

Product model number

285-4G

Memory capacity

64 GB

Removable memory

SD Card, Secure Digital Card

Scan resolution

1080p

Light source type

Infrared

Video capture resolution

1080p

Connector type

Wireless

Product weight

1 kg

Manufacturer

Ctronics