3G/4G LTE 5MP FHD Outdoor Security Camera with 30X Optical Zoom 150m Infrared Night Vision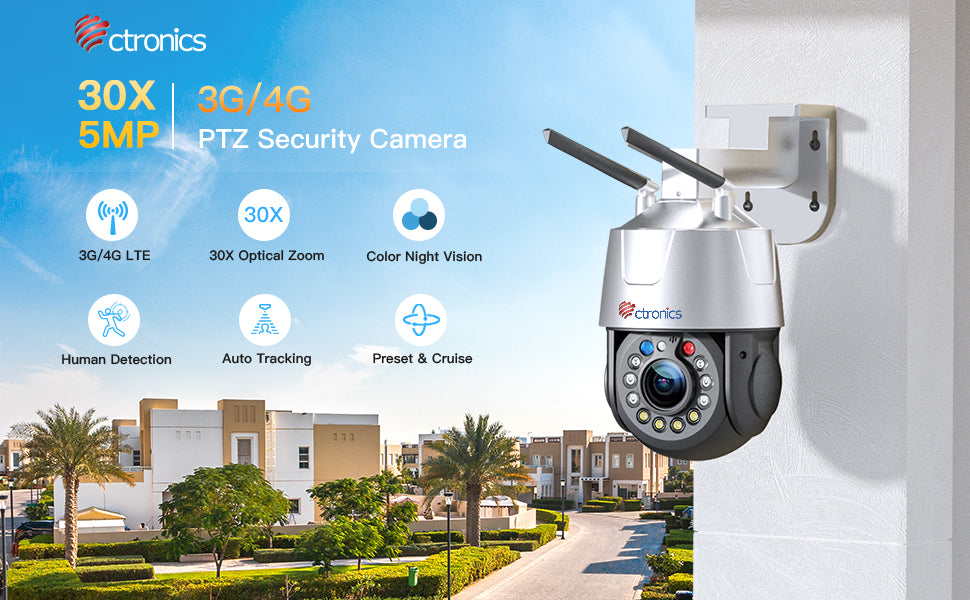 Ctronics 3G/4G LTE PTZ Outdoor Security Camera Ensuring Your Safety
3G/4G LTE SIM Card & Network Cable Connection:The Ctronics ptz security camera outdoor works on 3G/4G LTE networks or with a network cable. No Wi-Fi is required, which means it is ideal for outdoors areas with limited or no Internet access. This cctv outdoor security camera can be used in any outdoor environment, such as in the garage, on a farm, at the front door, or in the backyard or garden. The 5mp ptz surveillance camera also support network cable connection.
30X Optical Zoom & 5MP Resolution :This outdoor ptz security camera offers 5MP(2560x1920) resolution, and also supports 30x optical zoom and auto focus which ensures that when you zoom in on the videos and images, you can get a clear image. This 5mp cctv security camera supports 355°pan and 90°tile PTZ rotation. With this function, you just need to move your fingers on your mobile device to watch from any angle. Never miss any corner.
150m Infrared Night Vision & 50m Color Night Vision:With 2 high power infrared laser lights, 4pcs infrared and 4pcs white LEDs, this 5MP outdoor security camera can provide crystal clear night vision for up to 150 meters, or 50 meters with full color. When the outdoor cctv camera detects a human, the red and blue lights will flash alternately to serve as a warning. Furthermore, you can set a customized alarm voice.
64 Presets & Cruise Record Zoom:This 5mp outdoor cctv camera's cruise and auto-tracking can work together. You can assign up to 64 presets angles, and the 4G security camera will also perform zoom cruise automatically according to your settings. If a human is detected during the cruise, the outdoor cctv security camera will immediately start to track the person's movement trajectory immediately.
Human Detection & Auto Tracking:The ptz outdoor security camera can distinguish between people and animals, which helps to reduce false alarms caused by rain, leaves and insects by 95%. Once a humanoid is detected, an message will be sent to your phone instantly, and the ptz security camera will start to track automatically. While tracking, the 5mp cctv surveillance camera will also zoom intelligently during tracking to prevent tracking loss.
Kindly Reminder:
SupportsiOS, Android and Windows systems ("HiP2P"/"CTRONICS").
Does not support 2.4GHz/5GHz 4G connection; only supports 3G/4G-LTE SIM card or Ethernetcable connection.
Does not support Cloud storage, only supports TF card storage (NOT included).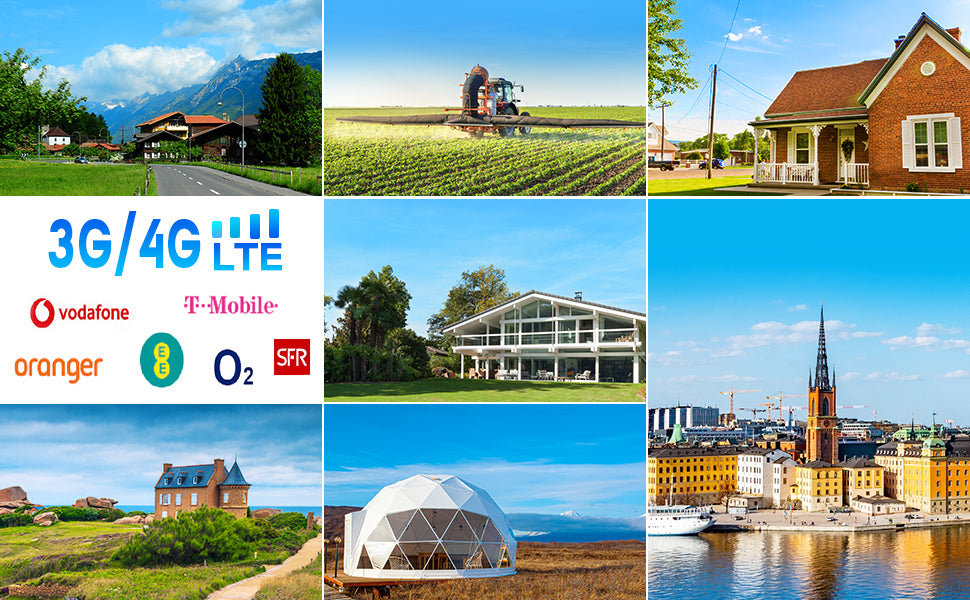 With 3G/4G SIM card, you will not worry about Wi-Fi anymore. 
By inserting a 3G/4G-LTE SIM card with a cellular data plan, Ctronics 4G security camera outdoor can work anywhere nationwide. This makes it perfect for many different spots, such as your front door, garden, garage, farm, driveway, or porch. Anywhere without Wi-Fi access..
The 4G CCTV security camera supports Telekom, Vodafone, T-Mobile, O2, E-Plus, Orange, SFR, and more. A nano SIM card with a cellular data plan is required before use!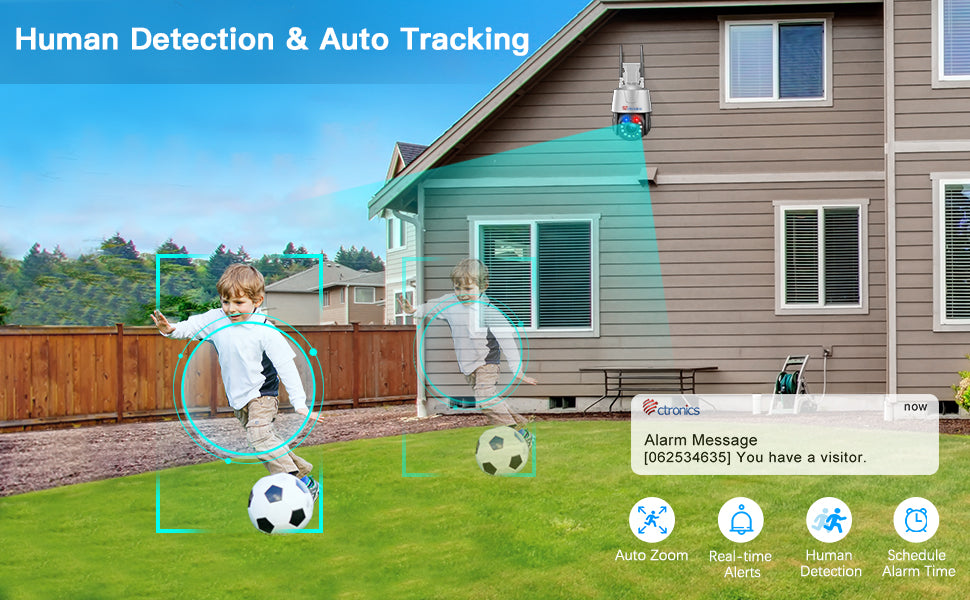 Human Detection, Auto Tracking & Audible Alarm
When someone enters your monitoring range, the outdoor 4G security camera will immediately detect them, start tracking automatically, and send a real-time alarm notification to your smartphone. At the same time, flashing red and blue lights and an alarm sound will frighten the intruder. In addition, Ctronics 5mp outdoor security cameras support custom alarm voice recording, you can set voice alarm sound to drive away the intruder.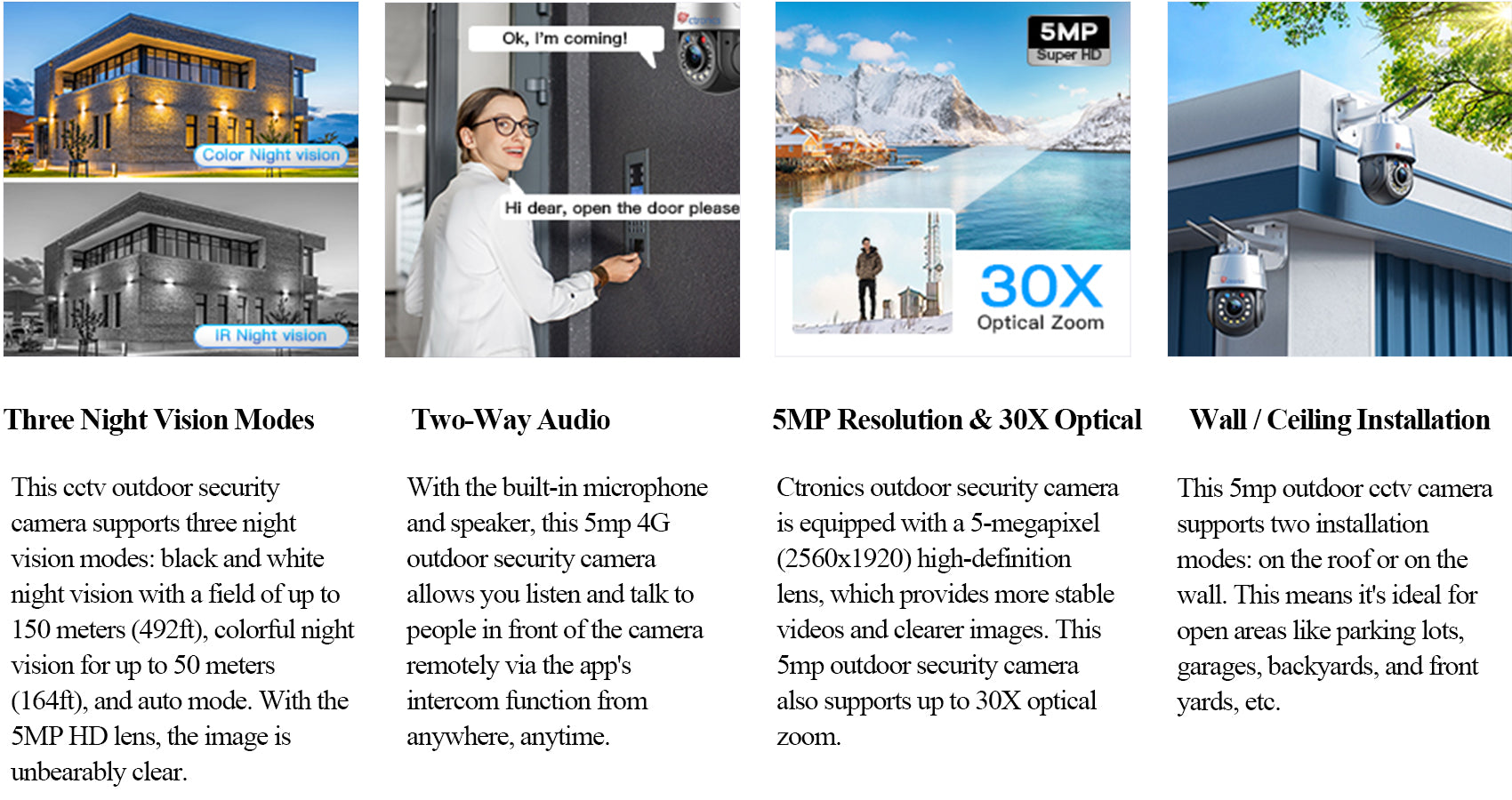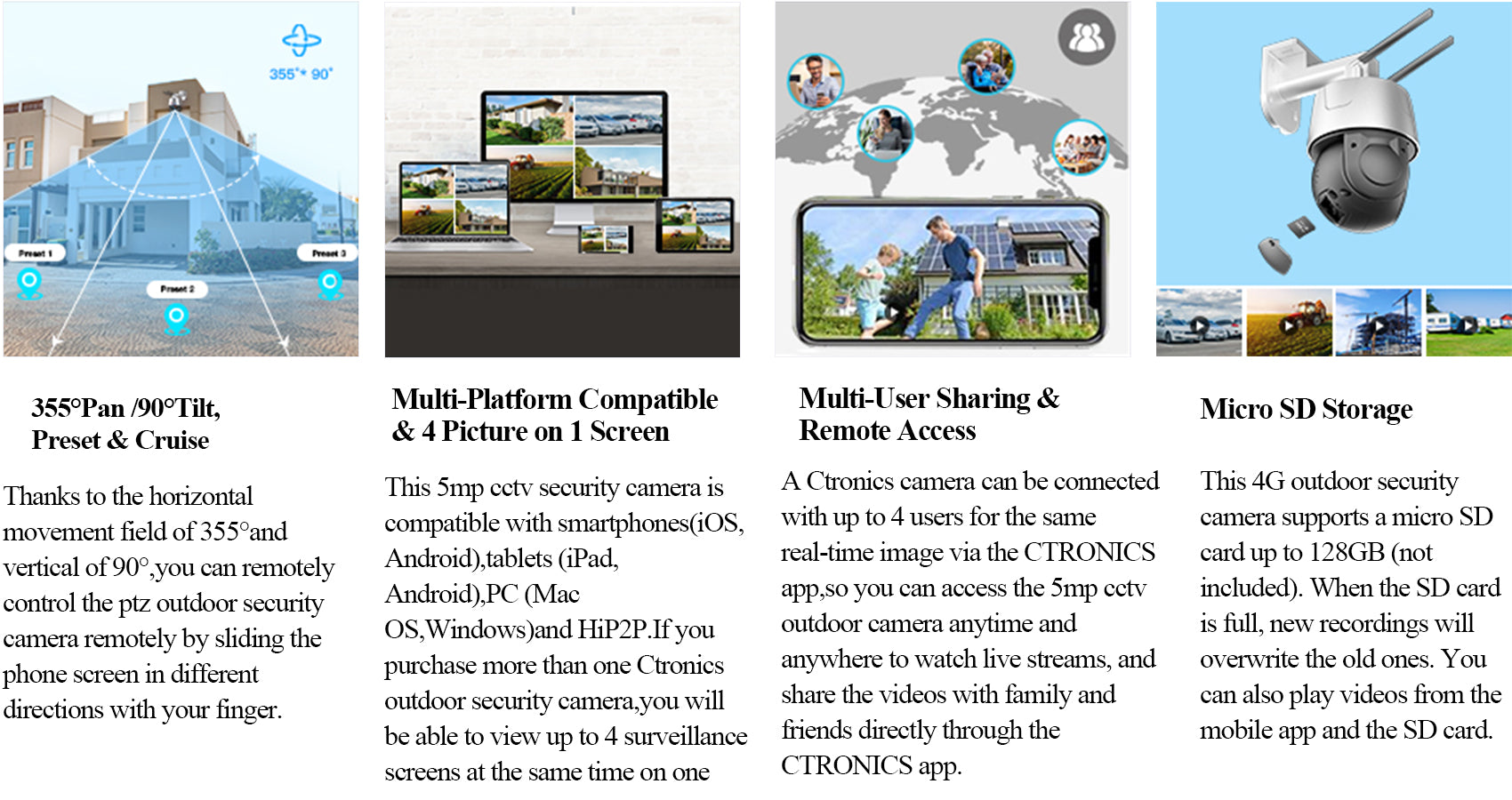 Package Contents:
1 x 4G Outdoor Security Camera
1X 4G SIM card
1 x Power adapter
1 x Network cable
1 x Pack of screws
1 x User manual
Note: Due to SIM card compatibility issue
This product can only be used by UK, Germany, France, Italy, Spain customers.

Brand

Ctronics

Neck size

31.5 x 29.5 x 15.5 cm;

 

1.7 Kg

Item model number

550C-EU4G

Lighting type

LED, Infrared

Number of items

1

Optical zoom

30 x

Optical sensor resolution

5 MP

Effective video resolution

5 MP

Type of connectors

Wireless

Installation type

Wall and ceiling_mount

Item weight

1.7 kg