Lifetime warranty service
30-Day Money Back Guarantee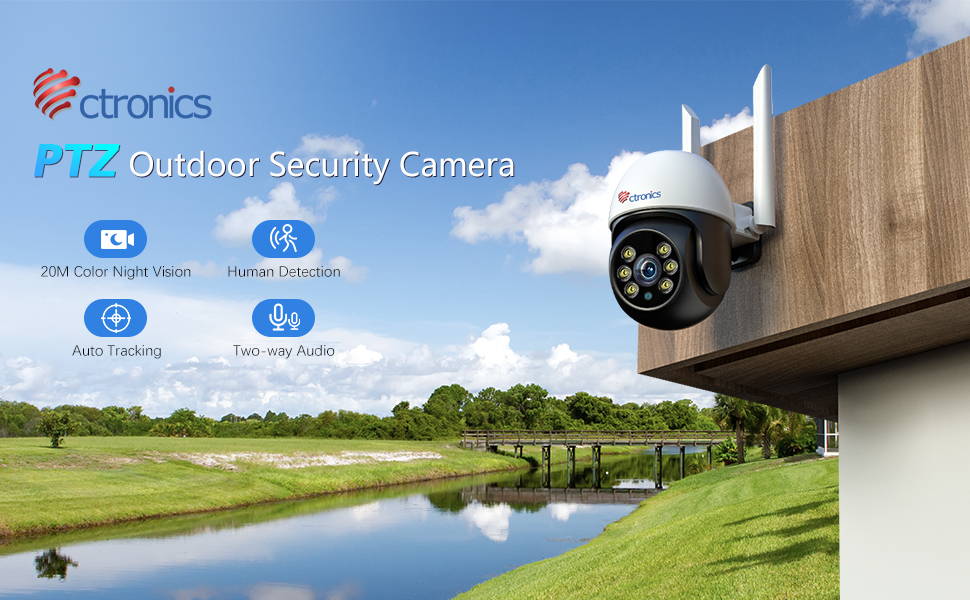 Enjoy A Reliable And Safe Life With Ctronics Security Camera
This 1-inch PTZ security camera is 200x200x120mm in size.
The 1080P high-definition lens helps you see the pictures more clearly and brighter.
Set to detect humanoid only, reducing false alerts by more than 95%.
Automatically track the detected object to never miss a moment.
Dual light source design with six white and infrared lights providing three-night vision modes and full color night vision up to 20 meters.
350°horizontal and 90°vertical movement helps to monitor larger areas.
The built-in microphone and speaker allows you to speak directly to anyone who approaches your home.
With built-in SD card slot (not included), never miss any details. Old recordings are overwritten by new ones automatically when full.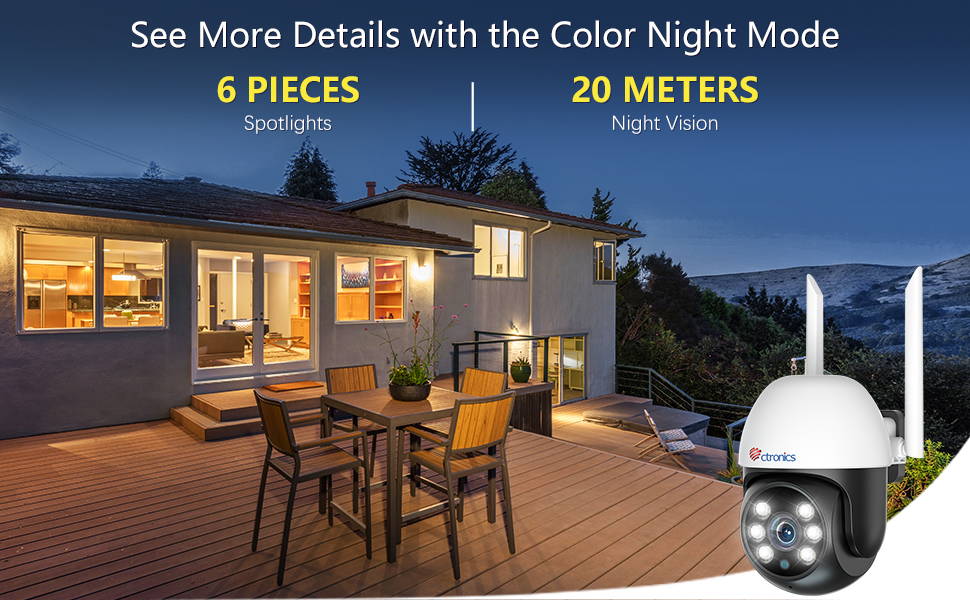 Full Color Night Vision up to 20 meters
This Wi-Fi security camera has three night vision modes: IR, Color, and Auto. With a built-in dual light source design featuring six white and infrared lights, this home security camera can show you vivid color images in total darkness. This outdoor CCTV camera uses a new generation of array infrared technology that provides more reliable and better night vision. Maximum night vision distance is 20 meters.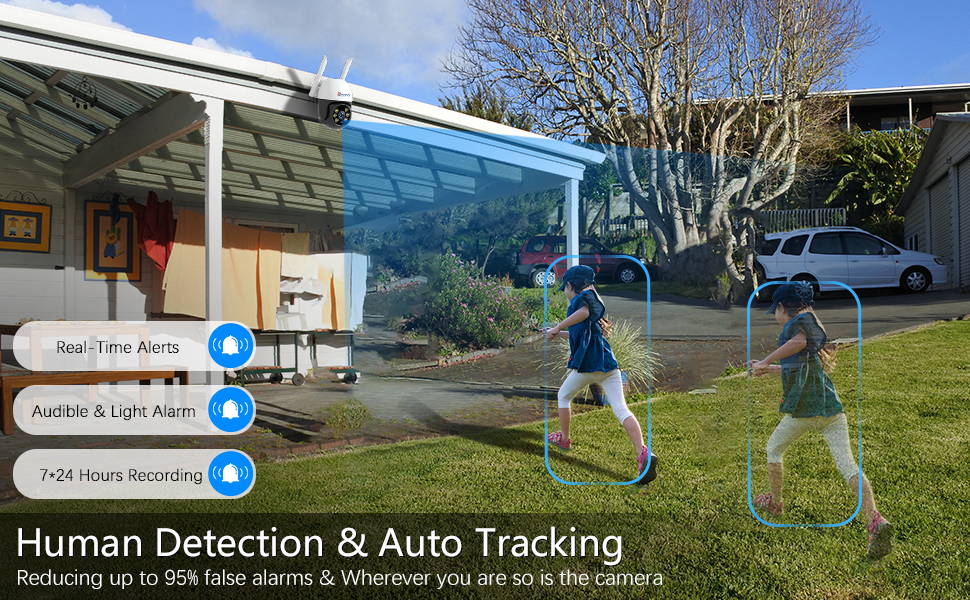 Human Detection and Auto Tracking
Human detection and automatic tracking features provide you with a full range of protection. When someone appears in the frame, the 1080P PTZ outdoor security camera will lock onto them and automatically adjusts the pan/tilt to keep them in the center of the outdoor security camera's frame. You can also preset up to eight monitoring areas, so it's easy to recall preset monitoring locations using commands.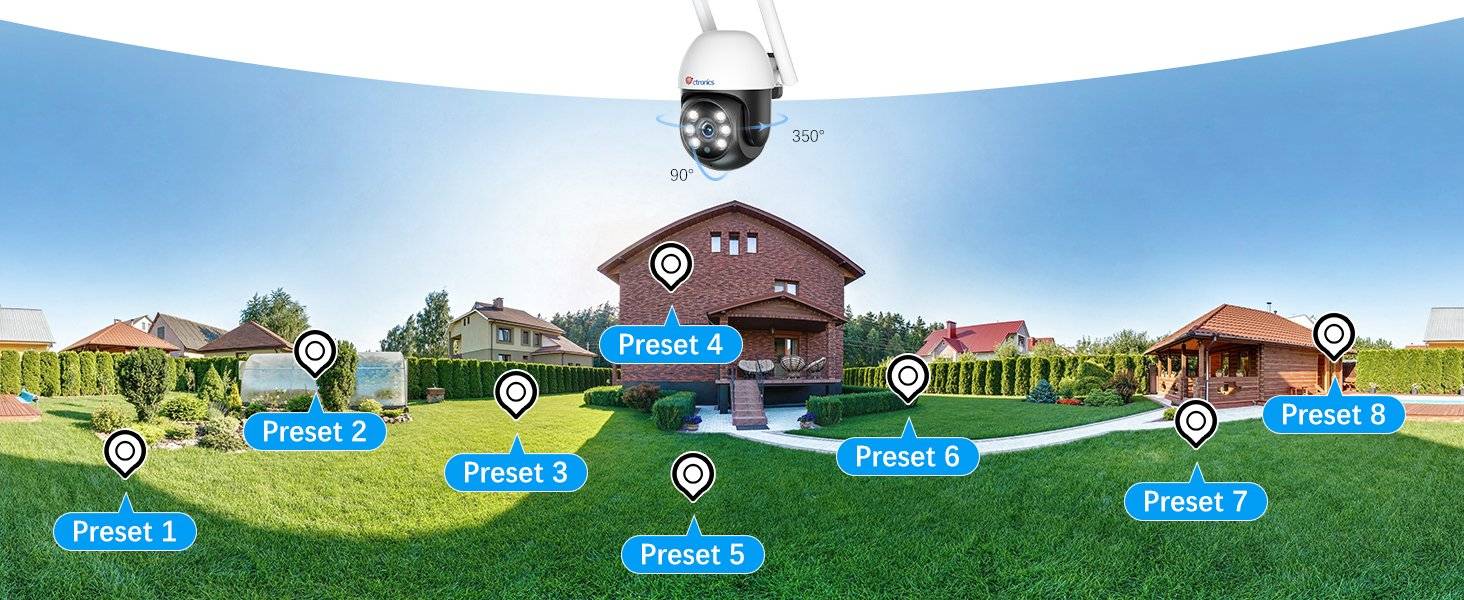 With 350° horizontal and 90° vertical pan and tilt functions, this outdoor CCTV security camera can monitor every corner.
You can manually rotate the camera up and down or left and right from your smartphone to see different directions, And also supports up to 8 preset positions and 350° Pan 90° Tilt.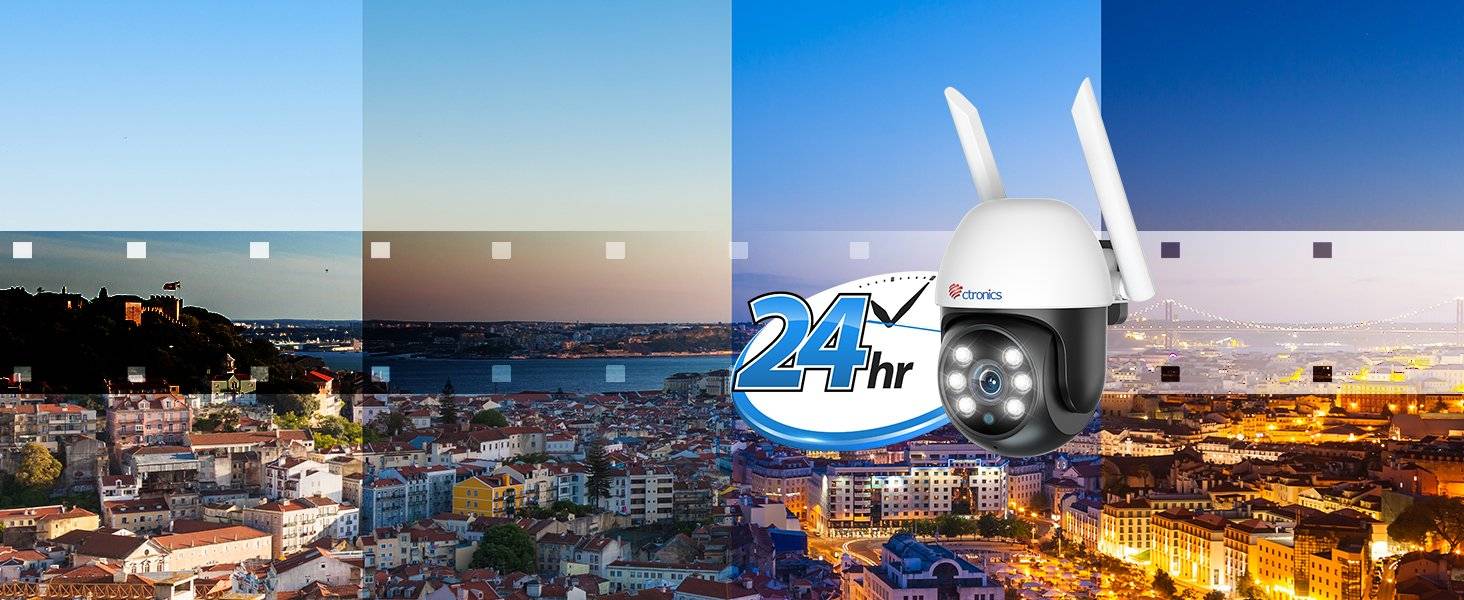 It also supports 24/7 continuous recording. The outdoor surveillance camera can record continuously, recording every moment.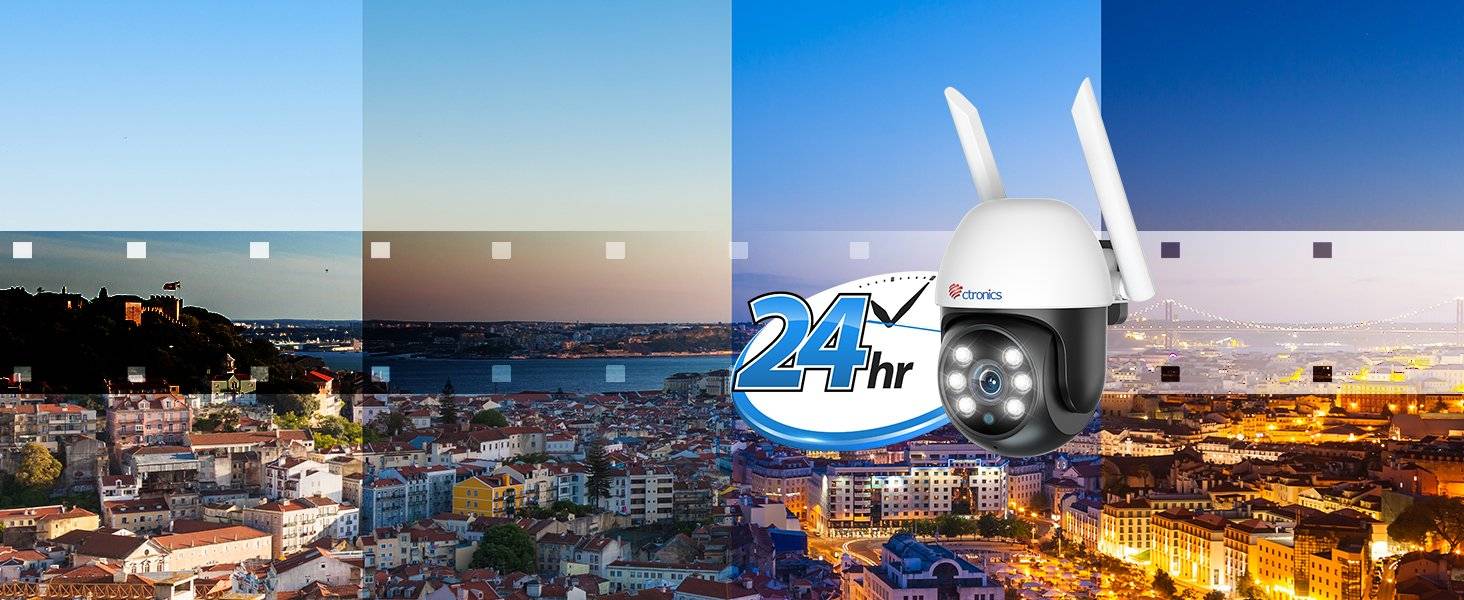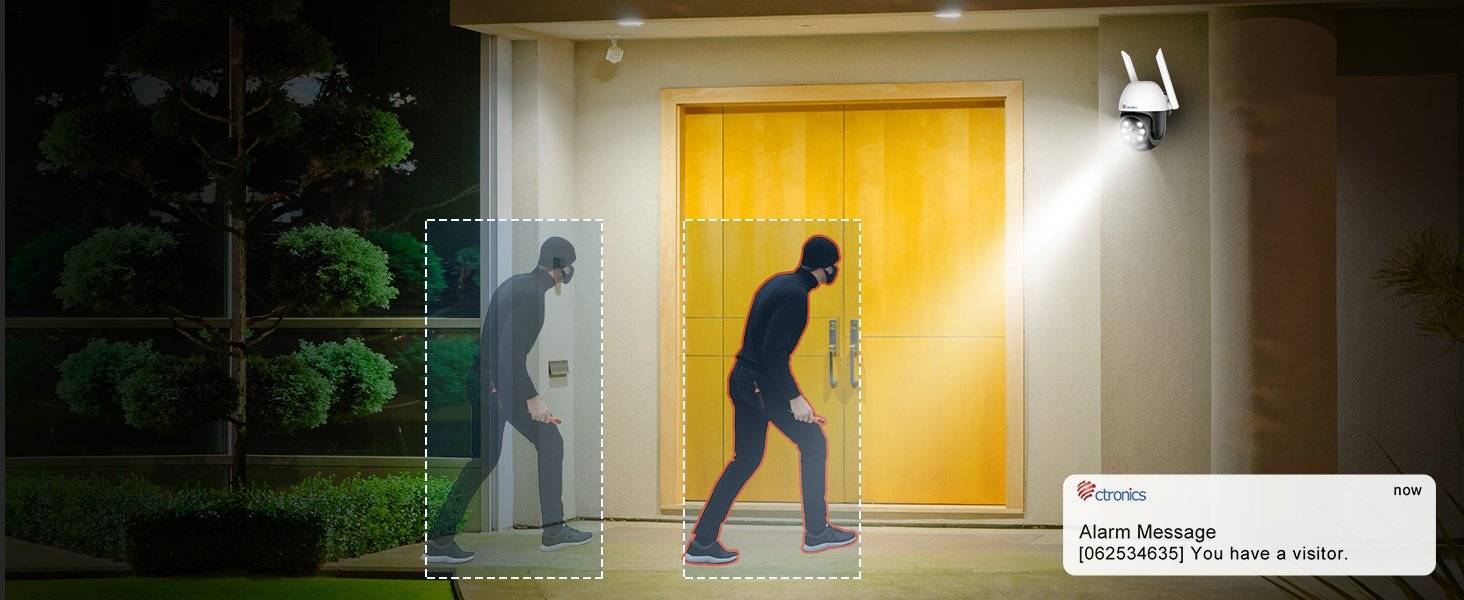 The wifi surveillance camera automatically tracks motion as soon as it detects movement. The wireless wifi surveillance camera will adjust to send email alerts or push notifications to your smart device.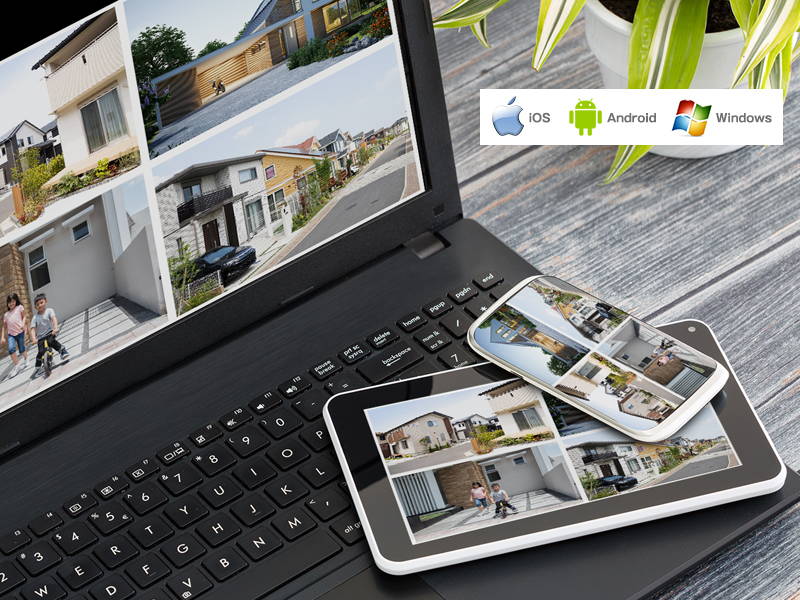 Cross-platform compatibility
This 1080P security camera is compatible with smartphones (iOS, Android), tablets (iPad, Android), PCs (Mac OS, Windows) and HiP2P.
If you purchase more than one Ctronics outdoor security camera, you will be able to view up to four surveillance screens at the same time on a single device.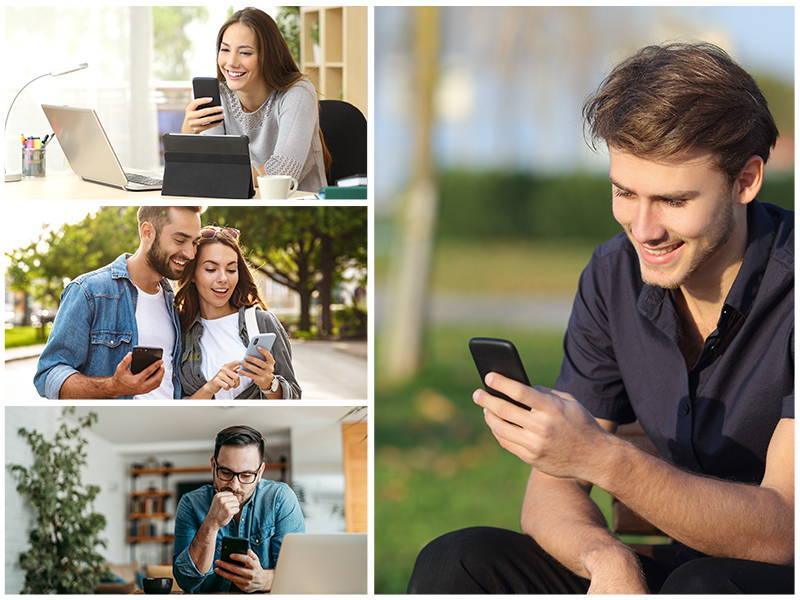 Multi-user viewing and remote access
The wireless outdoor surveillance camera allows up to four users to view footage at the same time so you can share happy moments with family and friends.
Tips:
Only supports 2.4GHz Wi-Fi connection, doesn't a support network cable connection.
Features digital zoom, not optical zoom.
Only supports SD card storage up to 64GB (not included), does not support Cloud storage.
Supports iOS, Android, Mac OS and Windows systems (HiP2P/CTRONICS)
Supports 24/7 continuous recording.