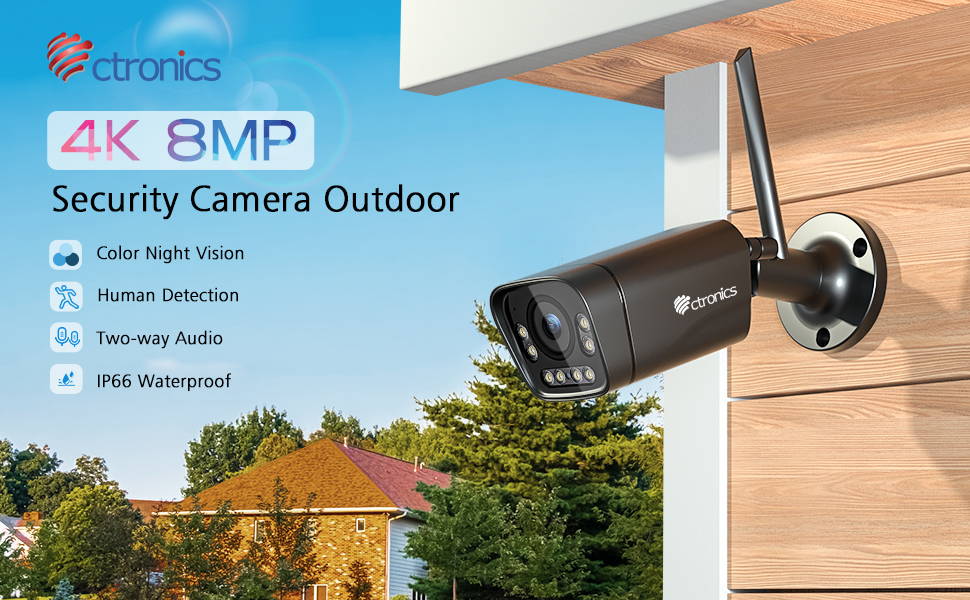 Home Security Starts with Ctronics 4K 8MP Outdoor Security Camera
【4K 8MP & 25M Color Night Vision】Ctronics outdoor security camera provides 4K (3840x2160) 8MP resolution high-definition images and videos, allowing you to see every detail clearly. The outdoor Wi-Fi camera has 4 white lights and 4 infrared lights built-in. The night vision distance reaches up to 25m, and you can also switch between full-color night vision mode and IR night vision mode at will.
【Human/Vehicle Detection & Instant Alerts】The outdoor surveillance camera can detect the movements of human and Vehicle. Vehicle detection is turned on by default. If you want to disable it, you can set it on the PC through HiP2P. When motion is detected, the 4k WiFi outdoor camera will record videos through the CTRONICS app and send real-time notifications to your smartphone. This means you can view what is happening in real time remotely and manage it appropriately.
【Two-way Audio & Three Warning Modes】This 4k Wi-Fi security camera has built-in speaker and microphone, no matter where you are, you can talk to external visitors in real-time through the CTRONICS application. When unwanted intruders break in, 3 warning modes are available to warn them away: 'Audio Warning', 'White Light Warning' and 'Audio and Light Warning'.
【Remote Monitoring & SD Card Storage】The Wi-Fi outdoor cctv camera supports simultaneous connection to your PC, mobile phone and tablet. You can watch the video in real time or download it to multiple devices later. The outdoor cctv camera supports SD card storage (maximum 128G, NOT included). After inserting the SD card, you can share the recorded video with friends and family.
【IP66 Waterproof & Metal Material】This outdoor Wi-Fi security camera is made of durable metal materials and has an IP66-rated weatherproof casing, which can withstand ambient temperatures from -20°C to 55°C. This means it is resistant to outdoor damage typically caused by water or harsh weather, ensuring a longer service life. Regardless of the environment, the 8MP outdoor security camera can record 24/7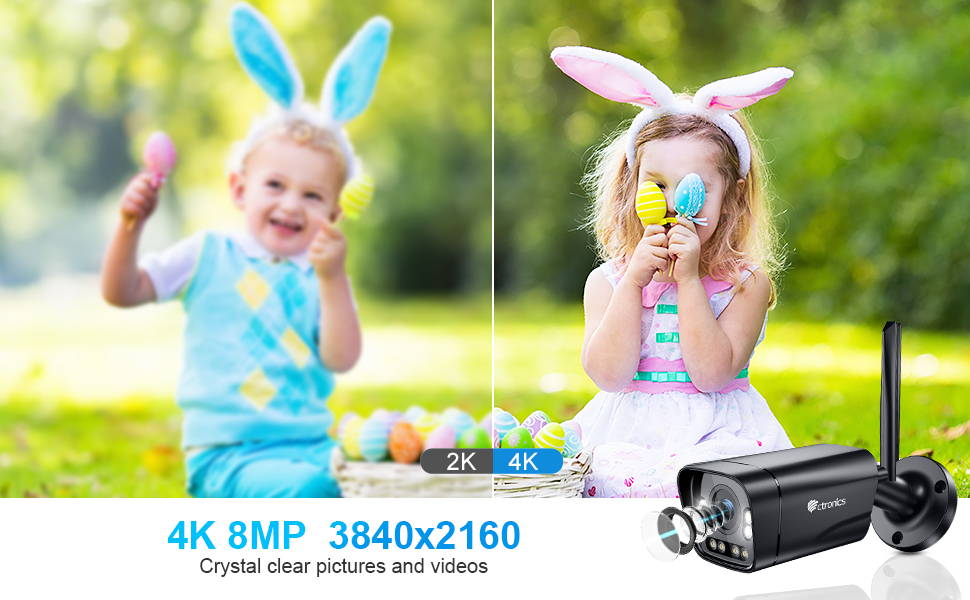 4k 8MP Ultra High Resolution Picture Quality
The Ctronics wifi security camera is equipped with a 4K (3840x2160) 8-megapixel high-definition lens, which provides more stable videos and clearer images. Much clearer than a 2K security camera.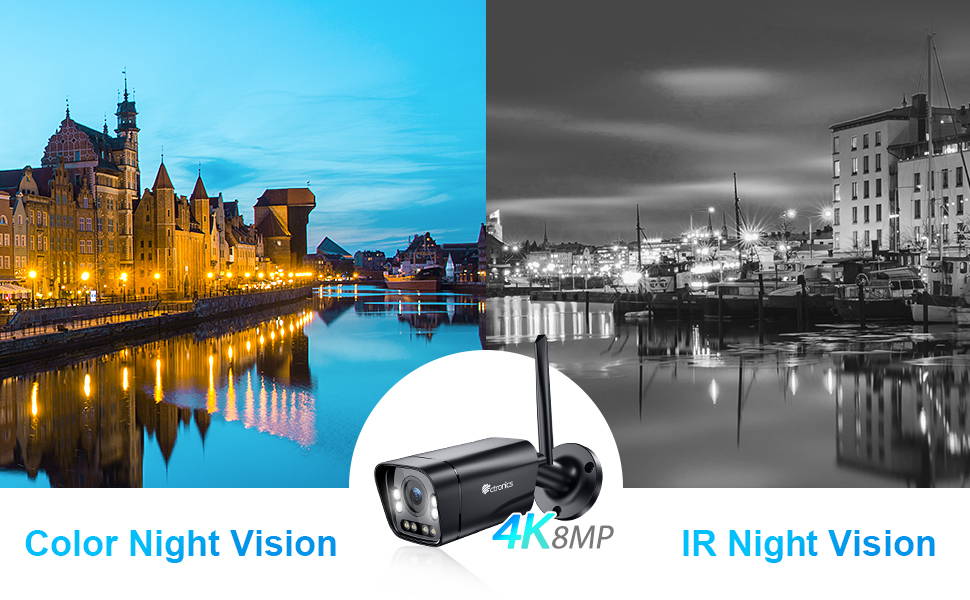 This CCTV surveillance camera is part of a new generation of arranged infrared LED technology, which brings higher reliability and ensures 25-meter color night vision.
When an intruder enters the surveillance area at night, the security camera will be triggered and send an alarm to the app. You can choose from the three warning modes to warn intruders: 'Audio Warning','White Light Warning'and'Audio and Light Warning'.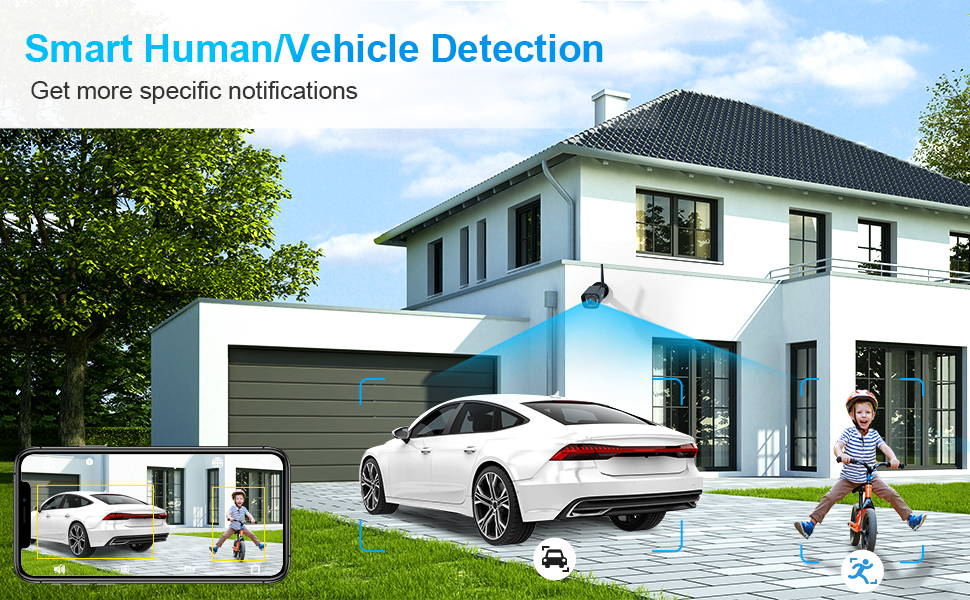 Outdoor Surveillance Camera with Smart Human and Vehicle Detection
With advanced intelligent motion detection, the 4k 8mp security camera can distinguish the human and vehicle movement from others like insects, falling leaves etc. When motion is detected, a notification message will be sent to the app immediately so that you will not miss any emergencies. If you want to disable vehicle detection, you can set it on the HiP2P through the computer.(Vehicle detection is turned on by default)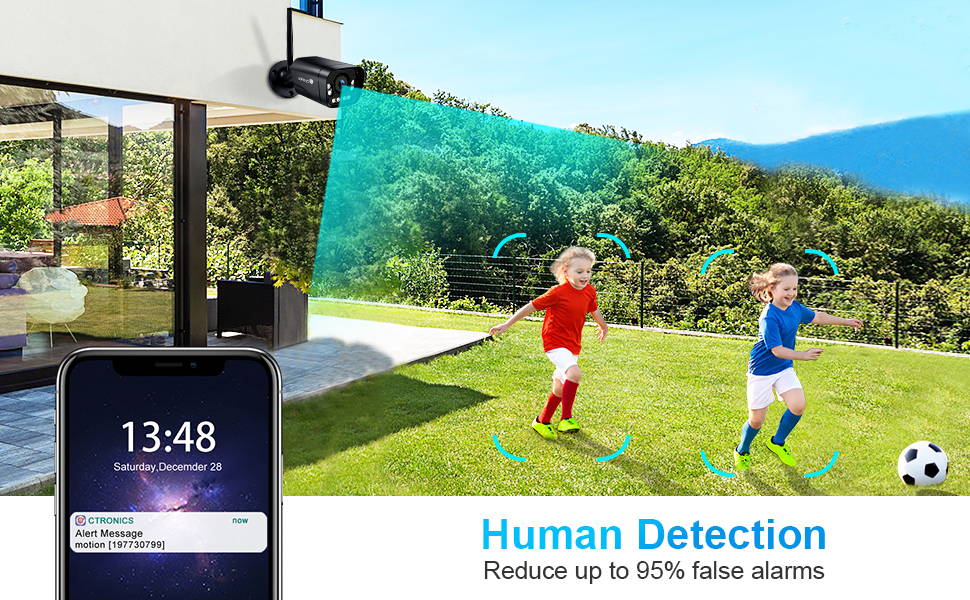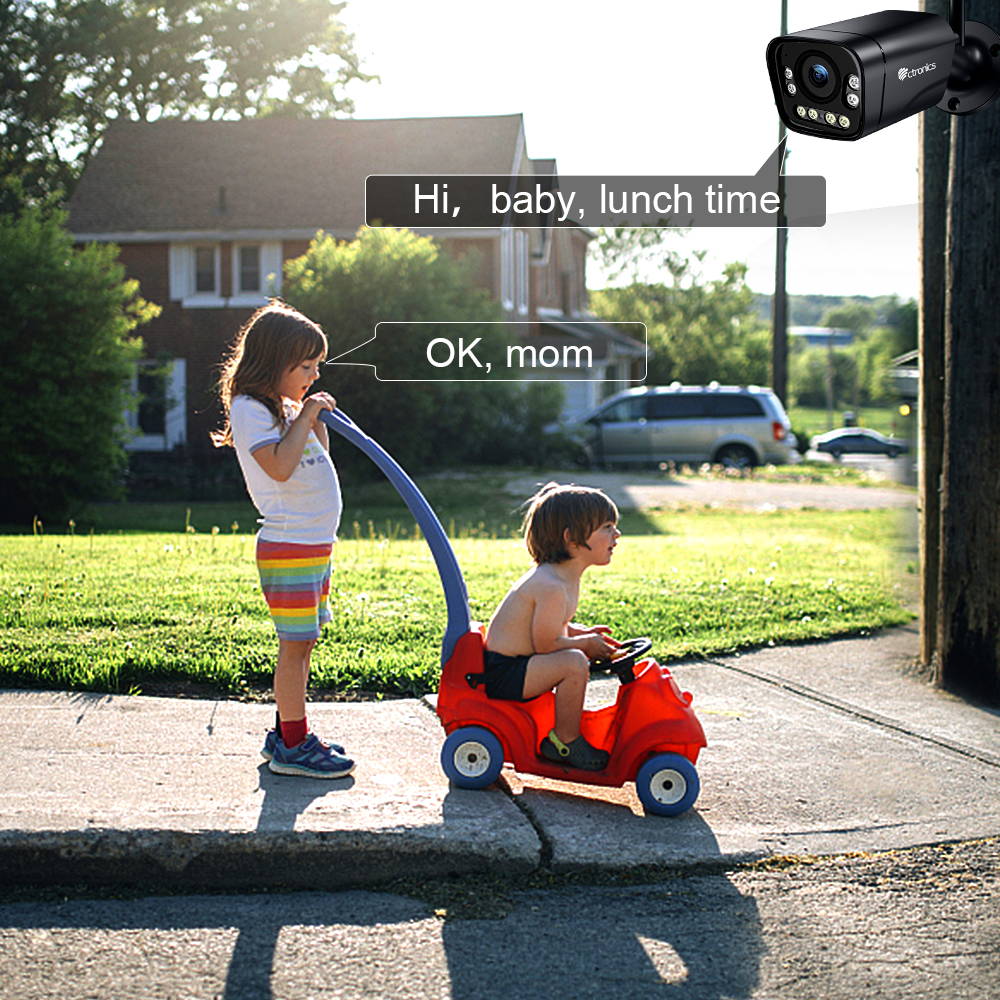 The built-in microphone and speaker make the recorded sound clear. It is also possible to talk to the person in front of the external Wi-Fi camera anytime and anywhere through the intercom function of the CTRONICS APP.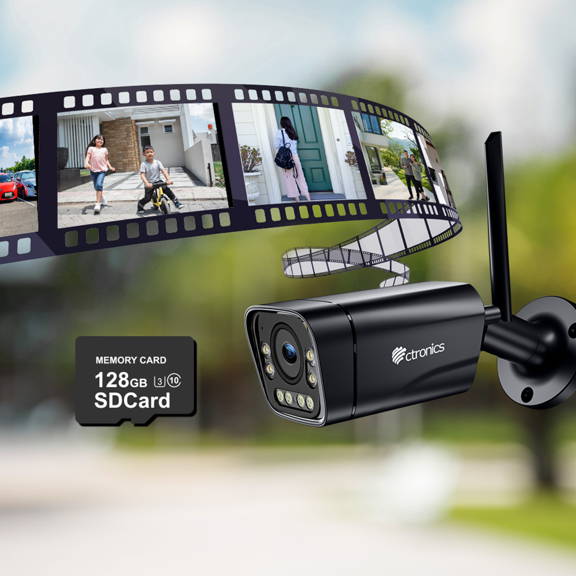 Ctronics 4k 8mp wifi camera supports SD card storage up to 128G (not included). View the recorded video from your smartphone or computer (Android / iOS / Windows / Mac) no matter where you are.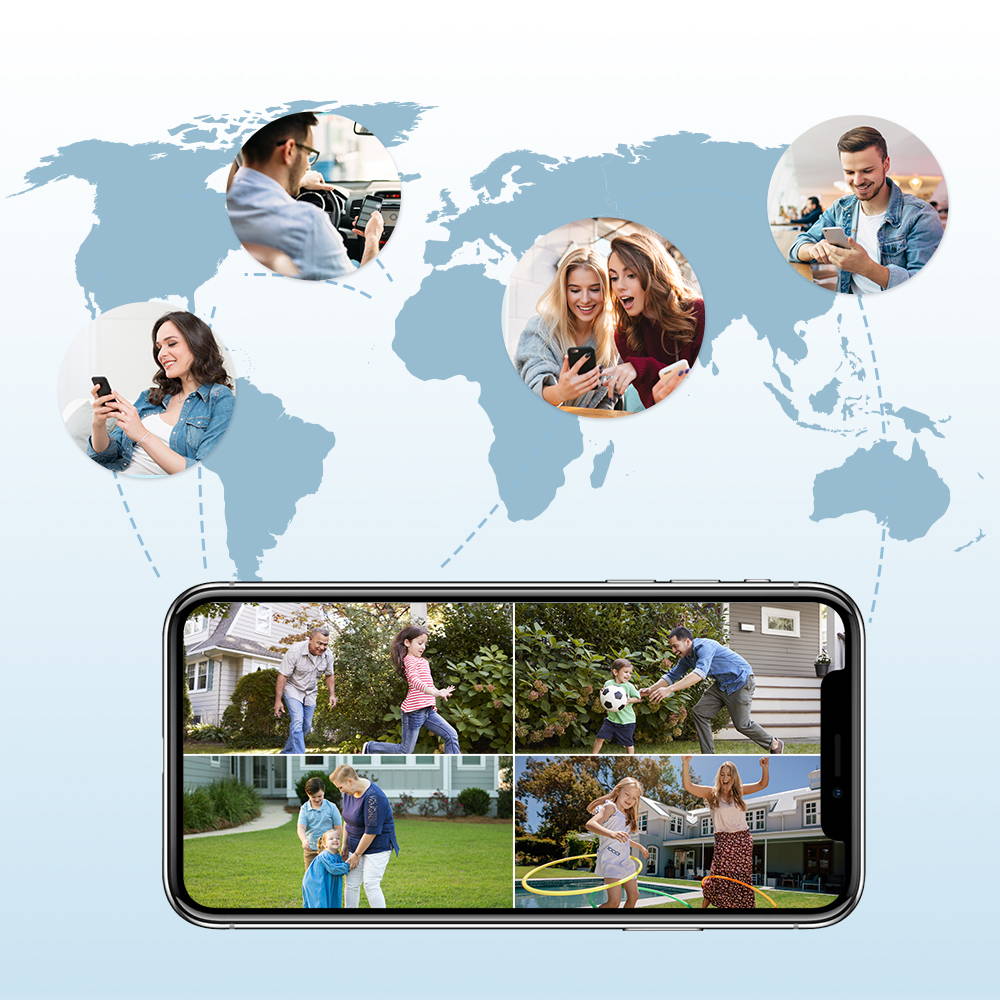 Ctronics wifi outdoor camera allows you to share your camera with close friends or families. Up to six people can watch online at the same time so they can participate in the wonderful moments together.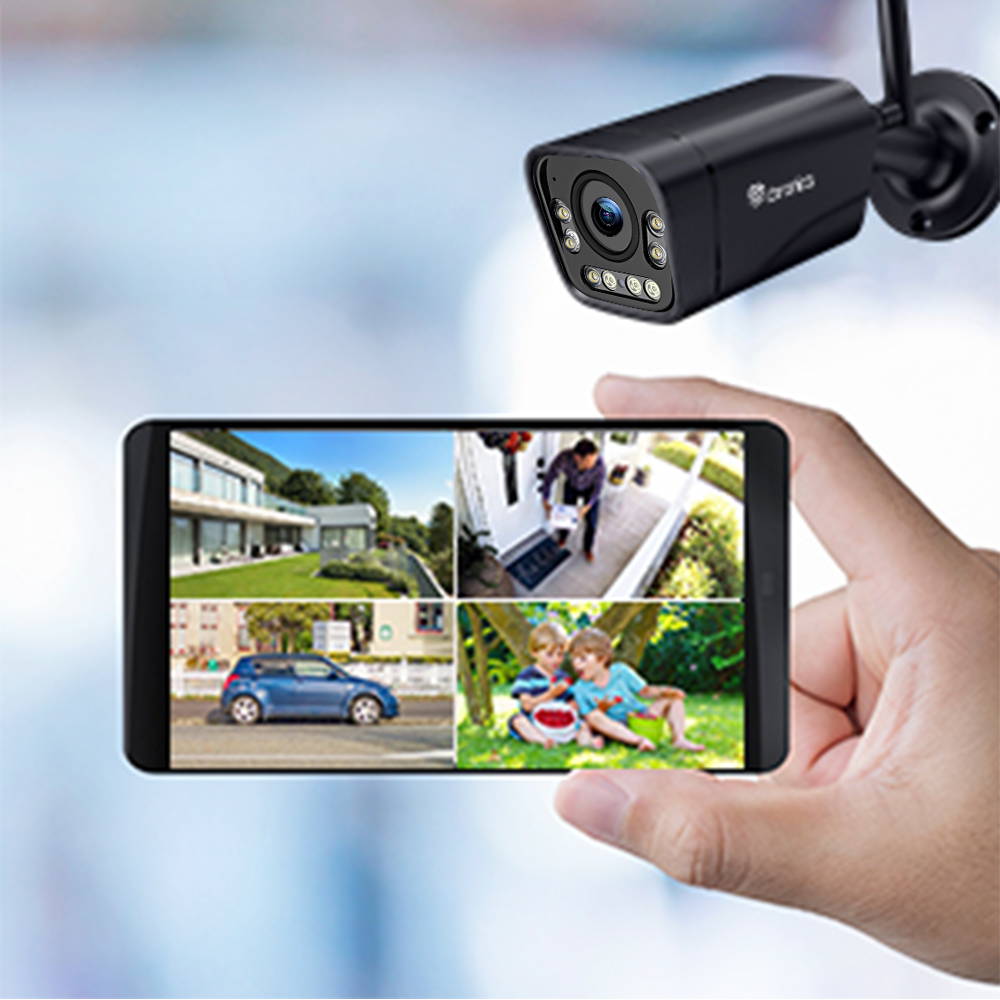 If you own more than one Ctronics outdoor wifi camera, you can watch up to four Ctronics surveillance footage at the same time, making monitoring quick and easy without missing any important information.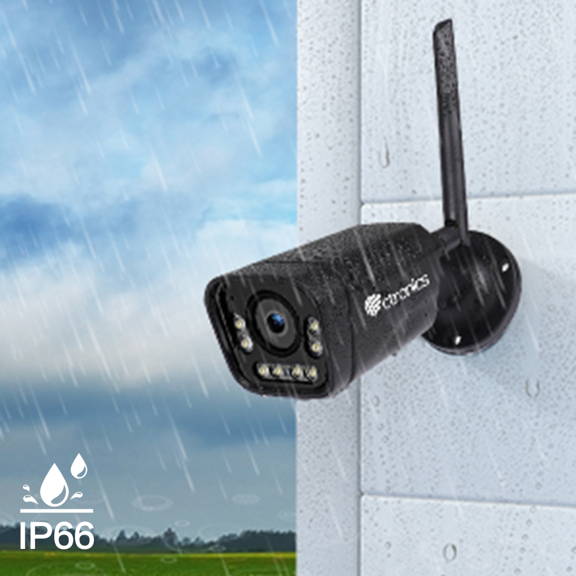 This outdoor CCTV outdoor ip camera is made of durable and weatherproof materials and has IP66 waterproof and dustproof design. Therefore, the wifi outdoor surveillance camera can be used in any environment between -20 ° C and 55 ° C.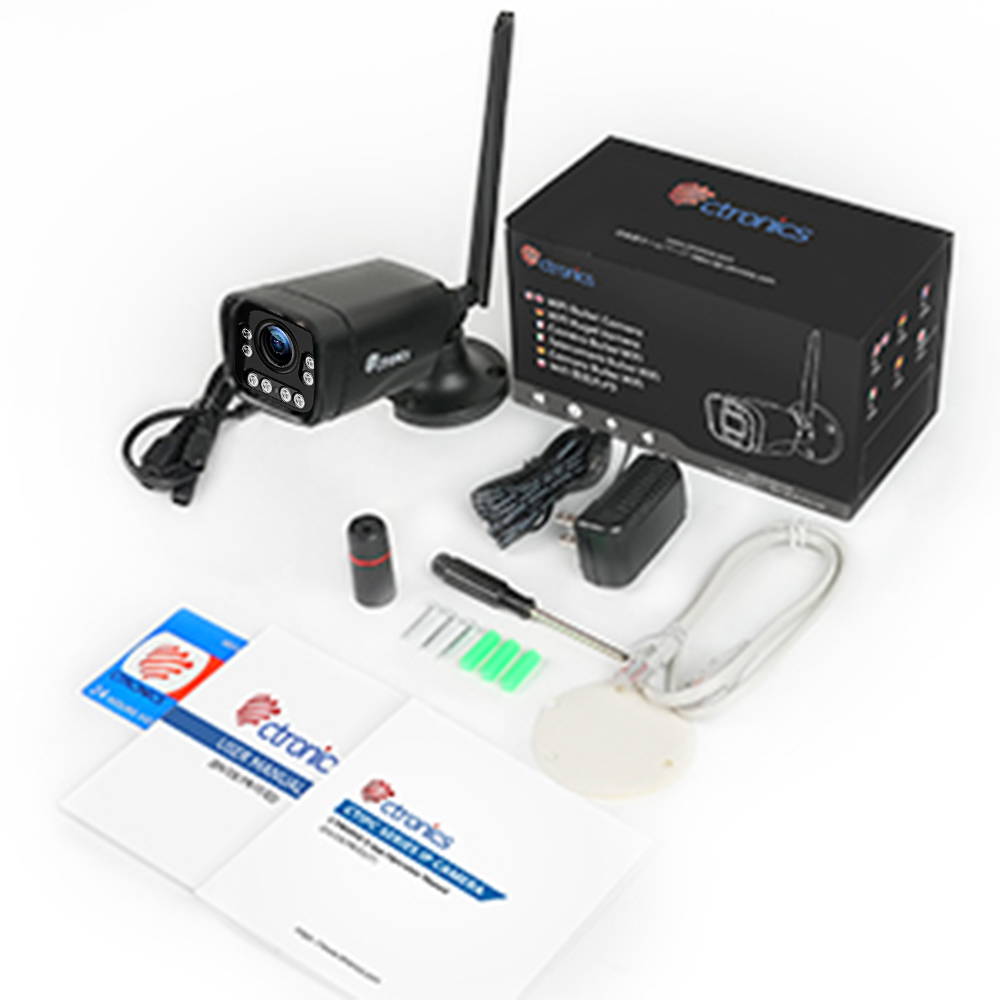 1 * 4K 8MP security camera
1 * 12V 1A Power Adapter
1 * Network cable
1 * Waterproof cap of the network tail cable
1 * Package of screws
1 * User Manual