Lifetime warranty service
30-Day Money Back Guarantee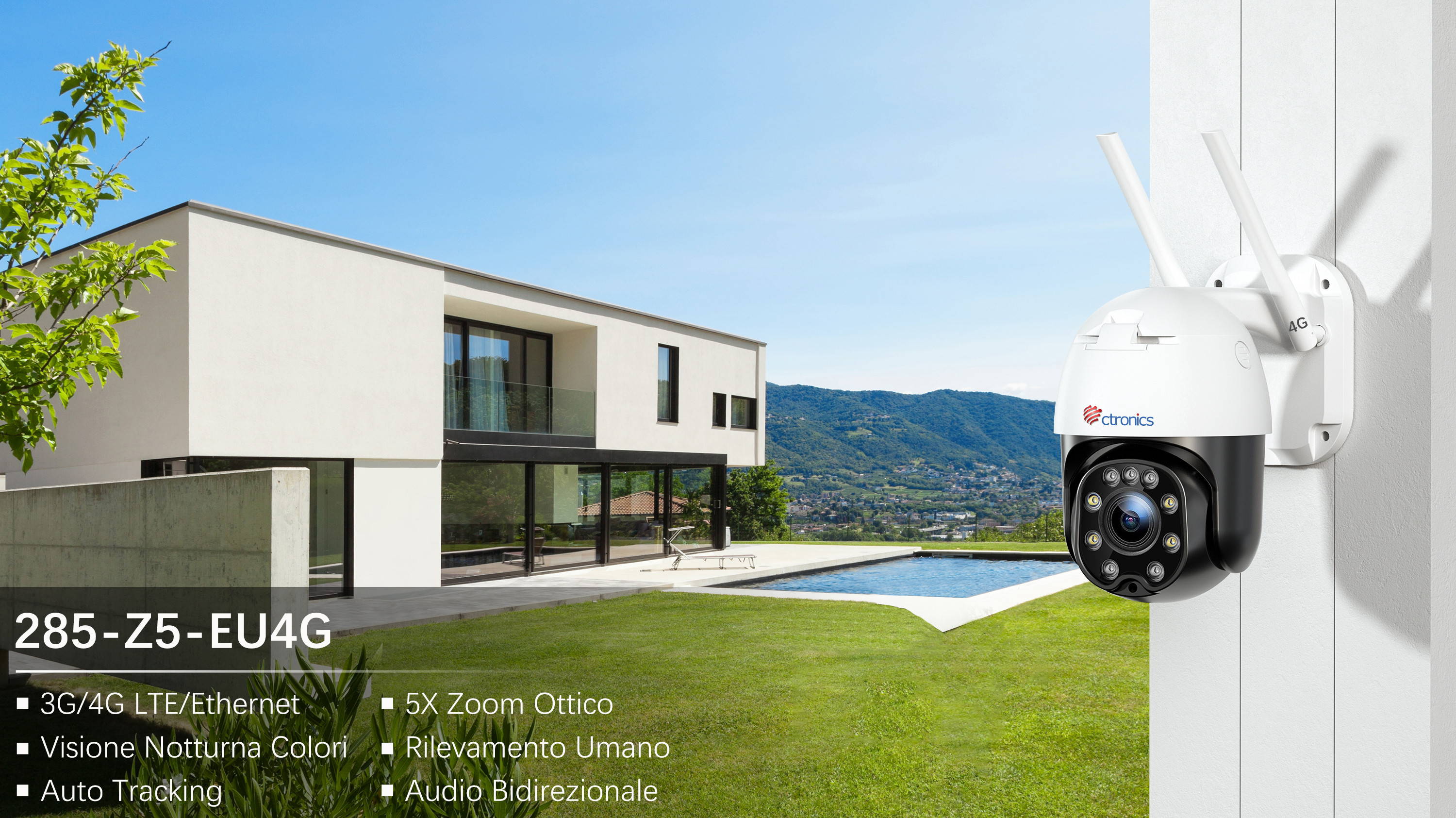 Ctronics 4G outdoor surveillance camera supports a 4G-LTE, 3G SIM card or Ethernet cable connection, rather than Wi-Fi connection.

As long as there is a power supply, it can be used via the 3G/4G SIM card.
Please Note:
Does not support 2.4GHz/5GHz WiFi connection; only supports 3G/4G-LTE SIM card and Ethernet cable connection .
The included SIM card is with the traffic of 100M and available within 7 days.
Our 4G security camera supports the T-mobile and AT&T network operator in America.
Does not support Cloud storage.
Does not include an SD card(Support Max 64GB).
Support "Ctronics" APP only.
No wifi needed, but need to be plugged in.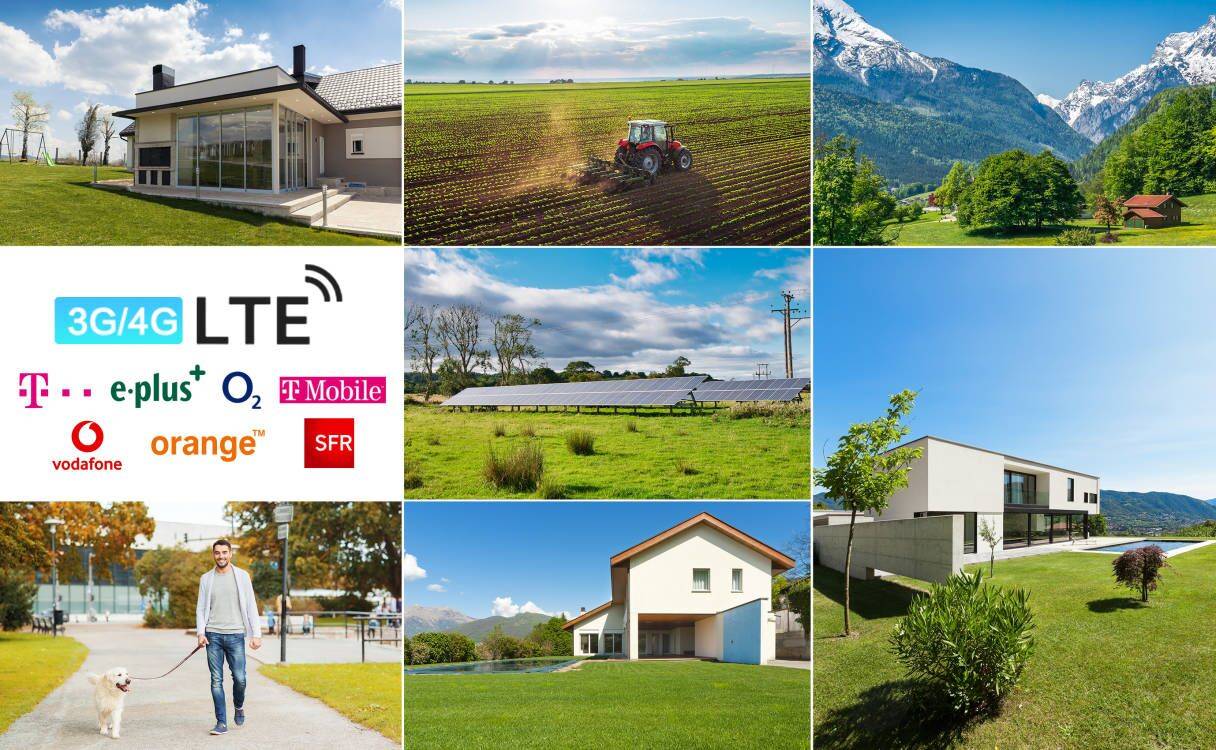 Never Worry about Wi-Fi Connection Hassle Anymore
- By inserting a 3G/4G-LTE SIM card with a cellular data plan, the Ctronics 4G security camera outdoor can work anywhere nationwide.

- This Ctronics 4G surveillance camera includes a SIM card with a cellular data plan, including a test data traffic of 100MB for 7 days.
- Our home security camera is excellent for indoor and outdoor use, such as in front door, garden, garage, farm, driveway, porch, etc.
- The 4G camera for home security supports AT&T, T-Mobile. A Nano SIM card with a cellular data plan is required for use.
- It is highly recommended to use the supplied SIM card. If your own SIM card is not compatible with the camera, please insert the SIM card into the phone and turn off the PIN, then insert the camera to modify the APN mode in the "ctronics" app, or ask us for help. (Note: If you do not know the APN of the card, please consult the relevant operator.)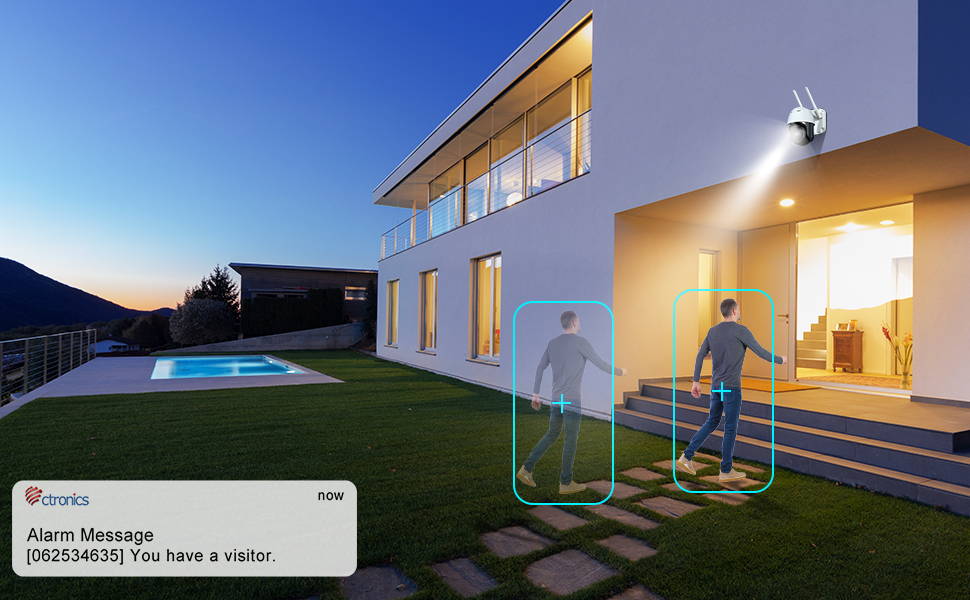 Human Detection & Auto Tracking
With the built-in AI deep algorithm, this security outdoor cameras will detects only people intelligently, reducing false alarms caused by rain, leaves, animals and insects up to 95%. Besides, the 4G security camera can track human's movements automatically. Wherever you go, it will automatically turn there.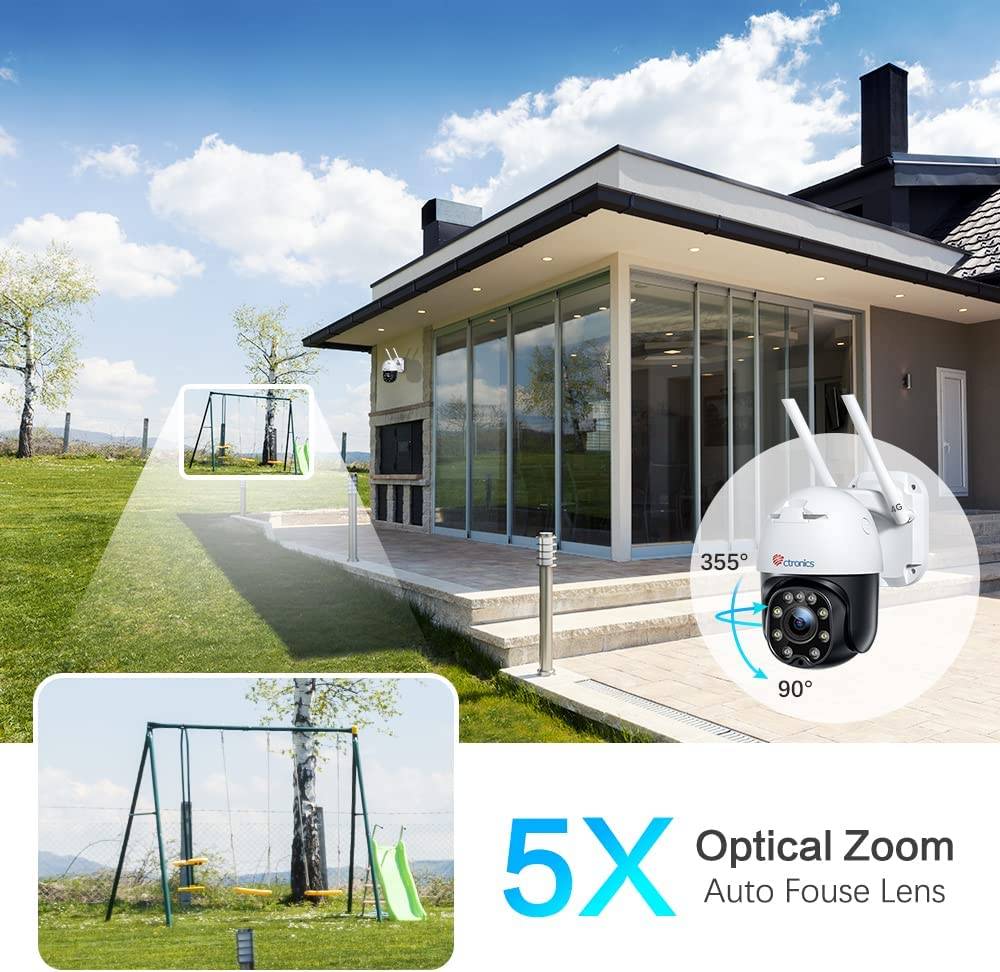 Ctronics 4G outdoor security camera provides stable videos and clearer images. This 3G/4G cctv outdoor security camera also supports up to 5X optical zoom instead of digital. You can zoom in or zoom out at will, capturing every detail. This makes it an excellent choice for outdoor safety.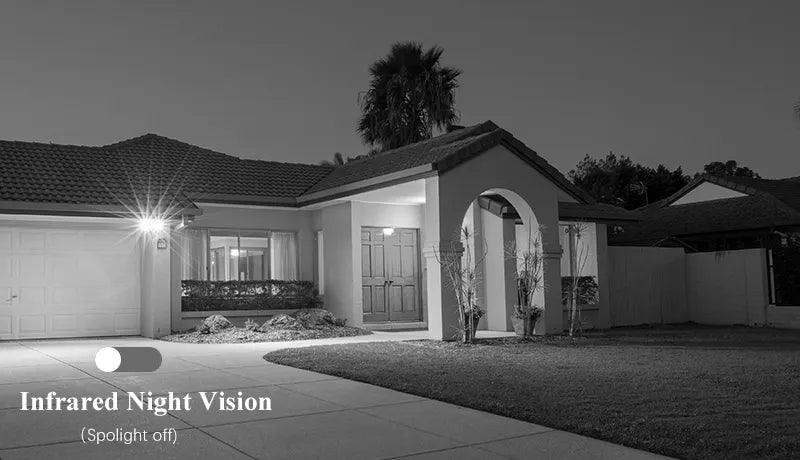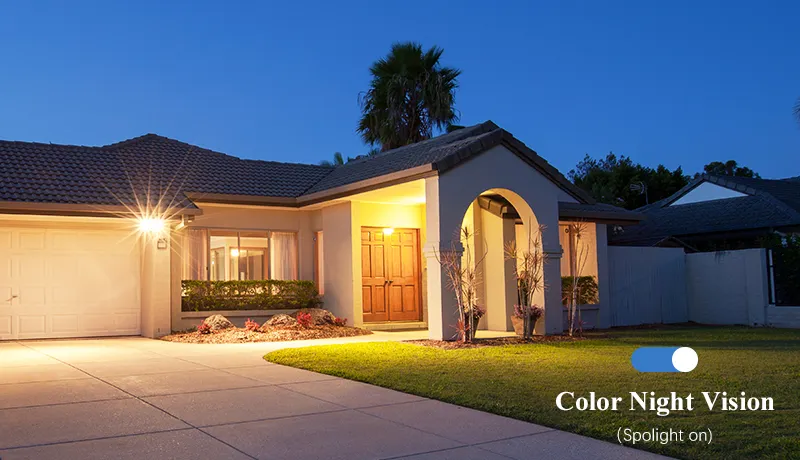 This 4G PTZ outdoor camera has three night vision modes: Auto, Colored and IR night vision. With a dual light source design, 4 floodlights, and 5 infrared lights, this dome outdoor security camera creates vivid color images at night. Night vision possible up to a maximum distance of 25 meters.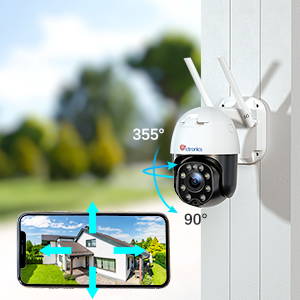 Thanks to horizontal movement of 355° and vertical of 90°, you can control the outdoor camera remotely by sliding your phone screen in different directions. The built-in microphone in the PTZ dome camera can record what is happening, including ambient sound on the scene.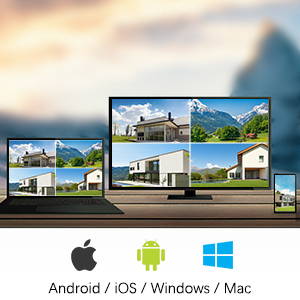 Multi-Platform Compatible
This 4G security camera is compatible with smartphones (iOS and Android), tablets (Apple and Android), and PCs (Mac OS and Windows). With one Ctronics outdoor security camera, you will be able to view up to four surveillance screens simultaneously on one device.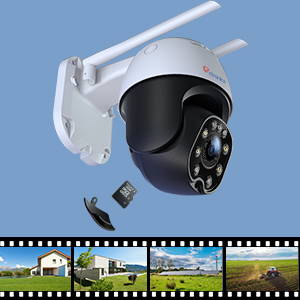 SD card Storage and Playback
Motion-triggered video recording and snapshots can be saved to the SD card (enabled for up to 64GB, not included) and playback video via the "CTRONICS" App or "HiP2P" Client. When the SD card is full, it will be automatically overwritten. It supports 24/7 continuous recording.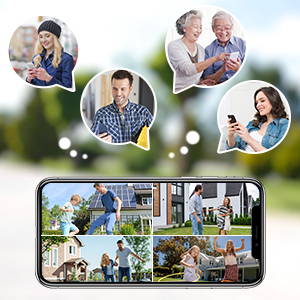 One Ctronics camera can be shared four users for real-time image via the CTRONICS app, which allows to watch live streams and share the videos with family and friends directly. If there is danger around your home and the detection is triggered, all users of the CCTV security camera will be notified simultaneously.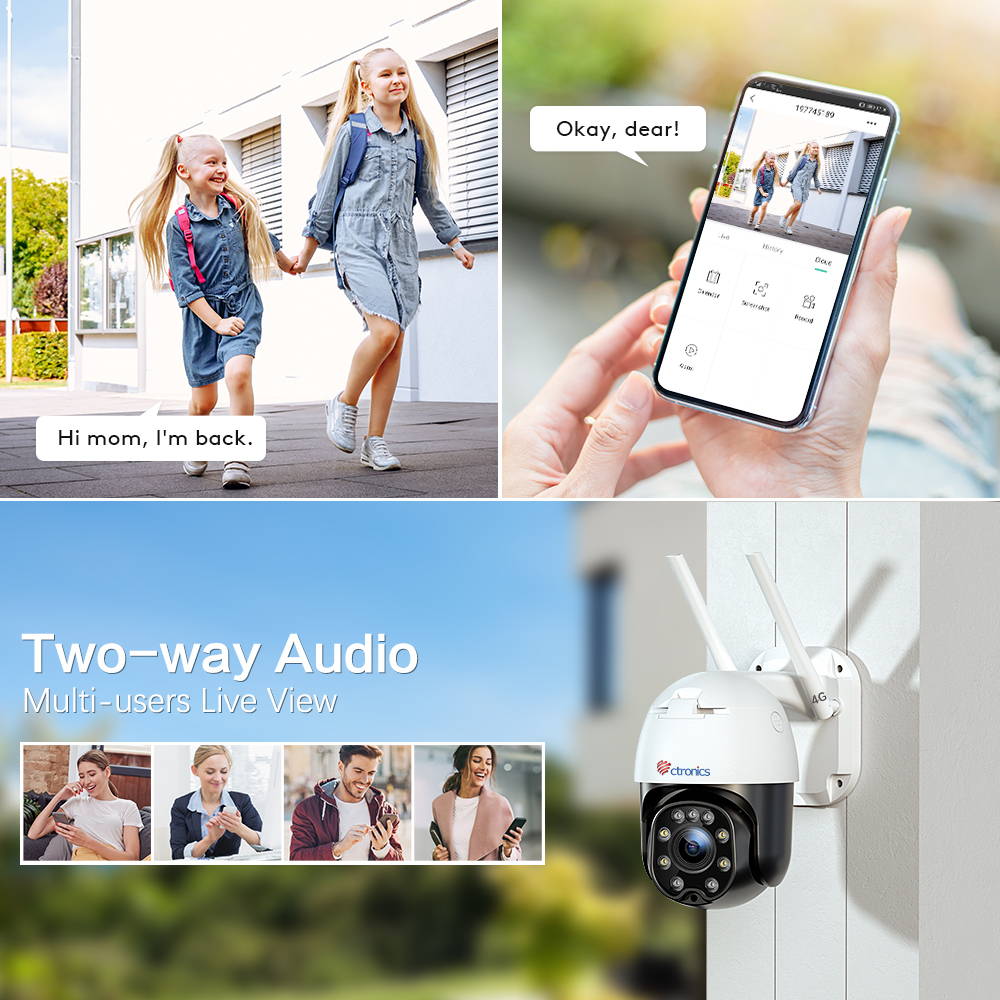 With the built-in microphone and speakers, you can talk to the visitor in real time or also warn unwanted intruders when you're on the go.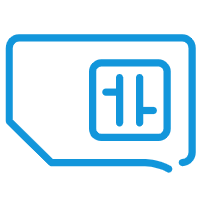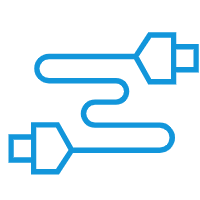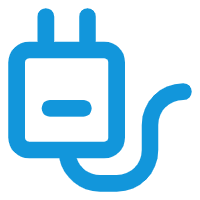 1X 12V 1.5A power adapter (3m cable)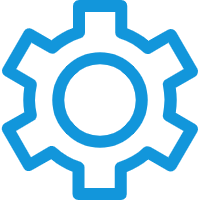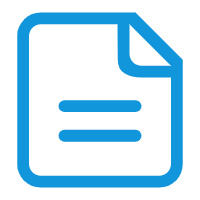 25 meters Color Night Vision