Lifetime warranty service
30-Day Money Back Guarantee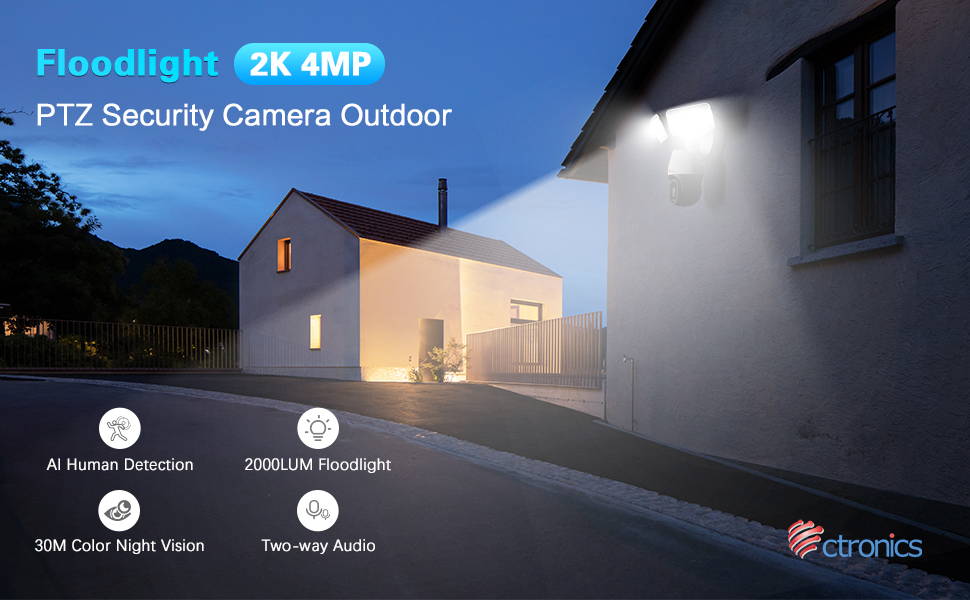 Ctronics 2K 4MP Floodlight Security Camera Outdoor
1.2000LUM 4500K warm white floodlight, illuminates a distance of up to 30m with full color or IR night vision.
2.355° pan 90° tilt ,4X digital zoom functions and 2K 4MP QHD outdoor surveillance camera, captures every detail around your house through the Ctronics APP.
3.AI human detection with auto tracking minimizes the false alarms, accurately capturing intruders.
4.Easy set-up, plug-and-play installation, no worries about wiring or modifying the circuits.
5.Two-way audio, speak directly to anyone close to your WiFi security camera.
6.Multifunctional, sound and light alarm, schedulable recording, 7/24 recording, 8 customizable monitoring positions, etc.
Plug & Play Human-Activated Floodlight
Easy plug-and-play installation, powered by a 12V adaptor that comes with the outdoor PTZ camera, no need to worry about wiring or modifying the circuit.
When detects human movement, the floodlight of this outdoor surveillance camera will turn on automatically and illuminate everything within a 30m radius with its 2000LUM brightness, which makes it ideal for open areas like front door, parking lots, garages, gardens, etc.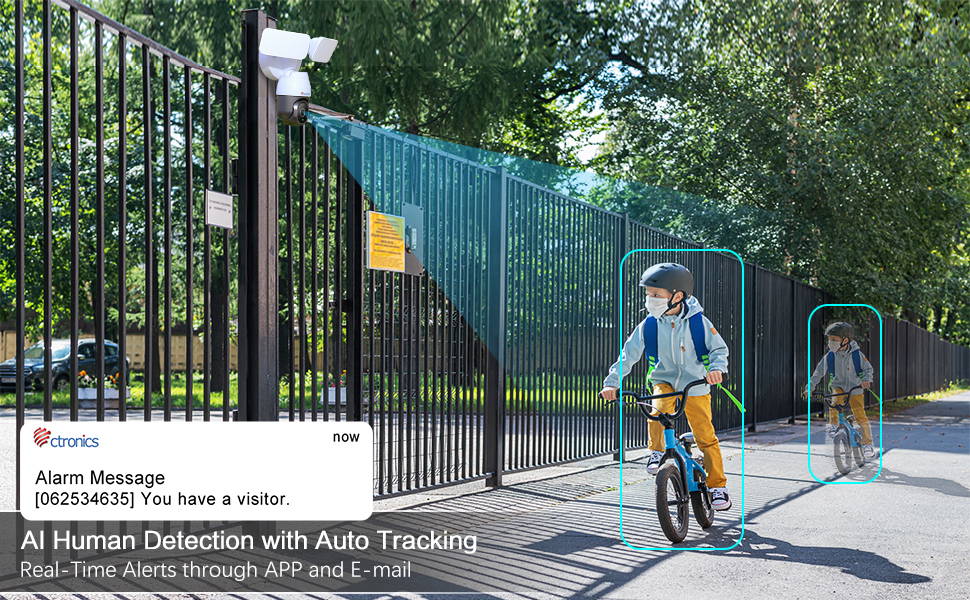 AI Human Detection & Auto Tracking
With a in-build AI chip, this CCTV security camera supports human detection and will follow the target automatically. Meanwhile, the surveillance camera will send real-time alert through the app or e-mail, and can activate a siren alarm to scare away any intruders.
Important:
Sound alarm can be enabled, disabled or customized
Alarm video and screenshots can be uploaded to an FTP or NAS server for easy access.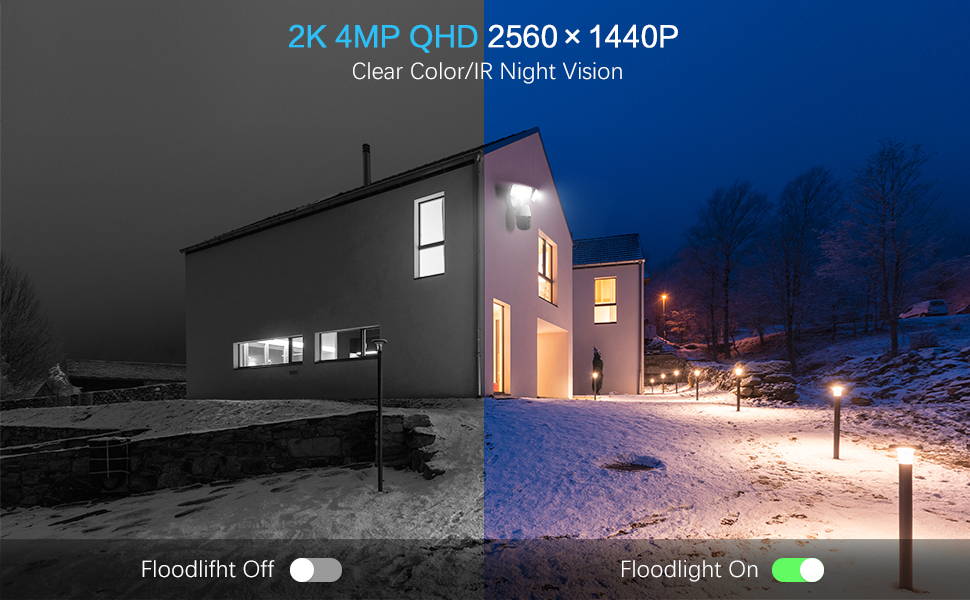 2K 4MP Color Night Vision & 8 Preset Positions
The floodlight WiFi security camera provides 2K full-color night vision up to 30m, or 25m IR night vision, You can set the activation trigger for the floodlight: motion-activated, human-activated, or keep-on mode.
This 4MP PTZ security outdoor camera supports up to 8 preset positions, you can set certain places like a front door, a gate, a window, etc., as your preset position and turn the camera directly to the exact position through the APP to enhance security.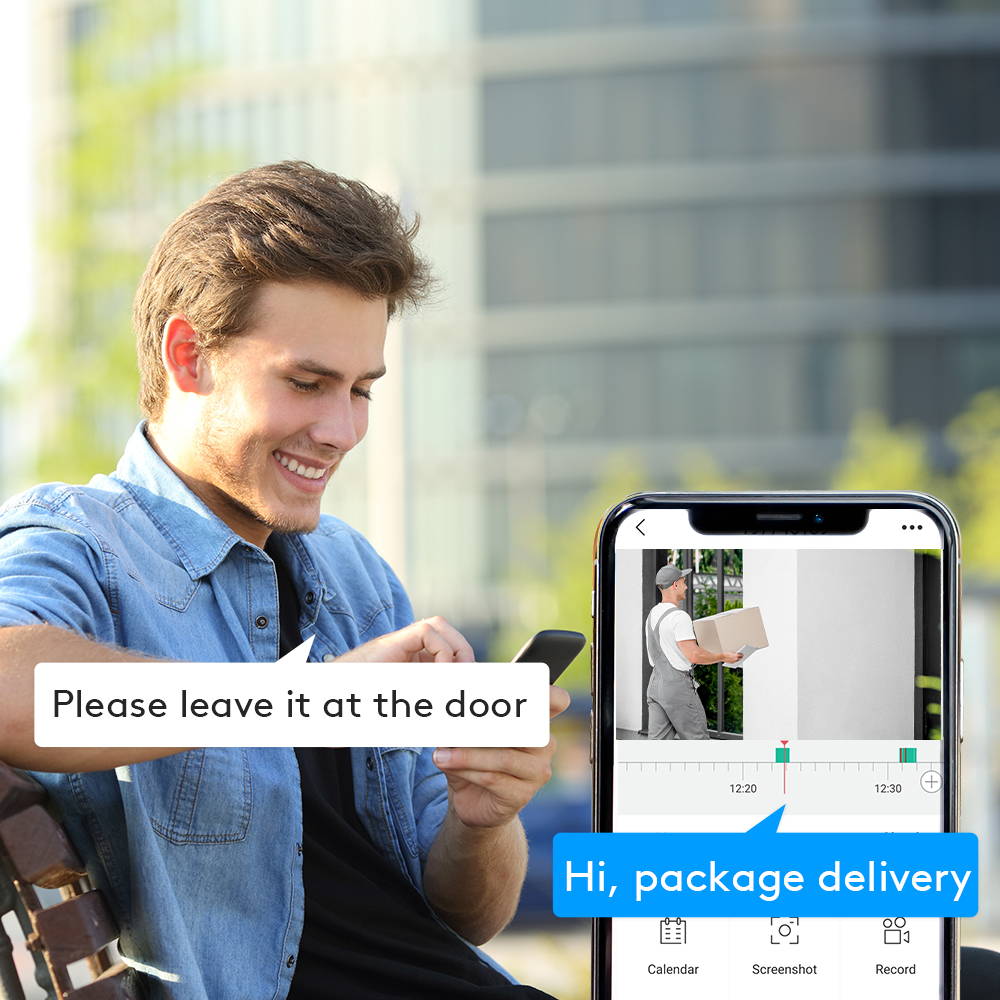 Two-Way Audio in Real Time
With a built-in microphone and speaker, you can use the home security camera to communicate with your visitors anytime and from anywhere.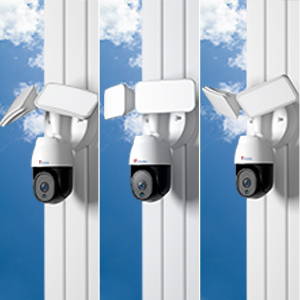 Adjustable Angle LED Floodlight
This wireless outdoor security camera is equipped with 2 floodlights whose angles can be adjusted vertically and horizontally, allowing you to adjust the floodlight according to the actual usage scenario and illuminate the place that suits you best.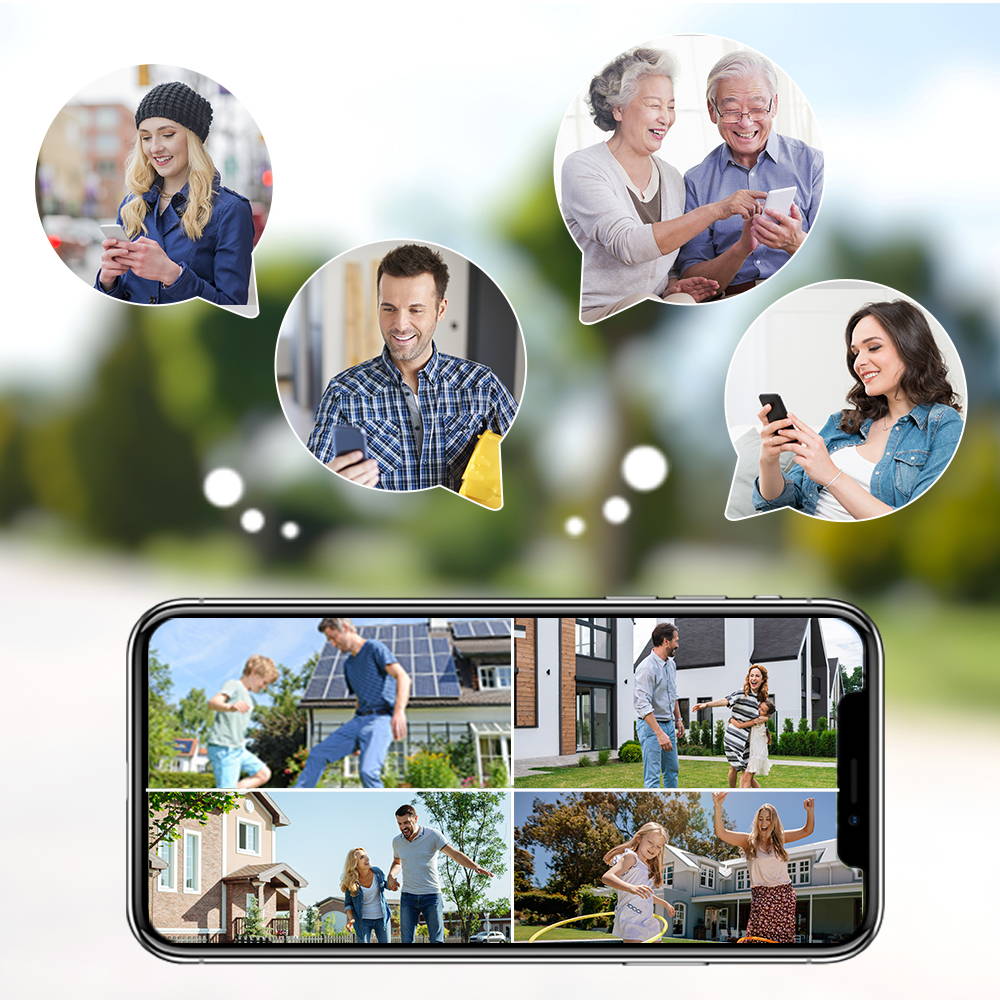 Multi-User Online Viewing
Supports multi-user online viewing, you can share the happy moments with your family. 4 in 1 image viewing allows you to watch 4 Ctronics security cameras on a single screen via the Ctronics app, making it easy to see every corner of your house.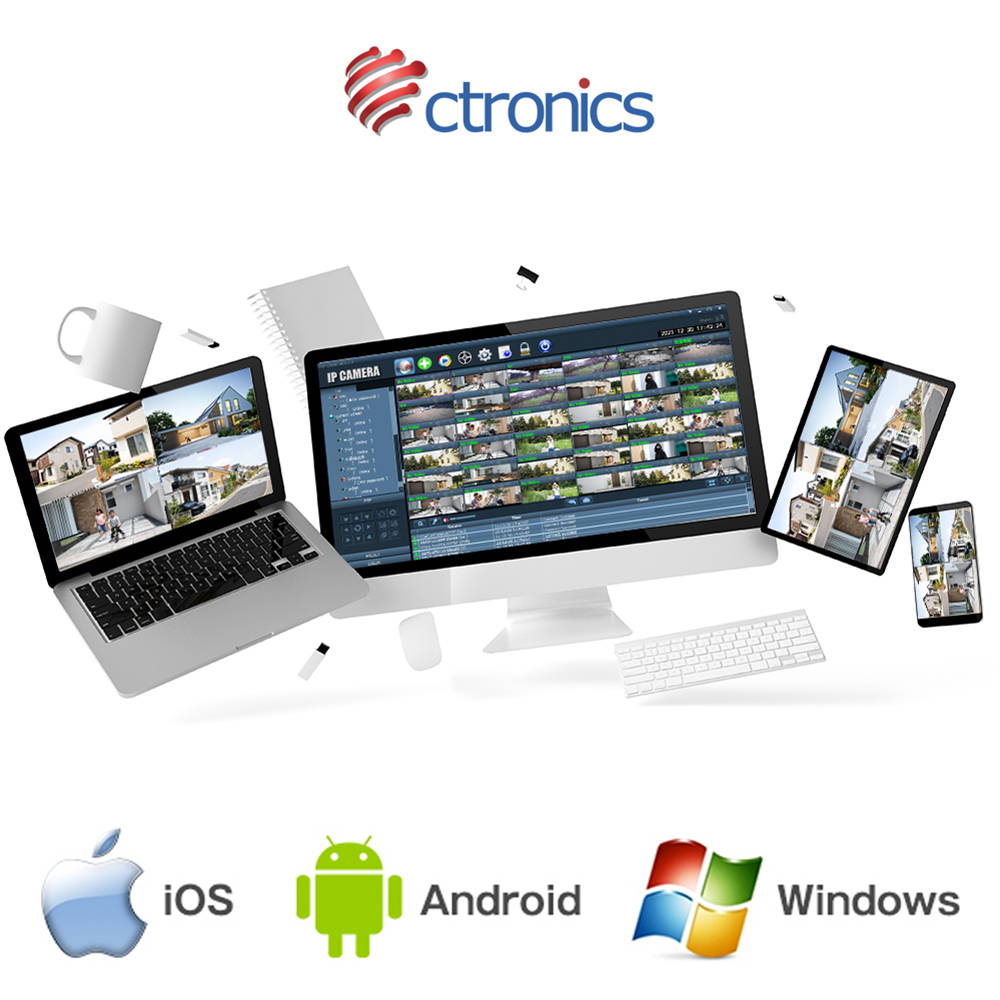 This 2K outdoor surveillance camera is compatible with NVR, fits for iOS, Android, Mac and Windows systems (via "HIP2P" / "Ctronics APP"). You can play the recorded videos on different browsers like IE, Firefox, and Google.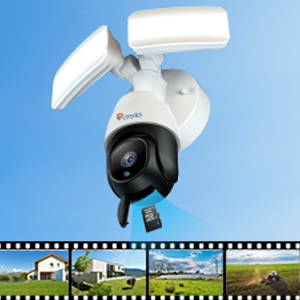 Videos recorded by the outdoor surveillance camera can be saved in a SD card up to 128GB of storage (SD card not included in the package).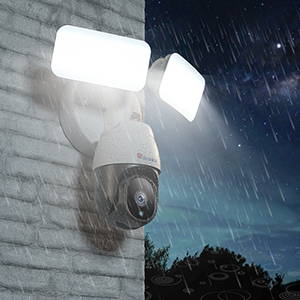 Specially designed for outdoor use, our 4MP security camera outdoor can light up and guard your house even in extreme weather (Working temperatures: -10℃ ~ 50℃; working humidity: ≤80%RH).
Important:
Only supports wall-mounted Installation.
Color night vision is only available when the floodlight is on.
Powered by an electric cord, not 100% wireless, DC12V 1.5A .
Supports 128G SD card storage (SD card not included in the package)
Supports 2.4Ghz WiFi (not 5Ghz), RJ45 10/100M network port for wired connection.
Compatible with iOS, Android, Windows, Mac systems (through the "HiP2P" client/ "CTRONICS"APP), you can also watch videos or control the camera on IE,Firefox and Google browsers.