Lifetime warranty service
30-Day Money Back Guarantee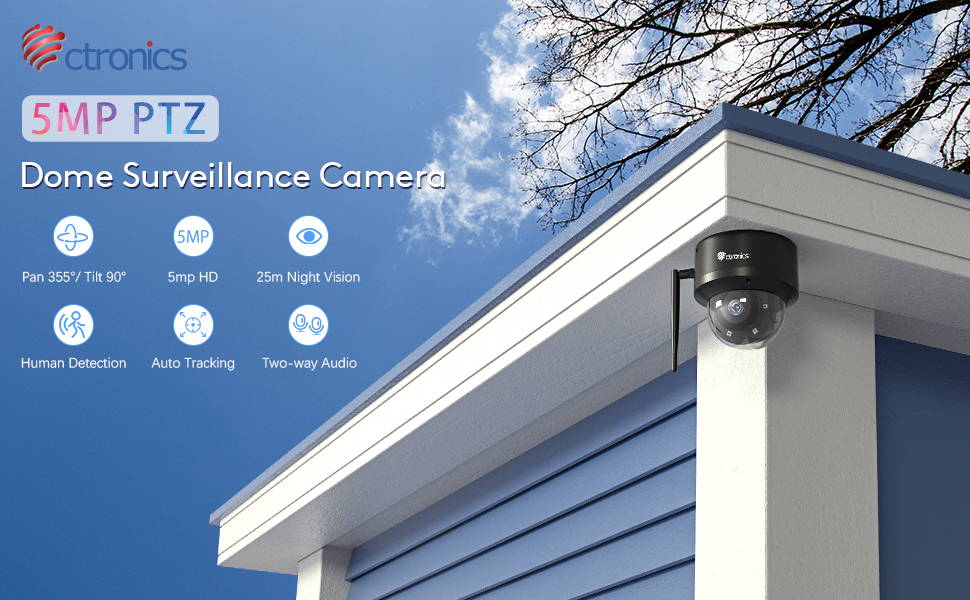 Ctronics Wifi Motorized Exterior Wifi Camera
5MP HD:
the resolution of this outdoor WiFi camera is 2560x1920p
PTZ WiFi surveillance camera:
rotates 355 ° horizontally and 90 °vertically
Human detection:
captures visitors or intruders around your home, and reduces false alarms caused by rain, wind or insects, etc.
Automatic tracking:
this indoors camera can automatically rotate, tracing moving people.
25M night vision:
enjoy the HD night vision image via this WiFi surveillance camera.
Two-way audio:
you can talk to the people near the camera.
Remote control:
you can view and control the camera remotely via the "Ctronics" APP.
Slot SD card:
Images and videos can be recorded on the Micro SD card. (32 GB SD card is pre-installed in the camera)
Solid ABS dome cover:
protects the surveillance camera from dropping and busting.
Waterproof IP66:
this IP camera is ideal for outdoor surveillance.
5MP HD Image ( 2560x1920p)
With advanced digital WDR technology and chip, this surveillance WiFi camera provides you with 5MP HD image day and night.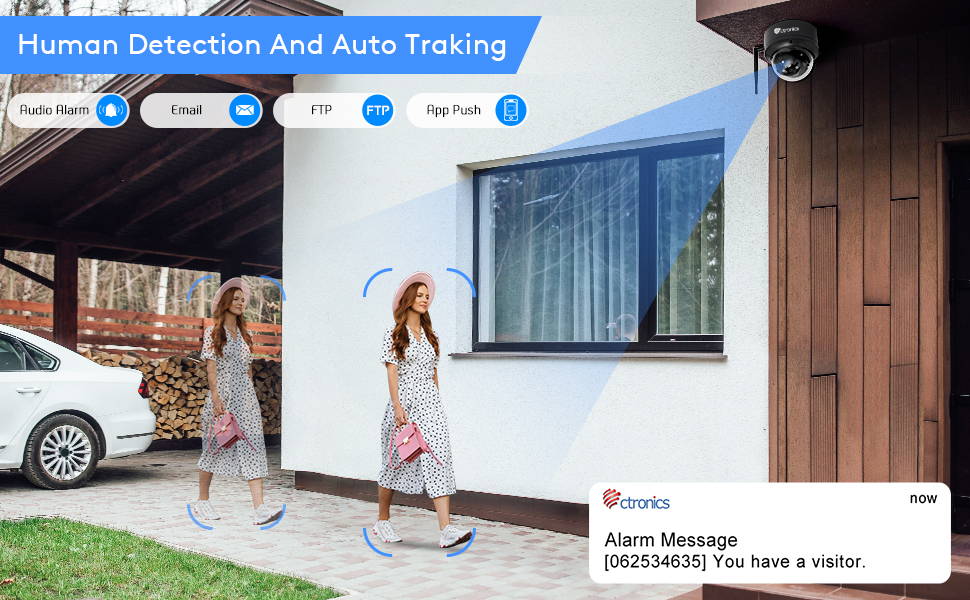 Audible Alarm & Human Detection & Auto Tracking
To warn intruders away and protect your property, this indoors surveillance camera will send an audible alarm (default/customized) when it detects human movements ( it also can be turned off in the settings). Meanwhile, it will send you APP notifications immediately to your smartphone (also supports email and FTP).
After triggered, the surveillance camera will store the recorded video of all human movements into the Micro SD card (up to 128GB storage).
Human detection—the surveillance camera will automatically scan the human body and send alarms to you, which can avoid up to 95% of false alarms due to wind, animals, flowers etc.
Auto tracking—when you or any other person moves in front of the surveillance frame, the WiFi camera always moves, leaving the person who passed near the camera in the center of the frame.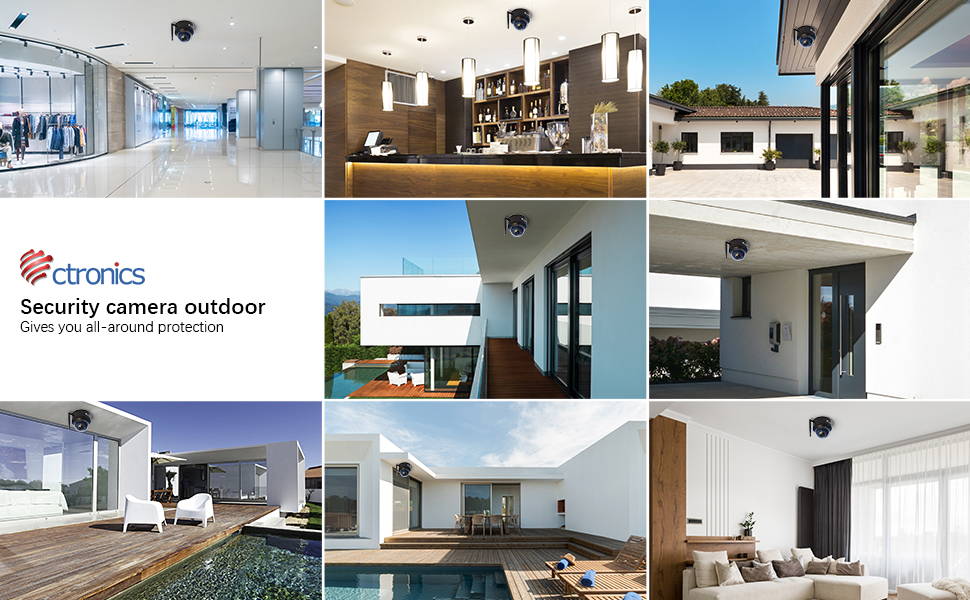 This ptz dome camera is very easy to install and it supports different installation methods: ceiling installation, and wall-mounted installation (a wall-mounted bracket is not included in the package), so you can use it in many environments with many installation angles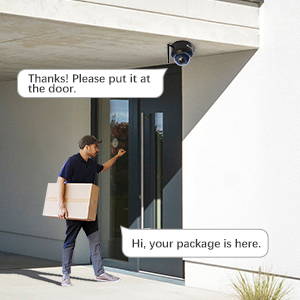 Thanks to its built-in microphone and speaker, the Ctronics outdoor WiFi surveillance camera allows you to listen and talk remotely with people around the camera. You can also warn suspicious strangers with your voice or talk to family and friends when you are not at home.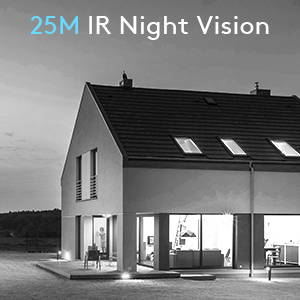 With 2pcs IR LEDs and advanced image digital noise-reduction, this 5MP surveillance WiFi camera can help you clearly see the objects or people even in the dark. Supporting intelligent IR Auto Switch, the night-vision range of this ptz dome camera is up to 25 meters.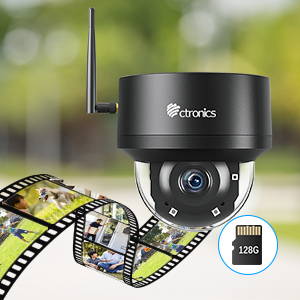 With a Micro SD card slot, the Ctronics 5MP WiFi surveillance camera can store all the recorded video on a local Micro SD card (up to 128 GB, )
when it is triggered , You can then view the video on this camera wherever you are.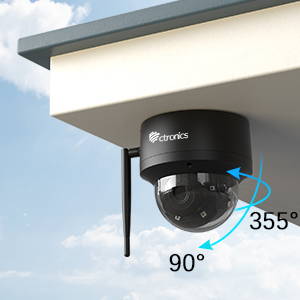 With 355 ° pan and 90 ° tilt, this WiFi PTZ camera can monitor every corner.
You can manually rotate the camera lens horizontally and vertically from different directions through the "Ctronics" APP to check the situation around your house. It is an excellent choice for home surveillance .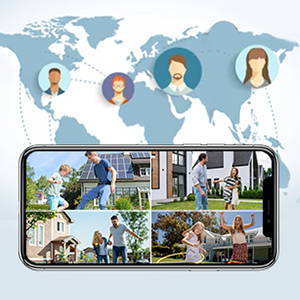 4 -in-1 Picture Users sharing
If you have purchased more than one Ctronics outdoor surveillance indoors cameras, you can add cameras and watch up to 4 real-time pictures at the same time in the "Ctronics" APP.
Monitor one or more areas without difficulty and never miss any important information. You can also share with your family and friends.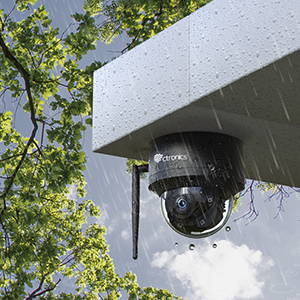 The 5mp outdoor WiFi surveillance camera is made of IP66 waterproof material and solid ABS ball cover, which ensures stable and fault-free operation even under extreme weather conditions.
Operating condition :-10 °C ~ 60 °C ;Humidity 95% or less (non-condensing)
Note:
- This WiFi dome camera has 4X digital zoom rather than optical zoom.
- This WiFi IP camera is powered by 12v electrical cord, not by batteries.
- This WiFi IP camera works with 2,4GHz WiFi and Ethernet, but not 5GHz WiFi and 3g/4G sim cards.
- The maximum capacity of the Micro SD card is 128GB (A 32GB Micro SD card is included in the package).
- The audio alarm can be turned off manually.