How to Choose a Security Camera for Your Home
Why do you need a home security camera?
First of all, a home security camera keeps watch over your home from both inside and outside, acting as an extra pair of eyes and ears to monitor your property. It allows you to see the situation at home indoors and outdoors anytime, from anywhere. Especially if you are renting, you can never know whether the landlord or an intermediary has kept a key for themselves.
Secondly, it allows for doorway monitoring. In addition to indoor monitoring, you should also pay attention to your front door. An outdoor home security camera can deter crime and prevent vandalism. When someone is doing something strange outside your front door, you will have a recording of the perpetrator's face and can push the alarm message button.
They can be useful in babysitting the elderly and children. A home security camera can help you look after the elderly or children, especially if the elderly person lives alone. You can see their activities and use voice interaction to take care of them at any time.
In recent years, there have been all kinds of security cameras on the market, such as wired, wireless, and indoor or outdoor. So how do you choose the camera that is the most suitable for your home? Here we will discuss the options, comparing various cameras.

Important Things to Focus on When Choosing a Security Camera
High-Definition Resolution
A higher video resolution is one of the important features. It will provide more detail and looks good on a computer or mobile phone. In general, the larger the pixel value, the higher the definition. Therefore, compared with the traditional 720P and 1080P resolutions, the current 4MP and 5MP resolution cameras are clearer and much more popular.
One of the 5MP representative cameras is the 285C CCTV outdoor security camera. This has a 2560x1920p resolution, providing almost 2.4 times the 1080p full HD. This presents objects in real color and enables you to view super clear images even in live video streaming.
Both cameras are about the same price, 510C is black outlook and 285C 5MP is white. If you don't particularly want high-definition images, a 4MP security camera is enough for daily use.
What's the difference between fixed view camera and a Pan-Tilt-Zoom (PTZ) surveillance camera?
A bullet-fixed view cameras fixates on one specific view and they are best suited to perimeters and fence lines. For example, if you only need to focus on a certain section of the room, an entrance, or a parking lot, mount the camera on a sturdy structure and adjust the lens for a precise view of the target area. The Ctronics 510C and 5SK are the fixed-view bullet surveillance outdoor cameras.
Pan-tilt-zoom (PTZ) cameras can swivel left and right, tilt up and down, and zoom in and out of a scene, meaning they provide a more detailed view of the surveillance target. Most Ctronics cameras are PTZ security cameras with 355°pan and 90°tilt capability to monitor any corner of your property, such as CTIPC-380C-4MP . You can manually rotate the camera lens up, down, left, and right from your smartphone, and change the lens position freely.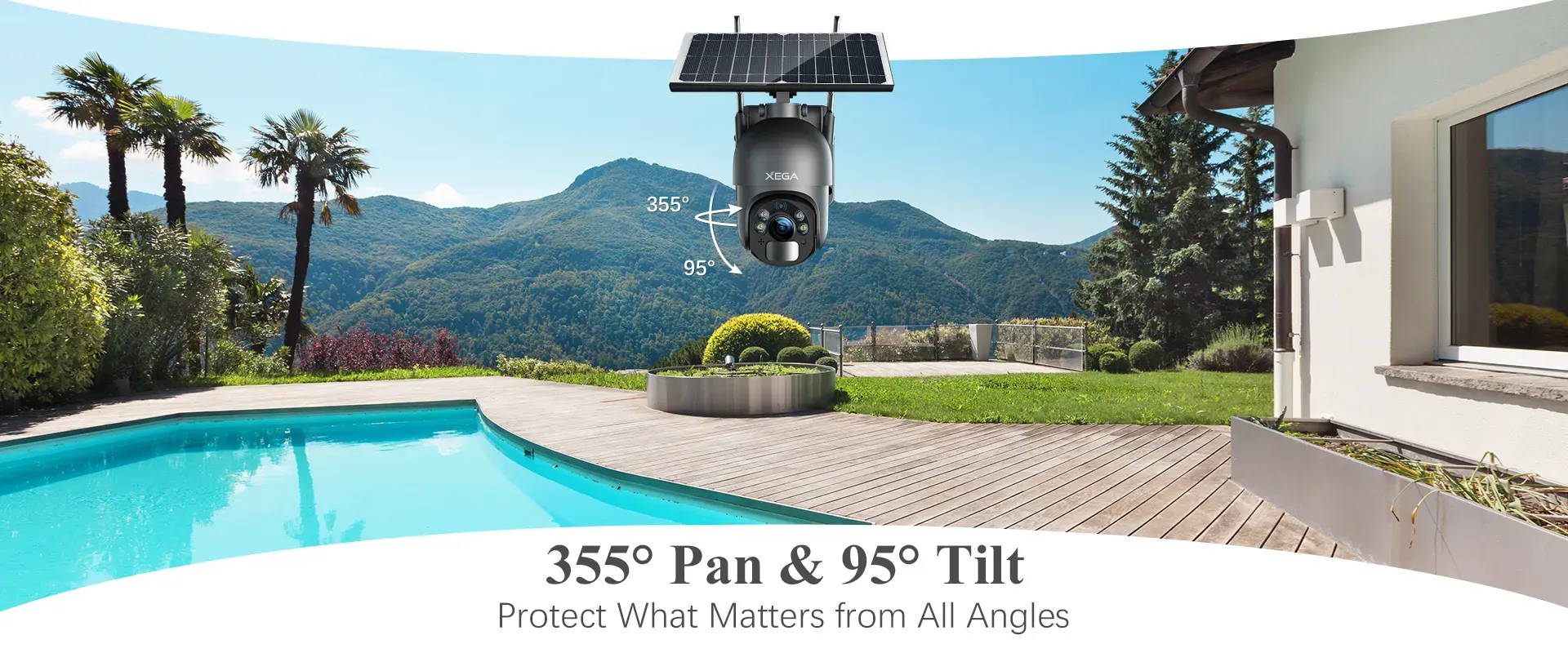 It is worth mentioning that most PTZ security cameras support optical zoom for viewing and capturing distant objects, such as license plates or faces. Some beginners might be confused about the difference between digital and optical zoom.
Both can enlarge the faraway image, but digital zoom is processed by the DSP chip to output image, which means it just enlarges the pixels of the image, resulting in blurry images and videos.
Optical zoom adjusts the focal length of the lens to make clearer images of things in the distance. One of the biggest strengths of high-optical zoom security camera is that the picture will remain clear as you zoom, giving you effective surveillance even at a long distance.
This means you can view smaller image details, such as faces and license plates, from further away and still get a clear quality shot.
Ctronics have different optical zoom security cameras, including 4x, 5x, 16x, and 30x zoom. The larger the number, the further the zoom. 30x optical zoom cameras, such as the 550C PTZ surveillance camera,can capture clearer and brighter pictures of things further away than the others. However, if you are using the camera at home, 4x or 16x zoom can easily meet your daily needs. Just remember to choose the appropriate type of zoom camera for your using situation.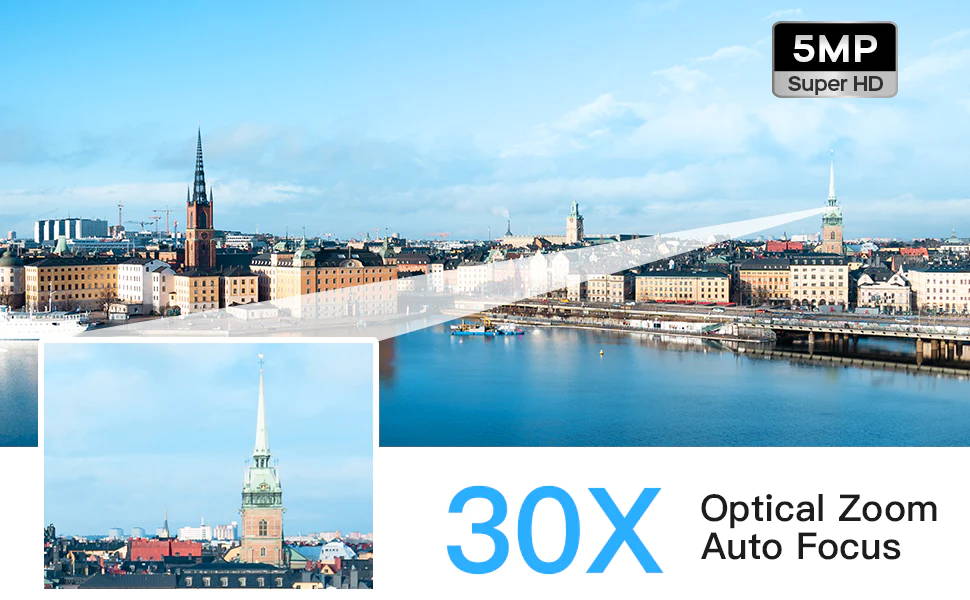 30X Optical Zoom 5MP WiFi PTZ Surveillance Camera with Audible Light Alarm and 50m Color Night Vision
It is important that your security camera can show you what's going on at night as well as during the day. There are three night vision modes: infrared, full color, and intelligent auto night vision.
Infrared night vision: when the light is insufficient, the camera activates an infrared light to fill in the light, although the real-time picture of the camera is black and white.
Full-color night vision mode: when the light is insufficient, the camera turns on a white light and the real-time picture of the camera will be in color.
Intelligent auto night vision mode: when the light is insufficient, the infrared light activates and the camera image is black and white.When the camera detects someone at night, the camera will turn off the infrared light and turn on the white light, meaning the night vision will switch to a color picture. At the same time, the camera will send an alarm message to the mobile app.
Ctronics 380C-4MP security camera has four IR-LEDs and four white lights for full color night vision up to 30 meters. In auto mode, the built-in spotlight will activate when a human is detected. However, if you want better night vision, 550C PTZ surveillance camera is your best choice. This supports three night vision modes: black and white, color, and auto. When the light is dim, it will switch to night vision mode automatically, which has two laser LEDs, four infrared LEDs and four white LEDs built-in, providing full HD 5MP video quality, day and night.
Thanks to the laser and IR LEDs, the black and white night vision of the 550C camera offers visibility up to 150 meters (492ft). If the color mode is on, the white LEDs can provide full-color night vision for up to 50 meters (164ft).

Humanoid Recognition, Auto Tracking, or Motion Detection
Humanoid recognition: Ctronics outdoor surveillance camera distinguishes between the movements of human and non-human objects, which avoids up to 95% of false alarms due to wind, animals, flowers, etc.
Auto tracking: when people or pets move in front of the surveillance frame, the Wi-Fi camera will move, keeping the person or pet that passed near the camera in the center of the frame.
Motion detection detects all moving objects, which may lead to false alarms. Most Ctronics security cameras have the above three functions. You can turn them off in the app but it is best to leave the humanoid recognition function on.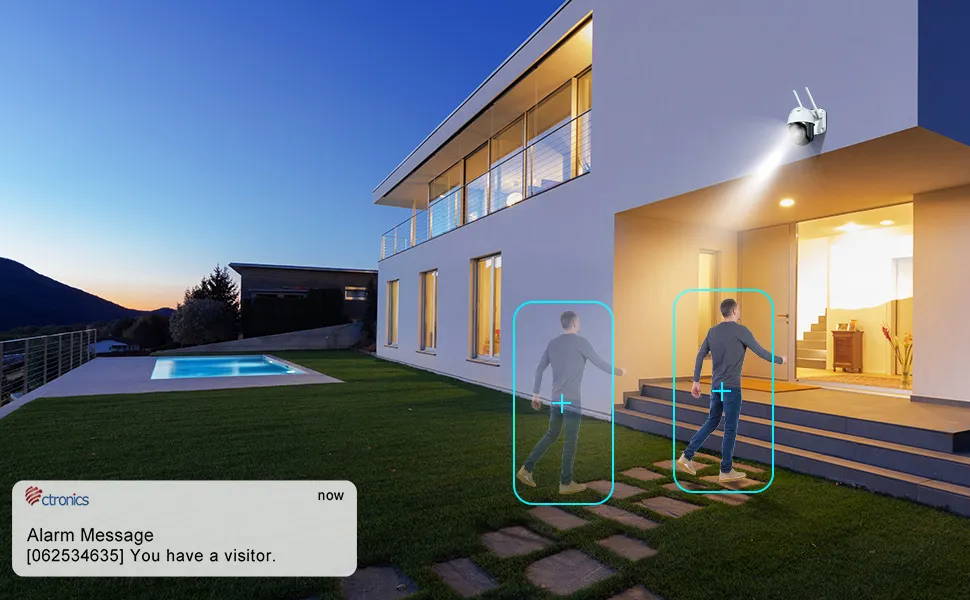 You should consider where the security camera will be installed when buying. Indoor or outdoor? Wired or wireless? Battery camera or solar camera? 3G/4G? Let's discuss it.
In general, wired surveillance cameras provide a more stable and secure video signal because they transmit through the cable and not the air. However it may cost more money and effort to install the camera due to the wiring required.
On the other hand, wireless cameras can be placed wherever you wish; you don't have to worry about laying new cables or patching existing cable runs. However, you will have to take the camera out and charge its battery often.
Compared with a battery camera, a surveillance camera with the solar panel can provide electricity to continuously charge the battery, meaning you can free yourself from tangled wires during installation and there is no need to take the camera out frequently to charge it. However, whether it is battery or solar powered, it needs to be close to the router to maintain a stable signal.
No Wi-Fi? Ctronics 4G outdoor security camera can work anywhere nationwide with 3G/4G-LTE connectivity. The 3G/4G wireless video transmission rate is higher so it can transmit video images with higher quality and provide a more stable wireless mobile network. As long as there is 4G signal coverage, turn on the device to receive a signal. Ctronics 4G security camera also comes with a SIM card with 100MB, no Wi-Fi required – just plug in the SIM card! All of ctronics LTE cellular security camera offer a SIM card with 100MB date free for use 7days.
Wired camera: CTIPC-380C-4MP-BP
Solar camera: CT-S20-4MP
3G/4G camera: CTIPC-550C-EU4G