Why Choose a 4G Cellular Security Camera?
A 3G/4G/5G cellular secuhttps://gem-3910432.netrity camera is mainly used for security surveillance. It is characterized by a built-in 3G, 4G, or 5G communication module, so that the camera can be directly connected to the network through the base stations of major operators. Break the limitations of network cables or Wi-Fi connections and achieve the true purpose of remote monitoring.

What is the difference between a cellular security camera and a Wi-Fi security camera?
What is the difference between a cellular security camera and a Wi-Fi security camera?
A Wi-Fi security camera uses an internet connection to connect to the app or laptop. When connected to a Wi-Fi signal, you can use two-way audio, auto tracking, alarm message notifications, and other functions through your device (smartphone APP or laptop). However, it needs a strong internet signal. If the Wi-Fi security camera is too far away from router, it won't work.
Cellular security camera uses a 3G/4G/5G cellular network connection instead of an internet connection. Using a cellular data plan, the camera is paired to a security panel with a cellular node so that the cellular security camera can work away from home. Compared to a Wi-Fi security camera, cellular security camera can work on ranches, farms, warehouses, vacation homes, cabins, sheds, RVs, campsites, food carts, boats, and any other place without internet or a source of electricity.
Where can you use a 4G security camera?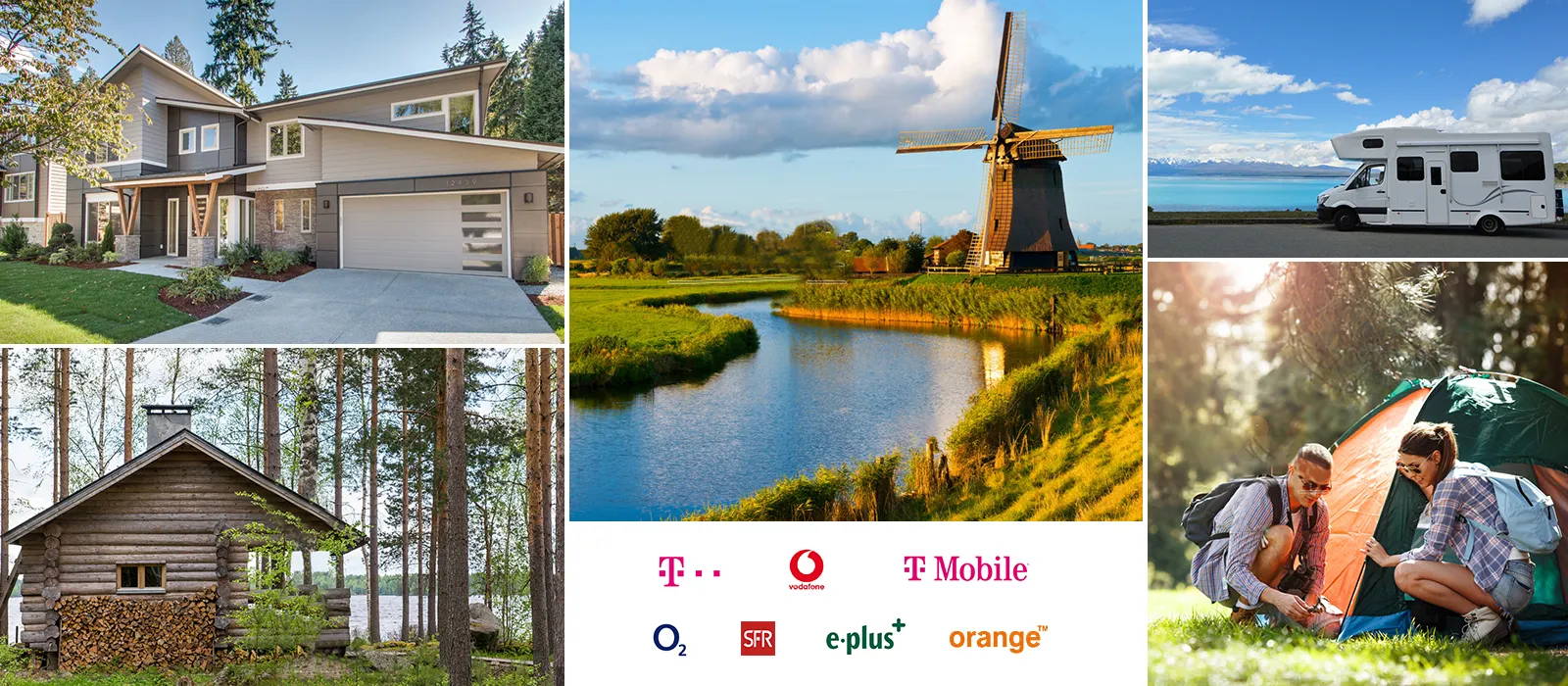 Places where wired network deployment is troublesome or Wi-Fi coverage is limited, such as indoor and outdoor areas which need security monitoring in commercial offices or residential areas where installing network cables would be difficult or impossible.
Places where a wired network connection is not possible, such as outdoor construction sites that require video surveillance but where the basic network construction has not yet been laid. This includes outdoor places like barns, farms, ranches, boats, docks and marinas that require video surveillance but have no network infrastructure.
Remote mountainous or rural areas without network connections, such as vacation homes, cabins and sheds, campsites, warehouses, and outdoor wildlife studies.
A 4G cellular security camera is the ideal choice for places where it is difficult to get wired internet or power.
How to choose a 4G security camera?
If your installation location doesn't have access to power and network, you should choose a 4G cellular battery security camera with a solar panel.
The XEGA 4G solar security camera can work where WIFI is not accessible with 3G/4G LTE coverage. It is 100% wire-free, with built-in 10000mAh rechargeable batteries and a solar panel which can provide continuous power day and night. This frees you from the hassle of cables and allows you to install or remove it at any time.
Another function has to be mentioned that this Cellular Security Camera adopt two modes for HD night vision, namely white spotlight mode and IR night vision. White spotlight enable your camera capture 1080P colorful sharp footage up to 65ft. IR led mode enable the camera capture superior quality with non-colorful clear image up to 65ft. This camera for home security offers you super wide vision by move its head 355°horizontally and 95°vertically pan and tilt and 2X digital zoom. The pan-tilt feature can be remotely controlled through APP.
Last but not least, with sensitive PIR motion sensor plus recent pixel level recognition algorithm, this home security camera can rapidly & accurately detect any motion of person, then the camera will sent an alert to your phone immediately. Even in dark situation, the detection distance can reach up to 65ft,reducing false alarms caused by rain, leaves, animals, and insects by up to 95%.
How much data does a 4G security camera use?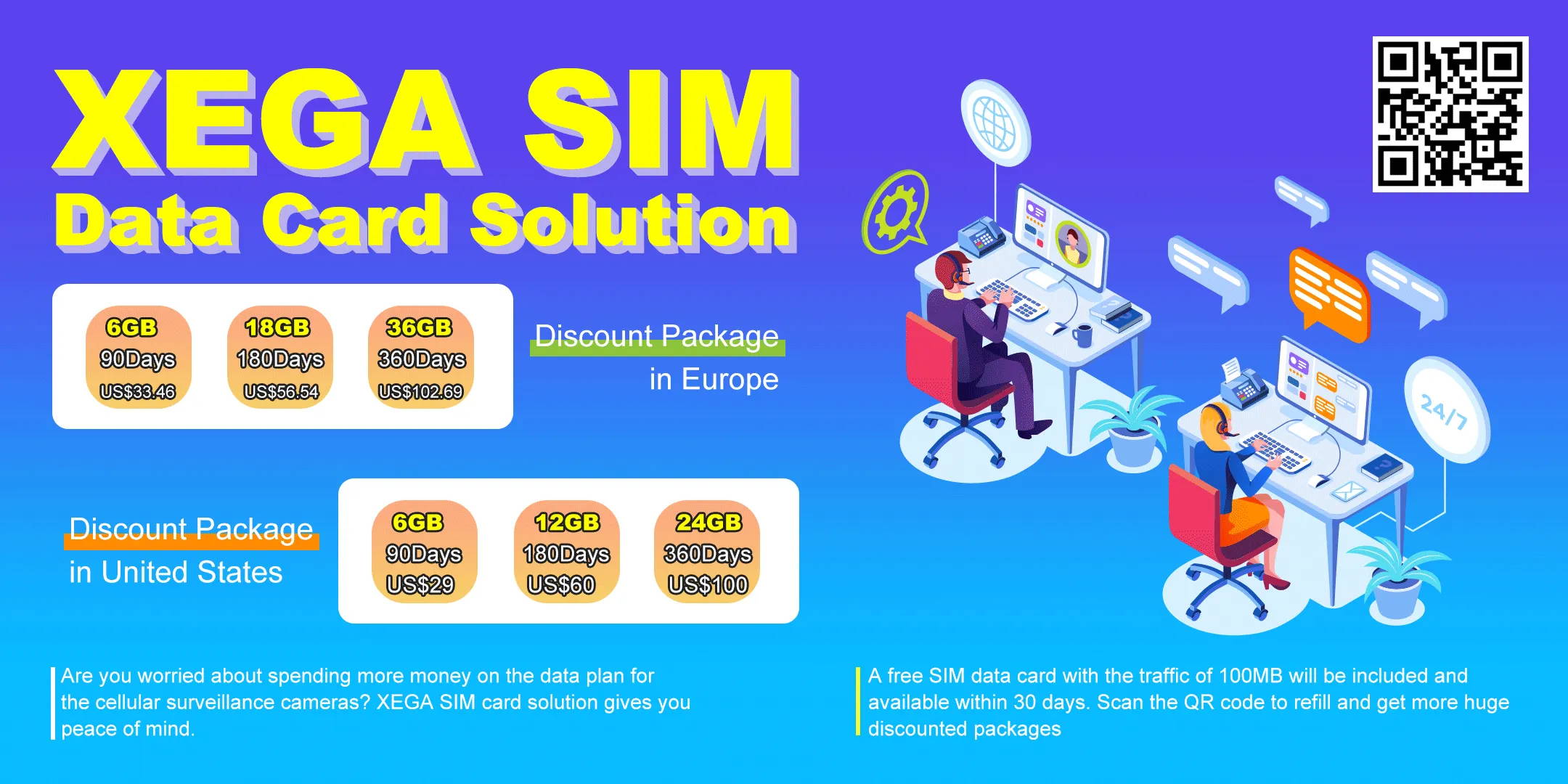 Due to cellular security, cameras use a 3G, 4G, or 5G communication module to get a network connection and so it requires a SIM data card to pair with the cellular node and connect to the network. You can buy a SIM card with a cellular data plan on Amazon or use Ctronics SIM data card. The cost of the SIM data plan will vary with different carriers and calculated based on the traffic consumption of when you use camera. Consumption depends on the resolution and frame rate of the videos. The higher the frame or resolution, the more data it will consume, especially when livestreaming and during manual recordings.
To help customers save money on their data plan, XEGA 4G security cameras include a SIM data card with 100MB of free traffic and avaiable within 7days. You can scan the QR code and continue to refill the discounted package after using the 100MB of data.